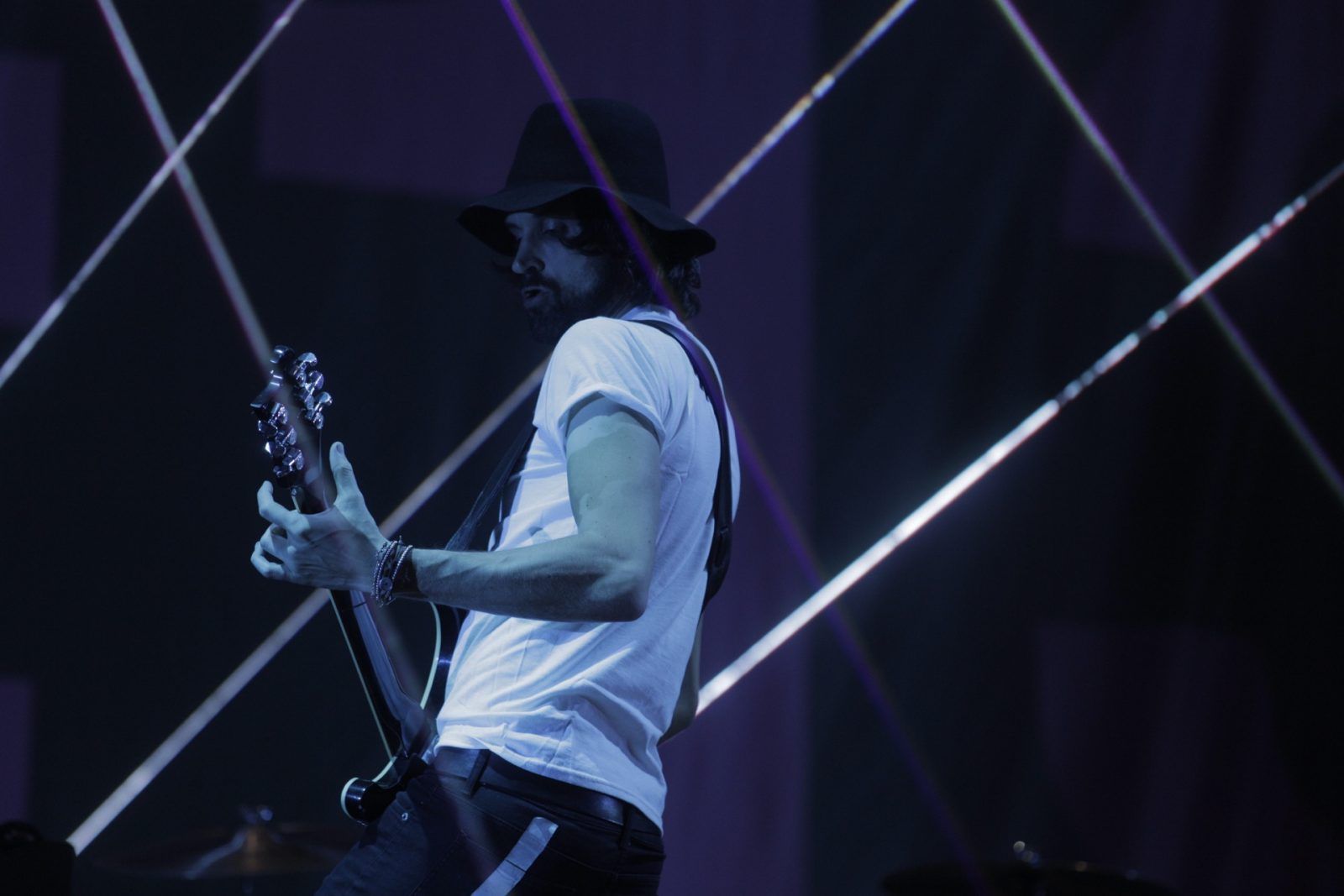 Kasabian close the final day of Poland's Open'er Festival
Leicester's finest Kasabian headlined the final day of Open'er Festival in Gdynia, Poland on Saturday (July 4) before later bounding on stage during the event's closing set from Disclosure.
The band opened the night with the first track on latest album 48:13, Bumblebeee. The opening gambit set the scene for the rest of the 90-minute set with crashing choruses and pile-driving electronic rock that is made for the big occasion.
Following a rousing Underdog performance, lead singer Tom Meighan spotted a Leicester City flag in the crowd and commented on the recent sacking of manager Nigel Pearson by saying; "Good to see Leicester City here, we will survive don't worry".
The largest crowd of the Polish festivals four days saw the crowd's hysteria reach fever pitch during a run of singles including Eez-eh, Club Foot and the brilliant Rewired. It signalled a moment for Tom to leave the stage saying; "ladies and gentlemen, I'm gonna leave you with the beautiful Sergio Pizzorno". Serge duly obliged and led the band with the soulful Bow before Meighan returned to get the crowd pumping for Thick as Thieves.
Following an encore that saw the band take to the stage to the theme tune of Revenge Of The Nerds, the lad-rock group then surprised the 80,000 crowd with two covers, the first The Doors' People are Strange, closing with Tom thanking Jim Morrison. The second cover followed shortly after as Tom said; "This is a new one" before breaking ino broke into Fatboy Slim's Praise You. A rousing finale saw Tom and Serge greet the crowd during L.S.F (Lost Souls Forever).
After Kasabain on the main stage, Disclosure closed with a set featuring hits from debut album Settle as well as previews of their forthcoming second album.
Cara Delevingne's beau St Vincent, singer Annie Clark, delivered a show-stopping set in the Tent Stage, featuring songs sung from a hospital bed-like couch. Hozier, Years and Years, Flume and Ratking also performed on the final day of Poland's leading music festival.
Kasabian Set List
Bumblebeee
Shoot the Runner
Underdog
Fast Fuse
Days Are Forgotten
Eez-Eh
Club Foot
Re-Wired
Bow
Thick as Thieves
People Are Strange (The Doors cover)
Treat
Switchblade Smiles
Pinch Roller
Empire
Fire
Stevie
Vlad the Impaler
Praise You (Fatboy Slim cover)
L.S.F. (Lost Souls Forever)
Disclosure Set List
Intro
White Noise
F For You
Hourglass
Grab Her
Jaded
You & Me
Superego
Willing & Able
Bang That
WAFSTB
Voices
Holding On
HMLMM
Latch
For more information on Open'er Festival visit www.opener.pl/en