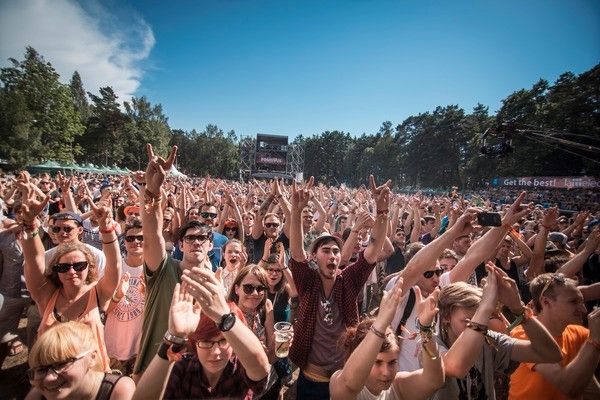 Positivus Festival Final Lineup
Taking place from 17th – 19th July, Positivus is the largest music and art festival in the Baltics. Over 150 acts will perform on six stages and more than a thousand artists will create the most genuine festive atmosphere – come and enjoy the most unforgettable event of the summer.
During the three day event, the brightest stars will shine: girl favourite Tom Odell, the cult band Placebo, British rock stars Kasabian, the skilful Warpaint, the ever-changing St. Vincent, pop music punk princess Charli XCX, and the legendary Robert Plant with the band Sensational Space Shifters, plus many many more musicians. There will also be improvisation shows, circus artists, film shows, comedian stand-ups – three days of entertainment for every taste.
Positivus invite you to get acquainted with the artists before the festival to find those you like the best – not to be disappointed after the festival that you have missed something all your friends are excited about. The full lineup can be found at www.positivusfestival.com and on the festival's mobile App 'Positivus 15' that you can download from Google Play Store (Android) and AppStore (iOs).
The users of the mobile App have chosen as the acts they most want to see and artists with the most votes so far are; Charli XCX (UK), Placebo (UK), Rīgas Modes (LV), Tom Odell (UK), and Tallinn Daggers (EE).
The App also includes the festival's map, descriptions of caterers and merchants and other useful information that will guide you through the Festival.
Festival tickets can be bought on www.positivusfestival.com and from Biļešu Serviss ticket offices and Nordea ATMs. A three-day ticket without a tent space costs EUR 65.00; a three-day ticket with a tent space costs EUR 71.00. One-day tickets are also available at the price of EUR 35.00. Tickets without a commission fee are available on www.positivusfestival.com. We invite you to purchase the tickets in due time as they will become more expensive at the Festival.
Full Festival Lineup:
Lattelecom Stage: Robert Plant and the Sensational Space Shifters, Placebo, Kasabian, Tom Odell, Jungle, Warpaint, Ewert and the Two Dragons, St. Vincent, Basement Jaxx, Everything Everything, DaGamba + Sinfonietta Riga + Juventus, King Gizzard & the Lizard Wizards, Fenech-Soler, Eugene "Hideaway" Bridges + Coolman Report.
Nordea Stage: Jack Garratt, Charlie XCX, Lamb, Rival Sons, Elliphant, Kate Boy, Peace, Indiana, Public Access T.V., East India Youth, The Sound Poets, Max Jury, Ghostpoet, Bokka, Iza, PeR, Astro'n'out + DJ Rudd, PeR, Elliphant.
Palladium Stage: Vök, Rangleklods, Soak, Jennie Abrahamson, Triana Park, Sigma, The Big Bluff, Rīgas Modes, Pienvedēja piedzīvojumi, Moontalk, Garbanotas Bosistas, Laime Pilnīga, DJ Jonathan Toubin, Badass Yuki, cirkl, Curly Strings, Gorõ Lana, Lexsoul Dancemachine, MiaMee, Tallinn Daggers, DJ Toms Grēviņš/ Oded Kafri, Neon Saturdays, Ryga, Tora.
I Love You Stage: Mona de bo, Super Besse, Inokentijs Mārpls, Momend, Laika Suns, The Bongo Club, Galvanic Elephants, Würffel, DJ Krankenwagen, Zebra Island, Parára, Future Folk Orchestra, The Werg, Sibyl Vane, The Pink Elephant, Matīss Kļaviņš, Alise Joste, NEØV, DJ Pēteris Bajārs, DJ Klāvs Lauls.
Red Bull Music Academy Stage: Camo & Krooked, Egyptian Lover, Dorian Concept Trio, DJ Sliink, Breach, DJ AI-VA, DJ Mr Krime, Without Letters, Dave Storm Live, Break Da Funk, Avoid Dave, Grind Live, Münpauzn, Bandmaster, Smthing Smthing, DJ Quest & Paul Oja, Mr Nestor, Niklāvz, Formacja/ Mr Krime Live Band.
The main partner of the Festival is Lattelecom, which offers the only TV channel devoted to the Festival in Europe, 360TV Positivus, and provides modern technologies at the venue. The Festival is supported by Nordea and Tuborg. The latest news of the Festival can be heard on Radio SWF, the official radio of the Positivus Festival. Tastes to the Cinema Tent will be provided by Ādažu čipsi.