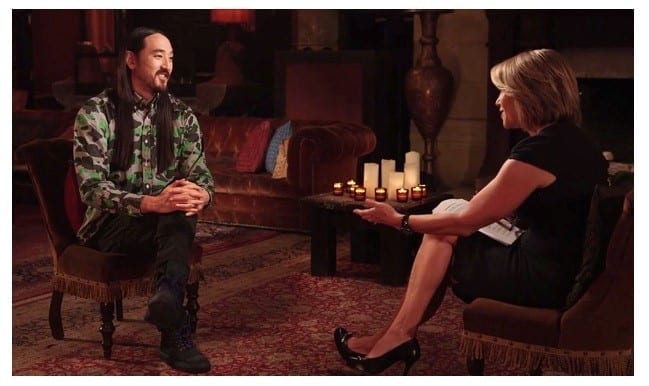 Katie Couric and Steve Aoki Come Together
Citi® Private Pass, Live Nation Entertainment and Yahoo today revealed an exclusive clip featuring Grammy® nominated producer/DJ Steve Aoki as part of Backstage with Citi, the exclusive behind the scenes interview web series on Yahoo Music.
Watch the clip and see Aoki offer Yahoo News' Katie Couric a one-on-one interview and lesson on the fundamentals of DJing:
I can't believe Katie Couric almost made me cry on Citibank US & Yahoo Live's #BackstageWithCiti interview!

Posted by Steve Aoki on Friday, 24 April 2015
Citi is an official sponsor of Yahoo Live, a pioneering music experience on Yahoo, including the Live Nation Channel which offers fans a live concert everyday for a year. The new series Backstage with Citi is an extension of Citi's long-standing relationship with Live Nation.
For nearly a decade, Citi has offered thousands of live events annually to their cardmembers through the Citi Private Pass program. Now, Citi is offering behind the scenes backstage access available anywhere, anytime and segments of the interview will be exclusively available on www.citiprivatepass.com for 48 hours before it posts on Yahoo.
As part of Backstage With Citi, Yahoo News Global Anchor Katie Couric regularly interviews a artists who are showcased as part of the series, giving Citi card members and music fans a glimpse behind the scenes with in-depth, compelling, interviews with some of the biggest names in music. Yahoo Music editor Lyndsey Parker will also brings Citi customers an up close and personal look at some of their favourite entertainers.