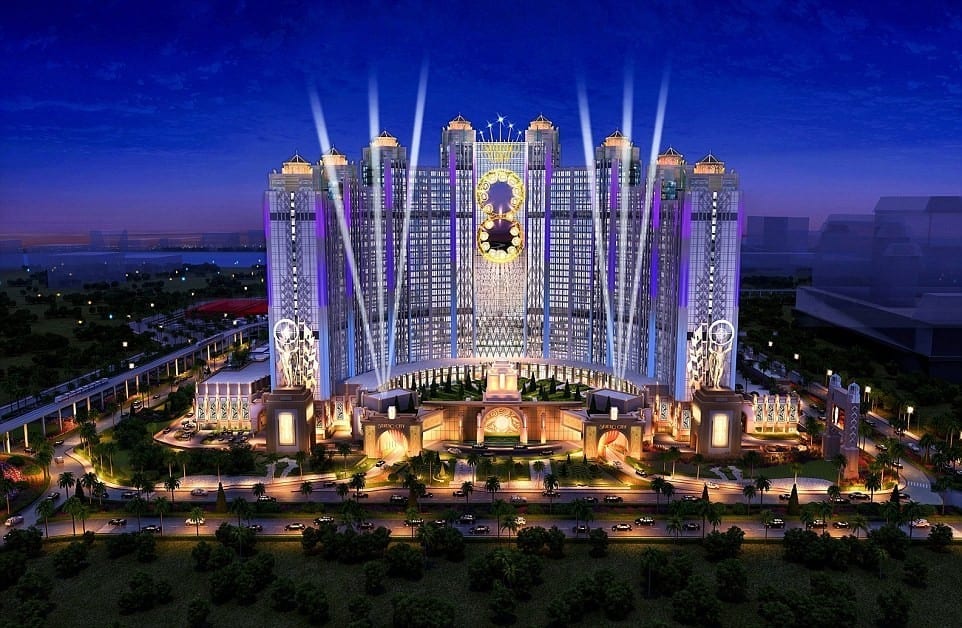 PACHA MACAU AT STUDIO CITY
Melco Crown Entertainment Limited (SEHK: 6883) (NASDAQ: MPEL), a developer, owner and operator of casino gaming and entertainment resort facilities in Asia, jointly announced plans with Pacha to open Macau's first megaclub, Pacha Macau, at Studio City, the eagerly anticipated cinematically-themed integrated entertainment, retail and gaming resort in Macau.

The Hollywood-inspired, gaming and entertainment complex will transport visitors into a stunning cinematic world with awe-inspiring entertainment offerings, delivered by the world's leading entertainment partners, positioning this new destination resort as Asia's entertainment capital.

Pacha is a leader in nightlife, with venues in major cities across the globe, including Ibiza, New York, Dubai, Buenos Aires and Sydney. Exclusively presented by Studio City, Pacha Macau will bring Ibiza-style nightlife to Greater China for the very first time, electrifying the island's burgeoning club scene.

Mr. Lawrence Ho, Co-Chairman and Chief Executive Officer of Melco Crown Entertainment said, "We are delighted to partner with Pacha, rightly acknowledged as the biggest nightclub brand in the world, to deliver the ultimate in international clubbing experiences to Studio City and Greater China.
"This announcement is a further step in our commitment to diversify the leisure destination appeal of Macau. It is yet another demonstration of our ongoing strategy to identify and deliver the world's leading entertainment partners, positioning this exciting new destination resort as Asia's entertainment capital."

"Melco Crown Entertainment has been a pioneer in the development of integrated entertainment resorts in Asia. It shares our vision to bring innovative, world-class entertainment experiences to the region. I'm proud to be part of this. It's an opportunity of a lifetime." said Mr. Eddie Dean, President and CEO of Pacha New York and Managing Director of Pacha Macau.

"Pacha is the finest nightclub brand in the world, with a commitment to excellence. Pacha Macau, without a doubt, will be the most amazing nightclub entertainment experience Macau has to offer." said Mr. Dean.
Mr. Dean is joined on the Pacha Macau project by the Las Vegas veteran, Liam Dwyer, who spent 15 years as Director of Operations at Light Group where he helped establish and develop the Nightlife and Daylife club scene that Vegas is famous for today.
Set against a backdrop of Art Deco-inspired architecture, Studio City will deliver movie-star treatment to all of its visitors, with the most diverse collection of unique and innovative entertainment offerings ever seen in Asia. It will represent Asia's 'next generation' of immersive, world-leading, entertainment-driven gaming and leisure experiences and will be a major catalyst in Macau's continued tourism development and diversification.
A tantalizing short film "The Audition", which is set around a Studio City storyline, will promote the opening of this unique entertainment destination resort. This Macau's first ever Hollywood production marks the very first time Leonardo DiCaprio, Robert De Niro and Brad Pitt all starred together under the direction of Academy Award-winning film director, Martin Scorsese. To be premiered at the opening of Studio City later this year, "The Audition" represents Melco Crown Entertainment's ambition to promote Macau's local cultural and creative industries on the international stage.

Studio City, along with its sister property, the highly-successful City of Dreams Macau, represents the next phase in Melco Crown Entertainment's ongoing strategic mission to aggregate, develop and deliver world-leading, highly innovative entertainment brands catering to the rapidly growing leisure and entertainment demands of enthusiastic leisure destination travelers, both regionally and internationally, seeking unique and ever more exciting travel experiences.