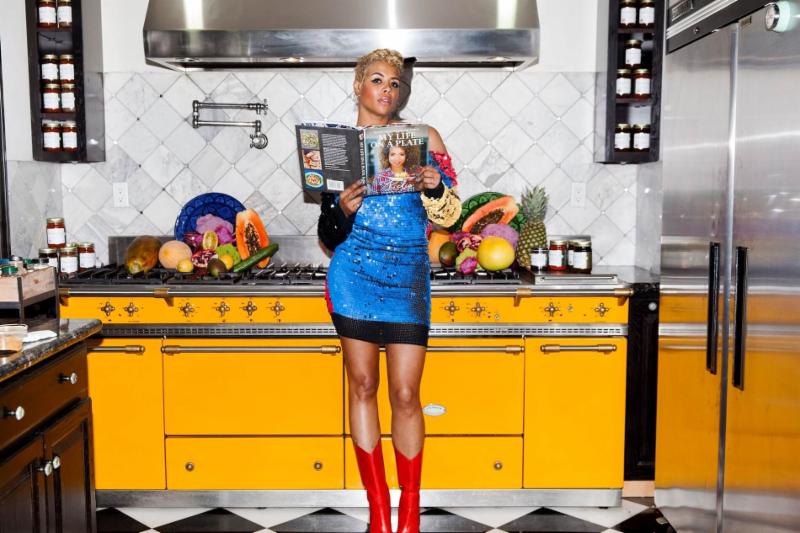 Kelis To Partner With Only Jerkin' And Serve Food From New Menu In UK Exclusive At Jam On Rye
Fresh from unveiling Kelis as headlining their musical bill, Jam On Rye reveal that the singer turned critically acclaimed chef will be partnering with Only Jerkin' to serve an exclusive menu throughout the day on Monday 27th May 2019.
After announcing an impressive musical bill and diverse food programme, the festival is serving another unmissable treat for food lovers and RnB fans alike. Only Jerkin', one of KERB's leading traders, will unite with the headliner to create a unique menu especially for the day, which Kelis will serve from a converted food truck for lucky festival goers. Famous for hits such as 'Milkshake', 'Trick Me' and 'Millionaire', the multi-selling superstar has explored a burning passion for food in recent times, releasing recipe book My Life On A Plate and her own sauce brand, Bounty And Full.
While the menu boasts mouthwatering dishes such as Jamaican salt fritters, pineapple saffron glazed boneless chicken 'wings' and ginger sesame glazed cauliflower wings, all meals will be accompanied by a serving of Kelis' very own sauce, as well as plantain fries and hot pepper pickle & pineapple. This is a one-off opportunity for 2019 and a hugely exciting exclusive to Jam On Rye, not to be tasted anywhere else in the UK. The full menu is below.
ONLY JERKIN' x KELIS MENU
Jamaican salt fish fritters
Served with plantain fries, hot pepper pickle pineapple with apricot mustard (Kelis' sauce)
Pineapple saffron glazed (Kelis' sauce) boneless chicken 'wings'
Served with plantain fries, hot pepper pickle & pineapple and spicy ali verde (Kelis' sauce)
Ginger sesame glazed (Kelis' sauce) cauliflower 'wings' (V)
Served with plantain fries, hot pepper pickle & pineapple and spicy ali verde (Kelis' sauce)
+++
In addition to Kelis' food truck and headline performance, she'll be joined by Soul 2 Soul head honcho and musical legend Jazzie B, Stevie Wonder collaborator Omar, rising talent Greentea Peng and the effortless blend of dub and roots that General Roots bring. Showcasing an array of local talent in the area, online radio station Balamii will host a stage while The Brit School will award a winner from their ranks a slot to play at the festival.
As well as the impressive musical programme, Jam On Rye enlists the absolute cream of street food, hosting the most diverse food line up to be seen in London this year. Voted best burger in London, Bleeker Burger touch down for their first festival of a busy summer, while Club Mexicana, voted best street food in London by Time Out, BBQ Dreamz and Baba G's, who both won the BBC's Million Pound Menu, and Carcass make appearances. Local traders Deserted Cactus, Garden Of Eden and Bokit'La will also be on site all day to serve up further delicious options for festival goers.
Created for the communities of Peckham and South London, Jam on Rye will be working with local music, food, charity and craft organisations at every opportunity. From music fans hungry to discover new sounds, food fans keen to make the tastebuds tingle and families looking for a fun day out with plenty of activities for the kids to enjoy, Jam on Rye has something for everyone.
Brought to you by KERB – an organisation that specialises in incubating and accelerating food businesses – who's vision will filter down for the curation of Jam On Rye's second year; providing a platform to showcase and develop new talent, providing a space that nurtures creativity in all forms.
Organisers will also be looking after the environment with 100% of food traders using compostable containers and committed to cutting out single use plastics as well as reusable cups and recycling. KERB also support homeless charity First Love Foundation.
Tickets for Jam on Rye 2019 are available now at www.jamonryefestival.com