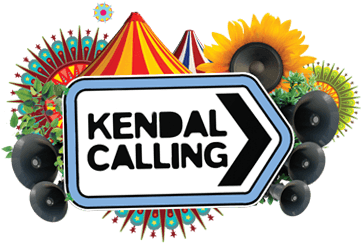 Kendal Calling 2014 Fancy Dress Theme Announced
Not resting on their laurels after winning the Best Medium Sized Festival at the prestigious UK Festival Awards, the Kendal Calling crew have been working round the clock to top last year's record-breaking year. The Kendal Calling Goes To The Movies theme was a resounding success with a huge variety of spectacular costumes on display and we even broke the world record for the largest gathering of people dressed as superman ever, with 867 Supermen donning the famous red cape and pants! The Kendal Calling team would have to boldly go where no man has ever gone before to make this year even better.
In 2014 the festival will transform into a dazzling alien world, as Kendal Calling brings outer space to the Lake District! This promises to be an out of this world experience where every area of the festival will be invaded by a host of science-fiction characters taking the festival-goers on a journey through the stars.
Without giving away the festival's plans too much, festival-goers can beam themselves into the Calling Out tent after the bands go home to watch some of the best space films ever made and some that might surprise!
Once again an attempt will be made to smash another world record. This year Kendal Calling hope to break the record for the largest moonwalk! No, we're not sending people into space! Instead festival-goers should don their sparkly white gloves and embrace their inner MJ as they attempt to 'beat it.'
As always, Saturday will be fancy dress day and festival-goers are encouraged to suit up in keeping with the space theme, whether it be a character or object from across the galaxy such as Darth Vader, Spock, Barabella, Dr Who, Ziggy Stardust, Neil Armstrong, Captain Malcolm Reynolds, Michael Jackson or even a planet. Be as creative and as wacky as you like! In years gone by revellers have demonstrated brilliant ideas and imagination in designing and donning costumes transforming the ancient, tranquil Deer Park into a surreal, bouncing wonderland.
As well as the overall space themed décor, Kendal Calling will once again have a wide variety of the very best music and performance art to excite, enlighten and entertain throughout the weekend. Keep an eye out for many more Kendal Calling announcements in the near future as this multi award winning festival continues to provide the perfect backdrop for a weekend of musical merriment in the fields.
Situated in one of the most idyllic locations in the UK, Kendal Calling has quickly established a reputation as one of the most innovative festivals in the country, combining great music, good food, award winning ales and lasting memories in the outstanding surroundings of the Lake District. Last year Kendal Calling sold out in advance of the show and has sold out in each of its eight previous years. Although the team have added a number of new and exciting developments for 2014 they have kept the event to the same capacity as the previous year, protecting the festival's intimate feel and attention to detail for which it is renowned.
Ticket link: / http://www.kendalcalling.co.uk/tickets/
Tickets remain at earlybird price of £115 for an weekend adult ticket until the 28th February after that they will be £119.
To keep up to date with all Kendal Calling news including line-up additions sign up to the newsletter on the website, become a fan on Facebook and follow on twitter @KendalCalling
See you in the fields!
KEY INFO:
LINE UP TO BE ANOUNCED SHORTLY
Date:1st– 3rd August 2014
Location: Lowther Deer Park, Hackthorpe, CA10 2HN
Tickets:
Full adult Weekend: £115 (Includes camping) until 28th February then they will move to next tier pricing of £119.
Adult Deposit: £57.50
11-15: £60
10 & under: free
Monthly deposit payment plans also available.
Emperors Fields Camping (For those after a few more comforts. This is a quiet area, ideal for families)
Emperors Fields: £30
Emperors Fields 11-15: £25
Emperors Fields 10 & under : Free
NOW SOLD OUT! There is a family and quiet area of the general campsite.
Early Entry
Thursday: £10
Thursday 11-15: £10
Thursday 10 & under: Free
Live-in vehicle: £60
Car Park: £6 in advance
Deer Lodge affordable luxury accommodation now available:
http://www.fromthefields.co.uk/deerlodge.html
Ticket link: http://www.kendalcalling.co.uk/tickets/