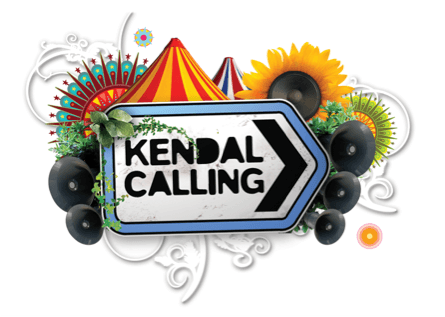 KENDAL CALLING ACADEMY ANNOUNCED
Kendal Calling today announce the Kendal Calling Academy, in association with the University of Cumbria. The Kendal Calling Academy provides three days of illuminating talks and debates with luminaries from arts and culture and this year's line-up also features some exciting guests and partnerships.

In a huge exclusive for Kendal Calling, Virgin Galactic's Commercial Director Stephen Attenborough will speak extensively about their tests flights in California and their plans to introduce the first ever-commercial space flights. This is a real coup for the festival and will provide some fascinating insights into this exciting chapter of space travel.

Kendal Calling have also teamed up with the internationally acclaimed Kendal Mountain Festival to bring festival goers the best outdoor, mountain and adventure films, talks and debate.

Other highlights include panels with The Idler Academy, musician and cultural commentator John Robb, acclaimed journalist Andrew Mueller, writher, broadcast and DJ Dave Haslam and Sarah Walters from the Manchester Evening News who has done much to champion the north-west's music scene.

A range of University of Cumbria students on courses including event management, journalism, creative writing, and film and TV will be working at the festival to gain professional experience in this field. The University of Cumbria will be sharing the students' work throughout the festival on the university's website www.cumbria.ac.uk.'

Kendal Calling are also thrilled to further develop its partnership with Virgin Trains to bring festival goers the first ever Soul On Wheels Roller Disco to Lowther Park. Featuring sets from hip-hop turntablist and cut and paste pioneer DJ Yoda and others, the Soul On Wheels Roller Disco will undoubtedly be a festival highlight.

Virgin Trains will also be running an exclusive taxi service for festival goers arriving by train at Kendal Calling by providing a fleet of chauffeur driven festival taxis that will lighten the load and transport festival goers and their backpacks right into the campsite.

Adrian Varma, Partnerships and Regions Manager at Virgin Trains comments 'At Virgin Trains we are really pleased to partner with FESTAXI to provide a bespoke onsite service for Kendal Calling. Meeting customers as they arrive on site to ensure they arrive feeling awesome.

We're transforming five FESTAXIs giving them a Virgin Trains makeover especially for the festival. We want to give customers an amazing journey, not content with getting them to Penrith in the fastest (125mph) way possible but ensuing the whole journey is seamless. Running a free collection/ drop off service from the Penrith train station bus drop off point; transporting customers along with their heavy bags, tents and belonging to their campsite."
Kendal Calling Academy Programme

Friday

12.00 – 12.45 How to Become a Journalist (hosted by Tony Randall Programme leader in Journalism at the University of Cumbria)
Tony Randall from is joined by Sarah Walters (Manchester Evening News / City Life) and Luke Bainbridge (editor of the award winning Observer Music Monthly and ghost-writer of Shaun Ryder's 2011 autobiography, the Sunday Times bestseller Twisting My Melon)

13.00 – 14.30 FILM: Janapar: One man, 3.5 years, 32 countries, one love story
Tom was all set for a 9-5 career in IT – but at 23 he couldn't help wondering whether there's more to life. So he decided to leave behind everything he knew and set off on the ultimate adventure: cycling around the world without maps or guidebooks.

14.30 – 15.00 Q&A with Janapar's Tom Allen
You've watched the film now meet the Star! This is your chance to meet Tom and ask him all about his adventures, cycling and filming round the world.

15.15 – 16.15 Learn Magic with Magic Sam: The People's Magician
Samuel Hurst is founder of Beautiful Magicians Club and is one of the UK's hottest alternative magicians. Hailing from Manchester now living in London, his ten year career in magic has taken him every where, private jets, luxury yachts and television. He even went on tour in 2012 as private entertainment for Tenacious D!

16.30 – 17.00 Kendal Mountain Festival introduce Joe Beaumont. Talk and screening of his
film 'In The Frame: Little Chamonix.
A hugely inspirational session with Joe Beaumont who describe it thus. "I feel that the crux of my talk is about, healing through happiness, goal setting, and whilst I obviously come across as a bit of a nutter, the overwhelming drive is to just do stuff despite disability"

17.00 – 18.00 Kendal Mountain Festival Film Shorts TBC
We've teamed up with Kendal Mountain Festival to bring you the best of outdoor, mountain and adventure films

18.00 – 19.00 Festival Highlights and Lakeside Sessions footage

19.00 – 21.00 Bad Language PresentsŠ with Jon Robb
As the hosts of one of the UK's premier literature nights this year at Kendal Calling they present a celebration of new writing, poetry and spoken word. Jon Robb headlines Friday Night with a DIY Spoken Word on Punk

Saturday

12.00 – 12.45 Panel Discussion – Is the Music Review Dead?
Jon Robb hosts a chat with Sarah Walters to discuss the merits of music reviews and the importance of them in todays music scene.. what do you think? Get Involved!

13.00 – 14.30 In Conversation: Dave Haslam and Andrew Mueller
Andrew Mueller is an Australian-born, London-based journalist and author. He is a contributing editor at Monocle, and also regularly writes for The Independent, The Independent on Sunday, The Financial Times, Esquire, The Guardian, Arena, The Times, Uncut, High Life, Harper's Bazaar, New Humanist, The Quietus, eMusic, and openDemocracy.net. He is the author of "Rock & Hard Places", "I Wouldn't Start From Here", and was a contributing editor to the fifth edition of Robert Young Pelton's "The World's Most Dangerous Places".

15.00 – 16.00 Space Travel – With Virgin Galactic
Virgin Galactic's Commercial Director Stephen Attenborough speaks exclusively with Kendal Calling about their tests flights in California and their plans to introduce the first ever-commercial space flights.

16.00 – 17.00 Writing Workshop
Alizon Brunning, Course Leader in Creative Writing at the University of Cumbria chairs a writing workshop with Dave Haslam and Jon Robb. Then head out to the festival to try your hand at creating your own work!

17.00 – 19.00 Kendal Mountain Festival Short Films
We've teamed up with Kendal Mountain Festival to bring you the best of outdoor, mountain and adventure films

18.00 – 19.00 Festival Highlights and Lakeside Sessions footage

19.00 – 21.00 Bad Language PresentsŠ. With Dave Haslam
As the hosts of one of the UK's premier literature nights this year at Kendal Calling Bad Language present a celebration of new writing, poetry and spoken word. Dave Haslam headlines with his insights into the crazy world we call music.

Sunday
13.00 – 14.00 Writing Workshop – how did you do?
Alizon Brunning, Course Leader in Creative Writing at the University of Cumbria chairs a writing workshop with Dave Haslam and Jon Robb

14.30 – 15.30 The Idler Academy : The History Of Idling
Hodgkinson presents us with a laid-back argument for a new contract between routine and chaos, an argument for experiencing life to the full and living in the moment. Ranging across a host of issues that may affect the modern idler – sleep, the world of work, pleasure and hedonism, relationships, bohemian living, revolution – draws on the writings of such well-known apologists for idleness as Dr Johnson, Oscar Wilde, Robert Louis Stevenson and Nietzsche. His message is clear: take control of your life and reclaim your right to be idle.

16.00 – 16.45 The Idler Academy: Ukelele Workshop
Delve into the rich history of this eccentric little instrument and learn from enthusiast Tom Hodgkinson, from its birth in Hawaii to its popularity across the world, including George Formby, Hawaiian legend Israel Kamakawiwo'ole and YouTube ukulele superstar Jake Shimabukuro.

17.00 – 19.00 Kendal Mountain Festival Short Films
We've teamed up with Kendal Mountain Festival to bring you the best of outdoor, mountain and adventure films

19.00 – 21.00 Bad Language PresentsŠ. Open Mic Sessions
As the hosts of one of the UK's premier literature nights this year at Kendal Calling Bad Language present a celebration of new writing, poetry and spoken word. This is your chance to show us what you are made of! Sign up at the Academy tent to get involved!