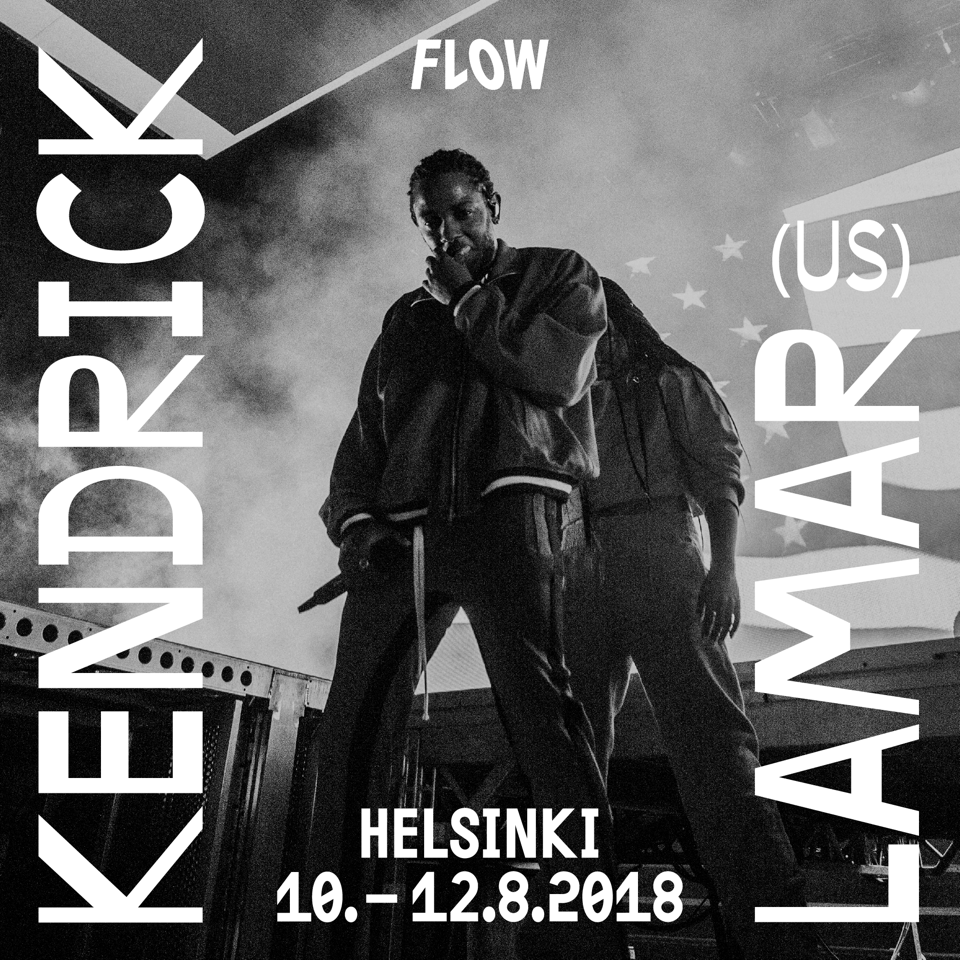 Kendrick Lamar Leads First Names Announced For Flow Festival Helsinki 2018
With a high-quality and revered lineup of musical heavyweights and a plethora of diverse culture and creativity, Flow Festival Helsinki is set to be the defining European festival of the summer.
One of the planet's mostforward thinking festivals, Flow combines music, art, culture, culinary excellence and sustainability. The festival has an outstanding reputation for presenting some of the globe's most pioneering artists in a jaw dropping, industrial space in Helsinki – Europe's capital of cool.
Gracing the stages at the event will be, among others, rapper Kendrick Lamar, one of the rare artists who has achieved critical and commercial success while earning the respect and support of those who inspired him. His fourth album DAMN. was the third most streamed album in 2017 on Spotify and earned the man several Grammy nominations as well as a spot on the list of most frequently requested artists for Flow.
Poet, singer and songwriter Patti Smith, who earned her stature as an iconic and faultlessly honest artist decades ago, is also lined up to appear at Flow. Grizzly Bear, one of the foremost indie bands of the 2000s, will make its Finnish debut and perform songs from their latest album Painted Ruins, which came out in August. The new millennium has also seen St. Vincent forge a notable career with her music that manages to balance art with pop and this August she will be at Suvilahti.
Flow Festival hosts one of today's most respected and popular electronic musicians Bonobo and 21-year old DJ, producer and multi-instrumentalist Mura Masa. Both are trailblazers of the dawning post-EDM era and have been nominated for a Grammy Award for the Best Dance/Electronic Album. Also playing at the festival is one of today's most wanted DJs and current holder of the number one spot of Crack Magazine's list of the most exciting DJs, Helena Hauff, as well as the ultimate house/techno straight shooter and legendMoodymann. One of the year's most exciting new acts is Brockhampton, a unique, high-quality, conscious 15-person rap collective that originally came together on a web forum.
Modern Norwegian sounds are represented by promising pop star Sigrid, a newcomer from just last year who recently won BBC's Soundof 2018. One of her fellow contestants Alma, with her gorgeous voice, perceptive lyrics and yellow hair, will make Flow one of her few gigs in Finland this summer. Both Sigrid and Alma will release their debut albums before the festival.
Other domestic artists playing Flow include singer-songwriter Vesta, one of the most exciting emerging artists in Finland, rap duo Kube x Eevil Stöö, who just released a joint EP called Pomo Sapiens, Onni Boi with his tender electronic pop and Teppo Mäkynen's new trio 3TM, which combines acoustic jazz with electronic soundscapes. At Flow, the band's performance will feature 3D visuals designed specifically for the festival to highlight the band's graphic but free-flowing esthetics.
More artists for Flow 2018 will be released on January 29th. In addition to the most interesting music on the planet, Flow will once again offer a holistic festival experience for all the senses, featuring art and a carefully curated selection of restaurants.
www.flowfestival.com
www.facebook.com/FlowFestival
www.twitter.com/FlowFestival
www.instagram.com/flowfestivalhelsinki