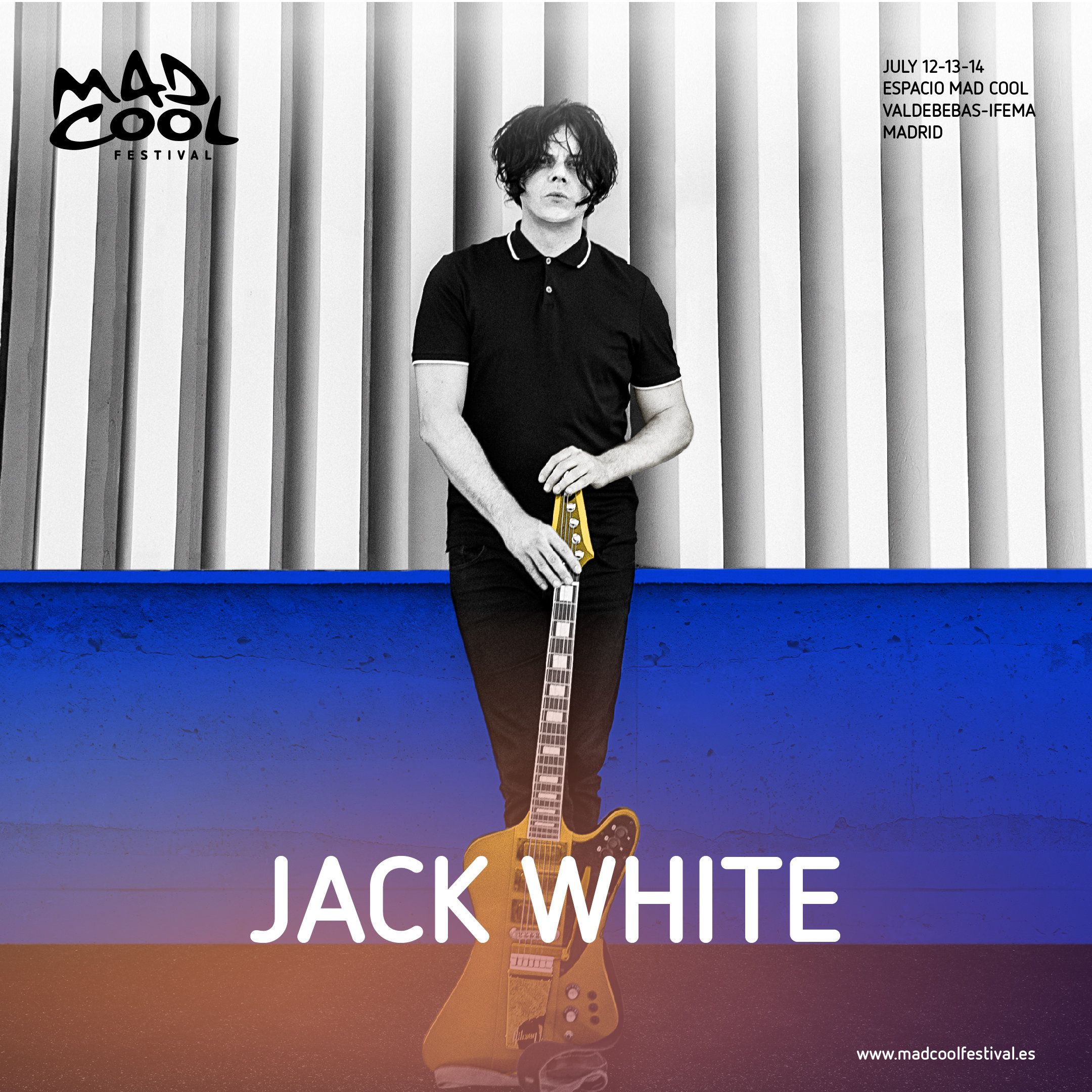 15 new confirmations for Mad Cool Festival 2018
15 new artists have been added to Mad Cool Festival's 2018 lineup, including none other than headliner Jack White.
We are also proud to announce and would like to begin 2018 by giving thanks to all the people who have put their trust in Mad Cool Festival. You've helped us to sell out all the festival 3 day passes, six months before the start of the Mad Cool 2018 edition. Individual day passes do still remain but are also selling out fast. We know that this has been made possible thanks to a lineup that has included a succession of new and consolidated artists whose common denominator is authenticity
In this new round of confirmations, the presence of Jack White stands out. Former leader and founder of The White Stripes, The Raconteurs and The Dead Weather, Jack will return to Spain for the first time since 2012. White will present his new album Boarding House Reach at Mad Cool Festival 2018 and will be playing one of the two main slots reserved for Friday 13th July.
GIRLS TO THE FRONT
We're very happy to say Wolf Alice, will also be at Mad Cool 2018. After cancelling their show at 2017's edition, the quartet returns to Madrid with more of their magic, from the release of their latest LP Visions of a Life (2017).
Also, female fronted British rock trio The Big Moon, are causing a sensation in the UK thanks to their vital updating of grunge sounds and nods to Britpop and will be shining brightly in Madrid this summer.
ELECTRONIC CULT HEROES
Richie Hawtin will be one of the artists that will be part of the electronic music show of the 2018's edition. With a career spanning more than 20 years, the Canadian DJ and producer is the definition of an electronic cult hero.
But there's more: we will also have the avant-garde minimalism of Daniel Avery and the highly successful duo Odesza.
A DIFFERENT KIND OF CROONERS
Also among the new confirmations the unmistakable Eels are stand out performers. Mark Oliver Everett (also known as Mr. E) has become a cult artist thanks to his personal vision of the world which he has reflected in his albums and his books – his magnificent Things that grandchildren should know became one of the most interesting books of 2018. But let's go back to music, Everett arrives at Mad Cool 2018 bearing The Deconstruction, a new LP that puts an end to the artist's long, four-year break.
Also playing Mad Cool 2018's stages are British singer and composer James Bay, the mature soul of Leon Bridges and the psychedelic flings of Kevin Morby.
RAP LANDS AT MAD COOL 2018
You could say that the place reserved for urban sounds is another of the great characteristics of Mad Cool's lineup. Among the new additions are the multicultural trio from Edinburgh, Young Fathers and American rapper blackbear who is making his Spanish debut at the festival this year.
BIG NATIONAL BETS
Though Mad Cool is the most international of festivals with a very global outlook we ar determined to nurture and represent as many Spanish artists as we can. Joining the international talent in 2018's roster will be Spanish bands Toundra, Rufus, T. Firefly and Biznaga.
They will delight the audience and represent the best of the genres in which they play: post-rock, psychedelic rock and punk rock respectively. Both Rufus, T. Firefly and Biznaga have been recognized by the Spanish Music Journalist Society (PAM) as finalist for the third edition of the Premio Ruido, an award that recognizes the best Spanish albums released in 2017.
With these new 15 confirmations Mad Cool Festival 2018 has a total of 75 artists to its lineup so far. We remind you that the three-day tickets are already sold out, but you can still buy 1 Day tickets and VIP tickets by clicking here
Thanks for all the support for Mad Cool 2018 Festival and live music! More artist confirmations are to be announced very soon.
More info: www.madcoolfestival.es