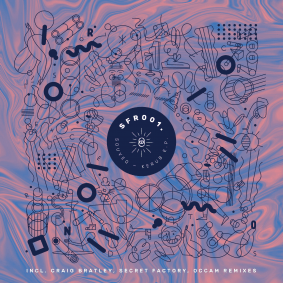 SouveQ - Kerub
Secret Fusion is a brand new label from Hungarian duo Secret Factory. The pair have been running a party of the same name for the last 20 years and will focus on quality underground music. The first release comes from SouveQ with remixes by Craig Bratley, Secret Factory and Occam.
SouveQ is a long standing DJ and producer who has a string of successful collaborative projects under his belt. He started this latest moniker as a live and production project in 2017 focusing on a synth laden, 80s influenced sound that draws on Nu wave, disco and techno.
The fantastic 'Kerub' is nine epic minutes of cosmic space travel. The drums are mid- tempo and wavy, the sci-fi synths bring a real sense of dynamism and the inherent tension in the bass keeps you keenly locked. Various expressive pads break out of the mix to bring real drama and ensure this one will always work the 'floor.
First to remix is Craig Bratley, who is known for his Magic Feet label, and rugged machine disco on labels like Throne of Blood and Futureboogie. His version pairs things back and layers in corrugated lead synths and chugging drums that allow the majestic keys centre stage.
Next up are the Secret Fusion label owners, under their Secret Factory name. They go for something darker and more minimal, with mysterious synths bringing a sense of unease before their multi-layered arps inject real soul and colour to the trip.
Last of all is Occam, a Budapest based producer, arranger and drummer who plays live with BBE's DJ Bootsie and is a member of the Zagar band. His version is brilliantly unhinged, with wild pads and dark, heavy drums making for a dystopian mood.
This is a superb new EP that suggest that the Secret Fusion label will become as legendary as the party it is named after.
Tracklist:
1.Kerub (Original Mix)
2.Kerub (Craig Bratley Remix)
3.Kerub (Secret Factory Remix)
4.Kerub (Occam Remix)