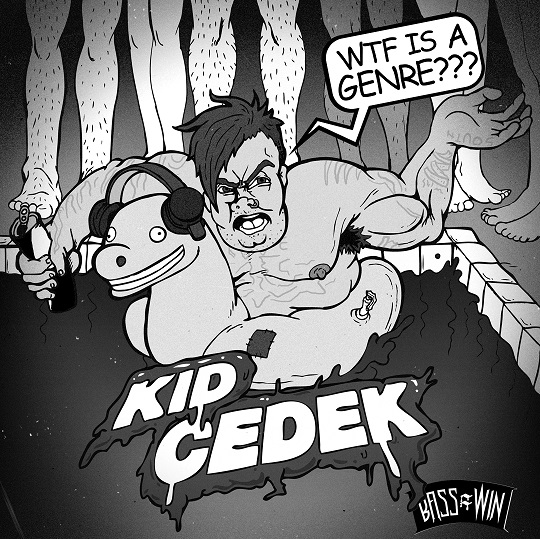 Kid Cedek – WTFISAGENRE EP
Only a producer like Atlanta's Kid Cedek – with a consistent public record for expanding and blurring the lines between what does (and does not) define ways to categorize sounds – could release an EP with a title as bold as "WTFISAGENRE." Already receiving support from A-Trak, ETC!ETC!, HeroBust, Cory Enemy, Dirtyphonics, Proper Villains, Sharkslayer, Kanji Kinetic, Reid Speed, and yes, Maxim Reality of The Prodigy, this five-track look into the EDM's wild future is a piledriver on the zeitgeist of modern dance.
The past few months for Cedek have been incredibly busy, as from being a featured DJ at the Trillectro stage at A3C to appearing atTomorrowWorld, plus releasing a moombahton sample pack for purchase that even reached Hype Machine and preparing to tour the east coast – including a November 16th date at the venerable Webster Hall in New York City – Cedek is everywhere that EDM wants to be. Furthermore, he's pushing the world's hottest musical style in the most mainstream, yet progressive of directions.
WTFISAGENRE EP has Kid Cedek joining forces with the UK's Bass=Win Records. "Rave to the Grave" is a four-on-the-floor party starter featuring pulse-pounding basslines and wild experimentation. Fellow genre smasher Rell the Soundbender joins the insanity for "Handz Up," with moombahton veterans Kingman Fire (Pickster and Melo) providing an ear-worming and ultra-funky remix. Rising bass-bin rattler Jesse Slayer rounds things out by taking "Handz Up" in a simmering and seductive trap-bass direction. Your favorite producer's favorite producer provides more than enough ammunition to quite possibly become your favorite producer as well on this release.
For more information on Kid Cedek, visit him at:
www.kidCEDEK.com
www.twitter.com/kidCEDEK
www.soundcloud.com/kidCEDEK