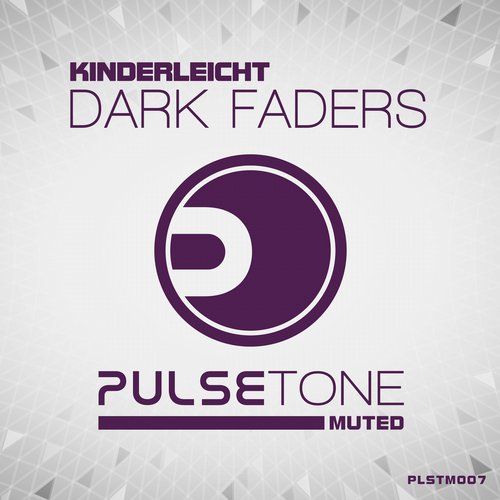 Kinderleicht - Kinderleicht – Dark Faders
'Dark Faders', another powerful single boasting Kinderleicht signature has now hit the shelves to continue the remarkable string of top-notch releases by the Austrian artist. Steven Vim, the man behind the Kinderleicht, Pitch & Shifter and Lippyfish monikers, has been on the rise with numerous quality releases to justify his success. Kinderleicht's influences dabble in all kinds of electronic music including: House, Deep House, Trance, Progressive and Tech House but also range into other genres such as: Alternative, Rock, Pop and Soundtracks.

Under different stage names Kinderleicht has released music on some of the world's elite labels including the likes of: Chilling Grooves Music, Baccara Music, Muenchen, Acunadeep, Trance Gold Records, Islas Baleares, Iplug and Infractive Digital, aside from his own Pulsetone Recordings. Steven's unique blend of styles and hits such as 'Years in Dust' has landed him the support of legendary DJs, namely Liam Shachar. A Producer, Remixer, DJ, Radio Host and Label Boss, Steven Vim is an eclectic figure in the electronic music industry and apart from his exciting music and growing label, he is also the mastermind behind 'TuneIN Podcast Radio' which he hosts on FM Radio FRO with DJ Miramar. His immense skills and talent have been noted during the years and his ascension is showing no signs of halting anytime soon.

Rooted within the Deep House genre 'Dark Faders' starts off with dreamy, sporadic synth phrases, a solid four-on-the floor kick and a distorted guitar-like chord enhancement. The track intensifies with a phasing effect and a bass-boosted kick, whilst introducing harsher melodies. The typical, infectious Deep House groove serves as a driving force behind the pumping atmosphere, with jumpy 16th feel Hi-Hats inserted to lighten the feel at intervals. Orchestral string sections are added for a spiced up, epic mood, drawing elements from Kinderleicht's soundtrack inspirations. Kinderleicht reserves a surprise factor with the saxophone and strings led breakdown, before adding his signature Deep House inspired groove to get things moving again. The flow within this single is astonishing and Steve's massive control over dynamic is continuously on display with the meticulously planned song sectioning and beat processing.

'Dark Faders' is now part of Steven Vim's own Pulsetone Muted. The Deep House, House and Tech House specialist sub-label of Pulsetone Records has been on the forefront of its scene since its commencement and is now seeking to add more weight to its catalogue. Artists such as Rob Hayes and Nigel Joe have already signed their work to this imprint and have become part of the extended Pulsetone Records family which includes the likes of: Massiv Vibes, S-Mos, Andy Reese, Pitch & Shifter, Gerry Miles, Van Pain, Ironnie, Mike O'Sullivan and Sustancia amongst others.

Kinderleicht, like all of Steve Vim's other projects has become an essential part of the Pulsetone brand and is the driving force behind its rapid growth. There is no doubt that top tracks such as 'Dark Faders' will only fuel much more success for both the artist and the label in the years to come.