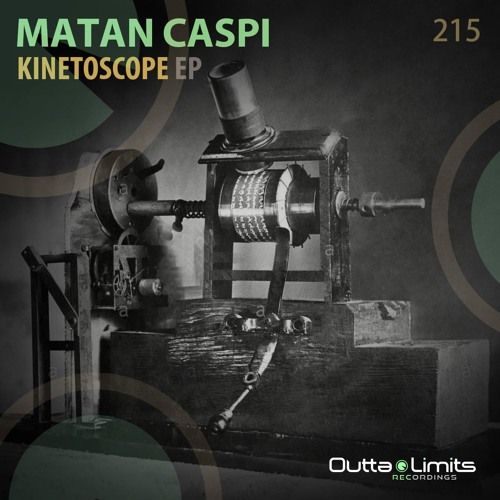 Matan Caspi - Kinetoscope EP
Fresh from his recent (huge) intense and emotive 'Thousand Winds' collaboration with Darin Epsilon on the Perspectives Digital label, renowned electronic artist Matan Caspi returns with a stunning solo triple track EP on Outta Limits Recordings. Matan is undoubtedly one of the most refreshing electronic music producers to rise to prominence on the global stage over the past 10 years. His music always shines with a unique fusion of the finest underground genres, blending sophistication with his own distinctive originality.
Lead track, 'Kinetoscope', with its teasing, playful, ever-evolving arrangement, is a beautiful, joyous, smile-inducing masterpiece. Meanwhile, the deeply hypnotic groove of 'Ethereal Dream' builds anticipation and tension with subtle skill before beautiful vocal and melodic motifs take proceedings to a higher level of heavenly house music. Finally, 'I'll Be There' utilises a super-solid groove backbone to launch an anthemic synth-swathed swansong to round off this very impressive package.
Matan Caspi is now consolidating his reputation as one of the most exciting DJ/Producers out there. He rose up the ranks rapidly from 2013 – 2015 performing his genre blurring DJ sets in over 20 countries, spread over 5 continents. His productions and remixes have become highlights on an ever-growing list of renowned labels worldwide, such as: Universal Music, Spinnin' Records, Spinnin' Deep, Global Underground, Deeperfect, Definitive Recordings, Enormous Tunes, Black Hole Recordings, Ultra, Armada, Sprout, Pacha, Sirup Music, Iboga Records, and of course his own label – Outta Limits Recordings – which he co-runs and manages with his partner producer and friend Stan Kolev.
Stan & Matan established the label to express themself without any limitations of musical genres and Outta Limits is the place where you can hear real quality underground music. Their growing label is proving a successful venture and has already featured a long list of talented producers, including: Dinka, Daniel Portman, Chris Reece, Sergio Fernandez, DJ Lion, Karim Haas, Pete Moss, Ben Coda, Ad Brown, Magitman, Angelo Ferreri, D-Trax, Jon Silva, with many more to come…
Enjoying his role as a multi-tasking maestro, Matan Caspi also launched his own monthly 2hr 'Beat Avenue' radio show in 2011, which now airs on numerous major radio stations worldwide: https://www.mixcloud.com/BeatAvenue . Also, watch out for Matan's new release on Definitive Recordings that precedes his superb 'Kinetoscope EP', you can check it here:
https://soundcloud.com/matan-caspi/matan-caspi-eau-de-groove-original-mix-definitive-recordings
Artist Info:
http://www.matancaspi.com
https://twitter.com/MatanCaspi
https://soundcloud.com/matan-caspi
https://www.facebook.com/MatanCaspi1
Label Info:
http://www.outtalimitsrecordings.com
http://www.facebook.com/outtalimits.official
https://www.beatport.com/label/outta-limits/1239