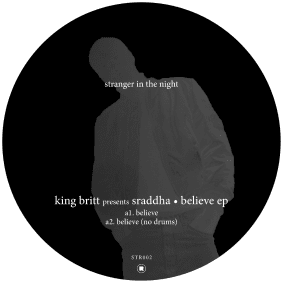 King Britt presents Sraddha on new Rekids offshoot Stranger In The Night
King Britt appears as Sraddha for the second release on Rekids offshoot Stranger In The Night entitled 'Believe EP', following a notable debut release from Radio Slave.
King Britt, of course, is a long time house head who brings his Philly roots and a real sense of musical soul to his timeless and feel good grooves. Here he introduces Sraddha on four fantastic new cuts that ooze quality from start to finish.
"In Hindu, Sraddha is the word that represents the ritual paying homage to the ancestors. Whenever I create music or play music, it is my ritual to those who paved the way and to my ancestors who watch over me. You gotta Believe" – King Britt
Fantastic opener 'Believe' is a shimmering house cut with well treated vocals that bring an eerie quality to the warm, deep drums. The 'No Drums' version is an intimate bit of late night mood-setting that creates a dreamy ambiance.
The excellent 'Memories' is perfectly off balance deep house, with live sounding drums and gorgeous synth puddles, deft leads and a romantic feel that is perfect for cosy dance floors. Last of all, the gorgeous 'You're All I Need' sinks you into a reverie over eight soft-focus minutes of persuasive hand claps and withering chords, subtle sci-fi motifs and plenty of real musicality that is often all too rare in modern house music.
Once again King Britt's unique sense of class really shines through on these most authentic and soulful house tracks.
King Britt presents Sraddha 'Believe EP' drops on Stranger In The Night on 7th June 2019.
Tracklist:
1. Believe
2. Believe (No Drums)
3. Memories
4. You're All I Need
Artwork by Berlin artist and gallery owner Kristina Nagel.