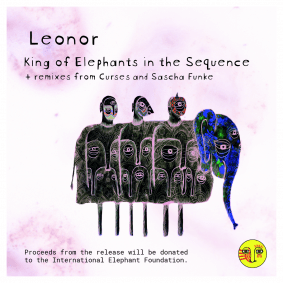 Leonor - King of Elephants in the Sequence
Amsterdam based Sinchi is a multi-faceted platform, including a DJ collective, event promoter, mix series, blog and now label. The new not-for-profit label will pledge the profits from each release to a hand-picked charity and kicks off with a fresh single from Leonor, featuring remixes from Curses and Sascha Funke.
Profits from the first release will be benefiting The International Elephant Foundation, an NGO which focuses on protecting the severely endangered Asian elephant and the threatened African elephant. They support programs that protect elephants, habitat, and the villagers that live with elephants in their "backyards" by reducing human-elephant conflict.
The artist behind the single is Leonor, a DJ and producer from Guadalajara, Mexico who now resides in France. An upcoming star, he has released on Nein Records, Toolroom, and Tom Tom Disco while charting in top positions on Beatport and Juno. He is rapidly making a real impact on the scene and in heavy demand as both dj and producer.
His fantastic single here is an organic and inventive track littered with the sound of jungle wildlife, indigenous percussion and vocal chants and loose house drums. Big claps and raw loops help build the pressure making for a sure-fire bomb that will detonate any floor.
First remixer is Curses, the New Yorker based in Berlin, known for blending rock & roll with the darker side of disco on labels such as Bordello A Parigi, Throne Of Blood, and Ombra International. The Rinse FM France resident brings all that to his haunting, chugging, macho disco remix, which has slapping hits and low slung bass all making you move.
Then comes Sacha Funke, an experienced artist with credits for his deep, graceful sounds on the likes of Kompakt, BPitch Control and Turbo. Here he reworks 'King of Elephants in the Sequence' into a flailing and unhinged house track with a giant rasping bassline and trippy synth details. It's one to shake things up and bring real colour and freakiness to the club.
This is a fantastic package not only in musical terms, but also because of the charitable intentions behind it.
Tracklist:
1 Leonor – King of Elephants in the Sequence
2 Leonor – King of Elephants in the Sequence (Curses Remix)
3 Leonor – King of Elephants in the Sequence (Sacha Funke Remix)