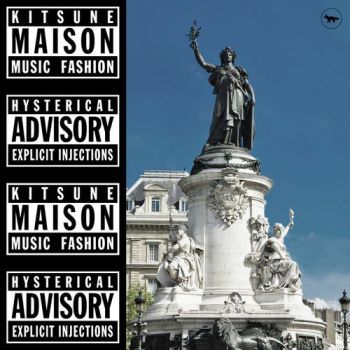 Various Artists - Kitsuné Maison 18
New vibes. New cover. Kitsuné is taking a brand new look at its Maison Compilation series with the release of Kitsuné Maison 18: The Hysterical Advisory Issue on November 18th 2016. The 18th edition of the Parisian label's flagship compilation is opening up new perspectives with a rigorous selection of chill and funky hip hop and future R&B. Everything that taste making blogs can't get enough of. The label has always taken to heart its music curation as much as its image, a key driver to its success. It only makes sense to invite a distinguished guest to design the cover: no less than Cali Thornhill DeWitt, who worked on Kanye West's latest clothing collection inspired by his album "The Life of Pablo".
"Kitsuné Maison 18: The Hysterical Advisory Issue" is a clear and playful nod to the underground hip hop culture. While the Parisian label is perpetually exploring landmark genres that shape the music of tomorrow, this new chapter, Hysterical Advisory, clearly outlines the future of Kitsuné. Let up-and-coming artists from all around the globe take you on the ride. From the Midwest hip hop vibes to electro acoustic trap, Kitsuné Maison 18 never stops surprising you.
Kitsuné shows once again its avant-garde prominence to make music and fashion meet. Cali Thornhill DeWitt has designed variations of the Kitsuné Maison 18 cover in an exclusive capsule collection including a series of t-shirts and a tote bag. This limited edition covers the themes of the compilation by revisiting the codes of hip hop. The French-Japanese fox is giving streetwear a try and offers the best soundtrack for a skateboarding ride on the famous Venice Beach Boardwalk. The Hysterical Advisory Issue is full of new discoveries with Girli, XXX, Parcels, Courts and many more.