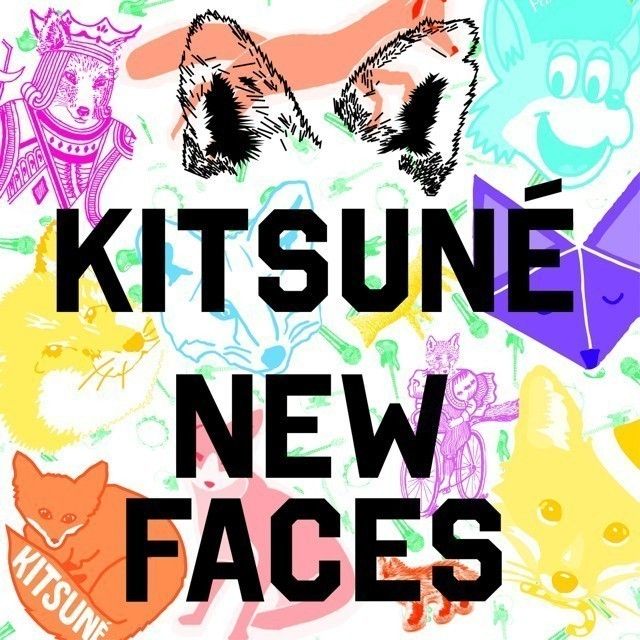 Kitsuné – New Faces
Introducing this season's as-yet-undiscovered hot tickets, Kitsuné gets younger than ever on Kitsuné New Faces, it's latest compilation out February 24.
Kitsuné New Faces does exactly what it says 
on the tin by singling out the talents currently breaking through in music and giving them the platform they deserve.
Continuously challenging expectations and pushing the envelope, Kitsuné is keen to reinvent itself and let it's artists take the lead. Ears have got sharpened and fine-tuned with time and a kind of maturity is starting to show up.
Courageously Kitsuné's logic remains that it feels more exciting to experiment new paths than to constantly rehash the same thing. It might not be crossover time just yet, but the French brand certainly isn't shy about embracing its time and the technology developments that come with it. With its cute artwork dedicated to all the foxes out there Kitsuné New Faces is the perfect compilation, original, varied and tuneful. So turn up the volume and let yourself be conquered by these fresh hit makers.
Tracklisting:
ANTIMATTER PEOPLE 'Mossy Grounds' Kitsuné's latest protégés are on a psychedelic, seventies tip that's both classy and soundtracky. On listening to "Mossy Sounds" one can almost smell the patchouli exhalations.
HYETAL 'Jam The Network' 
With its relentless pace and 80s synths «Jam The Network» sounds like a poppier M83. For sure Hyetal does electronica with a big heart.
GALLANT 'Sirens' 
His haunting falsetto and enigmatic charm make Gallant stand out a mile off. Take your pick between progressive R'n'B and chill-out soul.
SUPERFOOD 'Bubbles' 
More seventies rock influences from Superfood, a Birmingham quartet who puts the classics
in the blender and comes up with its own interpretation.
LXURY 'Never Love' Praised by Disclosure and feeding pop music with his dancefloor and lo-fi sensibilities, this young Brit has the candor of a fragile fawn, watch him turn into a star.
SNAKADAKTAL 'The Sun II' 
Enter Snakadaktal's world of rich, wondrous soundscapes, magical harmonies and sincere poetry. Kind and delicate «The Sun II» will only sound better in stadiums.
SOLOMON GREY 'Last Century Man' From Oxford to Australia via east London, Tom Kingston and Joe Wilson blur the lines between computers and live instrumentation with a lyrical almost pastoral vision.
CLANCY 'Overdue' (edit)
 After years of raging electro, deepness is on the cards again. One of its stalwarts Clancy treads the famous Manchester-London axis with his hypnotic, techno-infused house that goes deeper than deep.
SOUTHERN 'Shout It' 
Brother-sister act Southern bring modern flavors to blues, Ireland never felt so close to the Deep South.
KILO KISH 'Turquoise' 
Lakisha Robinson aka Kilo Kish can't stay still. This textile designer and visual artist is also a convincing singer/songwriter who brings her own drama twist to NY R'n'B.
YEARS & YEARS 'Real' 
Hotly tipped London quintet Years & Years craft an irresistible world of seductive soulful pop music self-described as 'warm analogue meets cold digital'.
ROSIE LOWE 'Me & Your Ghost' Accompanied by producers Kwes and The Invisible's Dave Okumu, singer/songwriter/ multi-instrumentalist Rosie Lowe experiments with textures, sounds and beats whilst sticking to a certain songwriting ideal.
GEORGE FITZGERALD 'I Can Tell By The Way You Move' 
It's a London thing, those who grew up with speed garage and drum & bass are now recreating house music. Again and again black American music is inspiring the UK and keeps on spawning numerous hybrids.
PANDA 'Eighty Nine' 
Soul vocals are back in a big way, even if that means pitching and twisting them up cartoon-style. Forward-thinking house from Brit trio Panda.