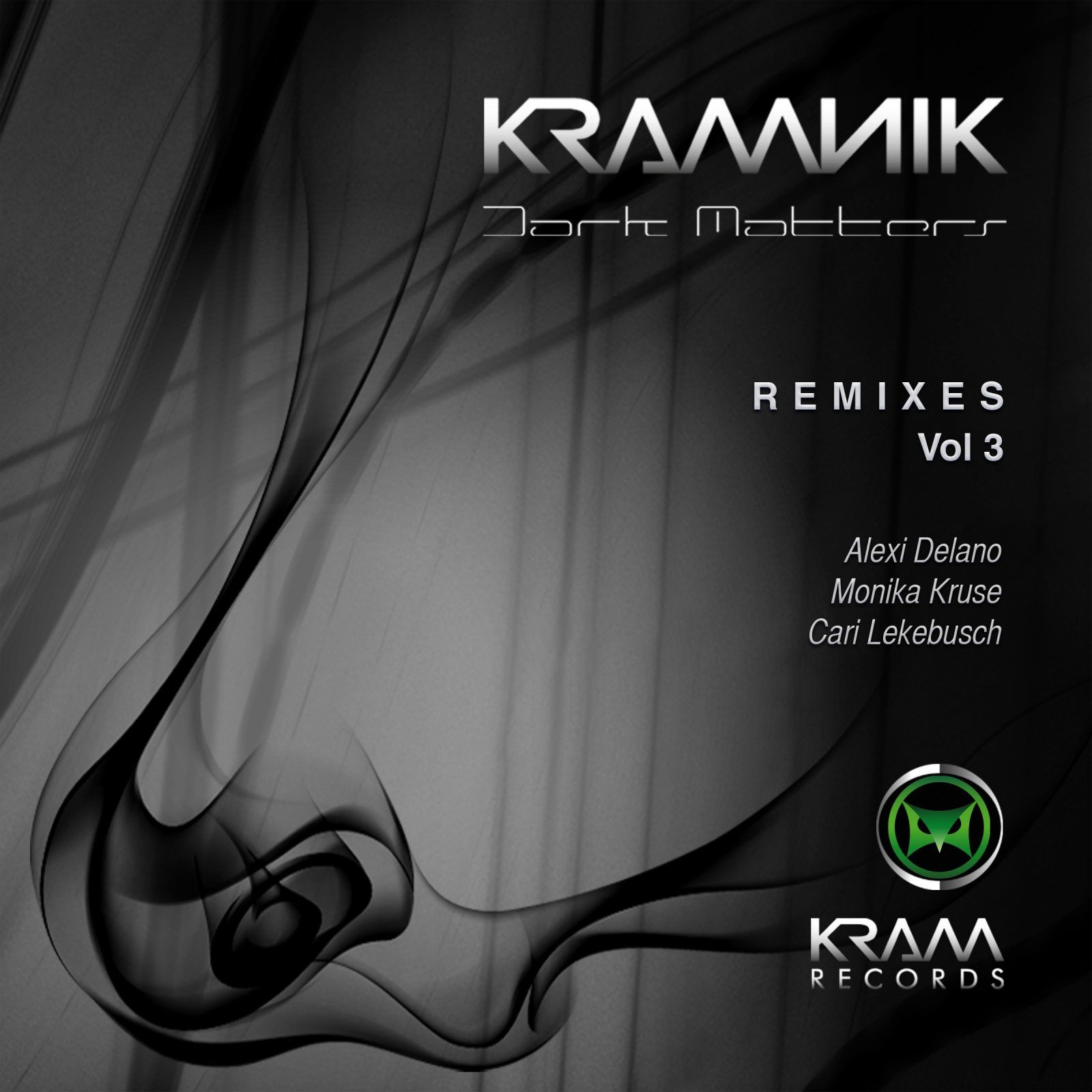 KRAMNIK – DARK MATTERS REMIXES VOL 3 EP
Having established himself with the impressive "Dark Matters" debut album and the acclaimed Remixes from Ben Sims, Gabriel Ananda, Hernan Cattaneo, Timo Maas, Hans Bouffmyhre, Nick Warren & SQL of the "Dark Matters Vols 1 & 2" EP's, Spanish DJ/Producer, Kramnik, now located in Berlin ushers in his strongest techno styled set to date featuring scene icons, Cari Lekebush Monika Kruse and Alexi Delano.
Stockholm-based sound architect, Cari Lekebush's Remix of 'Flex' lifts the lid of this new set with a minimal pulsing techno groove, tailor made for dance floor action with its crisp beats and smouldering hi hats. Monika Kruse's Remix of 'Schrizo' opens in brooding der der der warm techno style, layering a soft nagging spoken vocal groove that unbends in funky fashion with its 'great in belief' breakdown resurrected again with hand claps to summon up the rhythm.
Alexi Delano 's Remix of 'Harmuk' is in stark contrast with its slowed down, soft hand claps and whirrs somewhere between ' shiny minimalism and dark vivacious techno'. Delano layers the sounds, claps and whirrs in an other-wordly atmosphere that's a perfect warmer upper or end of night chill down.
Kramnik has been traveling in the Far East including Thailand, Laos, Vietnam and Cambodia and tucked away in his Berlin studio working on his new album, which is going to be 'totally different, with short songs, some voices, trumpets, harmonicas, something with a Brit sound, and even a blues remix!' unlike his techie 'Dark Matters' debut.
Aside from DJ sets in Spain and Berlin, hungry internet music player Kramnik, continues to add ever more music lovers to his soundcloud, facebook and twitter accounts aided by his 'Invisible Radio Show' sets. Channeling a deep electronic musical obsession, his forward-looking Kram Records imprint has seen releases from Kramnik alongside the growing community of talents including Gabriel Ananda, Hernan Cattaneo, Timo Maas, Ben Sims, Hans Bouffmyhre & SQL on releases such as his 'Drop It' EPs
Kram Records is the brainchild of Producer & DJ, Kramnik, who divides his time between Berlin and Madrid.Tipped as 'One To Watch' after being warmly received two years ago for his "Dark Matters" debut album and the impressive 'Dark Matters Remixes Vols 1 & 2' EP's, Kramnik found himself on the receiving end of some amazing attention including 'Album of the Month' in Future Music Special 20th Anniversary Edition,, and a stack of interviews that included Ibiza Voice, Data Transmission, They Make Music, Inhale, BigShot, My Beat Fix, Defected, DSI, Music Radar, DMC, and The Sun. Kram has a revolving door A&R policy with his Kram Records dropbox and 'DropIt' series, and is always on the lookout for new talent. : www.soundcloud.com/kram-records/dropbox
Kramnik: 'Dark Matters' VIDEO: www.kramnik.dj/video
Kramnik: 'Dark Matters' ALBUM & LIVE MIX: www.kramnik.dj/music
Kramnik: Interviews, Press Clippings, Reviews: www.kramnik.dj/reviews
'Invisible Radio Show': www.kramnik.dj/radioshow)