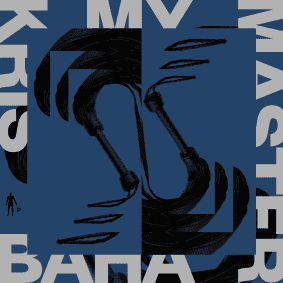 Kris Baha – My Master
Berlin's Kris Baha returns to Pinkman with six spiralling cuts entitled 'My Master'.
Originally from Melbourne and now residing in East Berlin, Kris Baha has firmly embedded himself into the musical sphere that surrounds him after launching his Power Station label and weekly Melbourne club night in 2015. Kris has since gone on to release music on She Lost Kontrol, CockTail d'Amore, Bahnsteig 23 and his Power Station imprint, in addition to playing regular shows in and around the European club and festival scene. 'My Master' sees Kris return to Marsman's Rotterdam based imprint that continues to maintain its intriguing catalogue contributed to by the likes of Amato, Dreams, Identified Patient, Black Merlin, Drvg Cvlvre and many more.
'Fuels The Fire' kicks things off with chugged-out modulations fused with fierce vocals and twisted synth progression before 'Two Sides' delivers cosmic leads spiralling around low-slung bass grooves and winding tones. 'Chase Your Shadow' maintains the eccentric nature blending resonant kicks, growling oscillations and fierce elements morphing throughout.
On the flip, 'Serve, Obey' expertly balances wired sequence basslines, acid-tinged synthesis and frantic effervescence until muffled vocals, chaotic sound design and nu-wave inspired, chuggy rhythms take the focus in 'My Master'. 'Fuel' then rounds off proceedings with post-punk influences bridging an unconventional drum sequence with wispy pads and vibrant laser zaps.
Kris Baha 'My Master' drops on Pinkman on 7th June 2019. 
Tracklist:
A1 Fuels The Fire
A2 Two Sides
A3 Chase Your Shadow
B1 Serve, Obey
B2 My Master
B3 Fuel