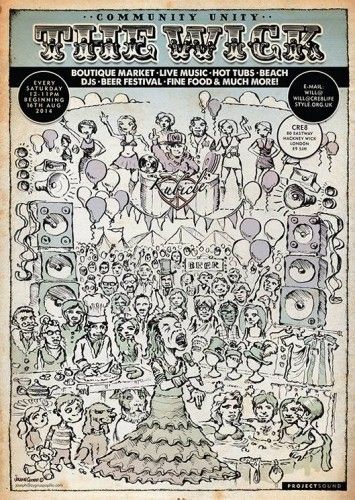 Kubicle & Project Sound launch The Wick
Kubicle & Project Sound proudly present Luca Cazal's 'Mariri' EP launch at new multi-arts & market space The Wick, Saturday 23rd August

Luca Cazal releases his new EP 'Mariri' on Crosstown Rebels with an exclusive preview at new East London multi-arts, music and shopping destination The Wick.

Kubicle resident Luca is a star in ascendance in the global house and techno scenes. He is part of Hot Creations' duo Infinity Ink, Pete Tong regularly regales him with 'Essential New Tune', he's secured a residency at DC10 and is part of underground powerhouse Hot Natured. As if that wasn't enough, he's also collaborated with legends including Robert Owens and Roisin Murphy, to name a few.

Saturday 23rd August sees Luca stake his claim amongst the house heavyweights as he drops the new solo EP at the launch of The Wick, with support from Brigante, Robert Outch and Fb Julian.

The Wick is curated by Kubicle girls Liz Mendez and Sonia Anderson, and is located in the heart of Hackney Wick's thriving creative scene. It's a new, weekly hotspot, a multi-arts shopping destination open from midday until 11pm. A one-stop shop for all your Saturday delectations; ease a sore head from the night before, wander round the bustling market, or make a night of it.

At the heart of The Wick is a burning desire to support up and coming local creatives. The outdoor immersive marketplace is where you will find the next generation of hot designers nestled alongside high-end vintage fashion, interior décor, gourmet food shacks and a Tiki bar.

The production of the space will be a focal point too. Each week will be a different experience, a psychedelic journey to indulge the senses.

As night falls, the crowds move inside to the dancefloor, where the soundtrack is cosmic disco, house and techno provided by some of the underground's hottest talent. Don't worry, if it all gets a bit much, head on over to the beach or jump in a hot tub – just don't forget your towel!

Kubicle founders Liz and Sonia are no strangers to regenerating derelict spaces with their infectious magic. Having launched their underground club night Kubicle in East London's infamous Public Life back in 2005, the girls have garnered a fierce reputation for their intimate, fun-fuelled parties in unusual spaces that keep the focus firmly on two things – good music and good times. The duo have gone on to produce events at Glastonbury, Secret Garden Party, Burning Man and more, as well as hosting VIP events across the globe.

Collaborating with Kubicle is Project Sound, who have a contacts book brimming with performers, producers, DJs and more. Previously having worked with Glade Fest and producing events for the likes of Ministry of Sound, Project Sound will work alongside Kubicle to deliver an experience where anything and everything could happen.

With Cre-8 Space's The Old Bath House, Kubicle and Project Sound have their sights set on the future and their hearts forever sworn to developing something truly unique for the East London community.

The music, the meets, the food, the treats, the drinks, the dance, the love, and the laughs: The Wick.