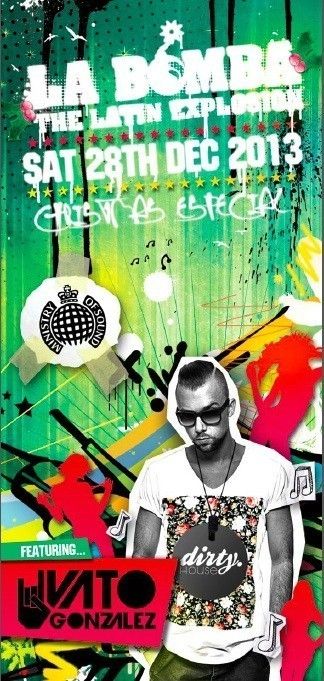 La Bomba's Christmas Saturday takeover at Ministry Of Sound
La Bomba returns to take over Ministry of Sound on Xmas Saturday 28th December with a special guest appearance from Vato Gonzales.
La Bomba – The Latin Explosion, Europe's premier Latin rave returns once again to Ministry of Sound on Saturday 28th December 2013 for a special Christmas Takeover party. La Bomba – Christmas Especial – features an exclusive DJ set from Dutch dirty house legend Vato Gonzales, backed up by Notting Hill Carnival's dancehall kings, The Heatwave, and some of Europe and the UK's most exciting and influential Latino DJs: Alejandro De La Cruz from Germany, DJ Mega from Denmark. Plus with the UK's most popular Latino DJs Jose Luis and El Moreno and full London DJ Crew pumping out the finest Latin house, reggaeton, moombah, trap, salsa and bachata, the night is sure to be a guaranteed roadblock.
Vato Gonzales, signed to Levels Recordings/Ministry of Sound, reached no. 7 in the UK chart with 'Badman Riddim (Jump)' featuring Foreign Beggars and the follow-up single 'Not A Saint' featuring Lethal Bizzle & Donae'o went top 20. He's remixed Major Lazer, Skepta, DJ Zinc, 2 Bears, Sway, Rizzle Kicks, Taio Cruz and has enjoyed a successful DJ career, helped by his 'Dirty House' mix tape series. Widely recognized as the originator of the 'Dirty House' genre/movement in his home country and internationally renowned for his 'Badman Riddim' anthem, the 28-year-old music enthusiast has already won thousands of fans with his immensely energetic stage presence, rather rebellious attitude and by generally doing things his way.
Born and raised in Spijkenisse, a small town generally hidden from sight by the thick smog of Rotterdam's industrial zone, Vato Gonzalez spent most of his teenage days hanging around the block, messing up his eardrums by listening to UK garage, hip hop and dancehall. He promoted his own events at the university where he studied software design – in which he still works part-time, as well as designing artwork for his own events and releases. He
La Bomba also welcomes The Heatwave to their DJ ranks, the UK's number one bashment sound system who will be bringing the sensational mash-up sound of dutty house and dancehall of their Hot Wuk party to the proceedings. As well as their Notting Hill Carnival stage they present shows on Rinse FM and 1Xtra and have been playing live worldwide for 10 years. They will be backed up by La Bomba DJ/promoter Jose Luis playing B2B with El Moreno, Alejandro De La Cruz (DR/Germany), Saul Maya and Ezekiel Uglyboy and MC Scooby will hold ceremonial duties.
Room 103 will be rocked by the traditional sounds of Salsa, Bachata and Merengue featuring the UK's most sought after tropical DJs: DJ Mega (Denmark/Venezuela), Javier La Rosa (voted 3 times Best Cuban DJ in the UK), Manny Castillo, Gato and Urbano. There will also be a live Colombian salsa dance show by Cali Swing.
The baby Box will feature the best in upfront Latin house DJs Edgar Danilo & Eztylo.
The Loft will be hosted by Movimientos featuring with Cal Jader and DJ Arias.
La Bomba, London's explosive and essential Latin fiesta returns set to spread Latin love over London again this Xmas at their annual mega jam as more than 15 Latino DJ's come together for La Bomba's annual UK showdown and like last year's Xmas party its set to play to a capacity crowd. There will be VIP areas in both rooms and the club offers table service – reservations preferred.
LA BOMBA @ MINISTRY OF SOUND
XMAS SATURDAY 28th DECEMBER
TAKEOVER PARTY
WITH VATO GONZALES & THE HEATWAVE
www.la-bomba.co.uk