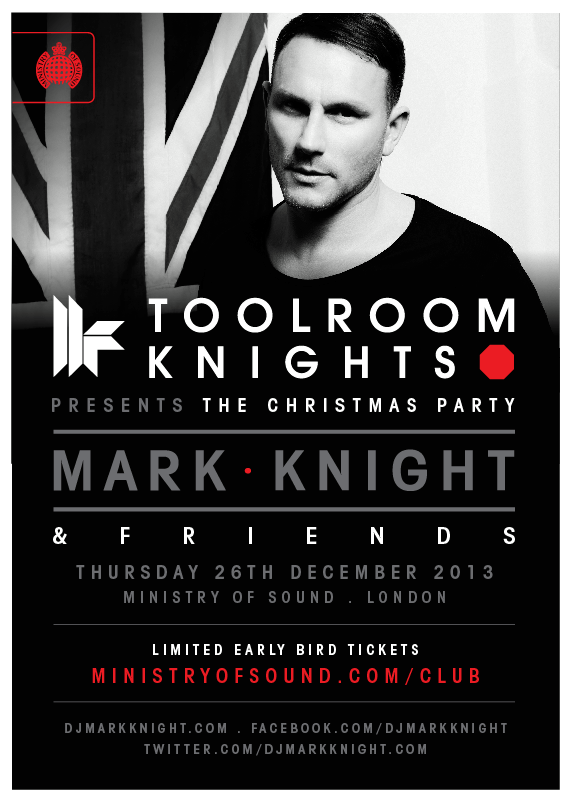 Toolroom Knights Presents The Christmas Party
Toolroom culminates a spectacular year celebrating a decade in dance music with our Christmas Party at Ministry of Sound, London.
With the monumental Toolroom Ten anniversary weekender celebrations still fresh in everyone's mind… It's only fitting that we return to the iconic super club for some festive fun…
Known globally as one of the biggest and most innovative dance music brands, one of the best underground house event brands on the planet, Toolroom Knights holds residencies in every major continent around the globe. From Las Vegas to London, Miami to Moscow and more, the brand continues to deliver the best house music and an unbeatable atmosphere – and Boxing Day looks set to be no exception!
Always a sell-out, check out the line-up below to see why you can't afford to miss out on our Christmas party!
LINE UP
THE BOX BAR 103
Mark Knight Bontan
Chus & Ceballos Lars Vegas
Tom Staar Pete Griffiths
Weiss Mark Storie
Twice nominated in this year's International Dance Music Awards and with huge Beatport success, Toolroom Head Honcho Mark Knight headlines the infamous Box; with a passion for effortlessly mixing underground cuts with upfront party anthems, expect an unforgettable set. Playing alongside him, Chus & Ceballos will introduce their 'Iberican Sound' to the revered venue; Tom Staar looks set to captivate the London crowd with his big room tunes; and our future star Weiss aims to get the dance floor moving with his trademark deep jacking grooves and rumbling bass.
In the 103, our hot tip for the future Bontan will lead the charge with support from Lars Vegas and Toolroom residents, Pete Griffiths and Mark Storie.
Join us for our Christmas party at Ministry of Sound on Thursday 26th December!
Tickets (Early Birds – Sold Out / £18 General Admission) available here: http://www.ministryofsound.com/club/listings/1222/boxing-daytoolroom-knights/
http://www.toolroomrecords.com/
https://www.facebook.com/djmarkknight
http://www.ministryofsound.com/