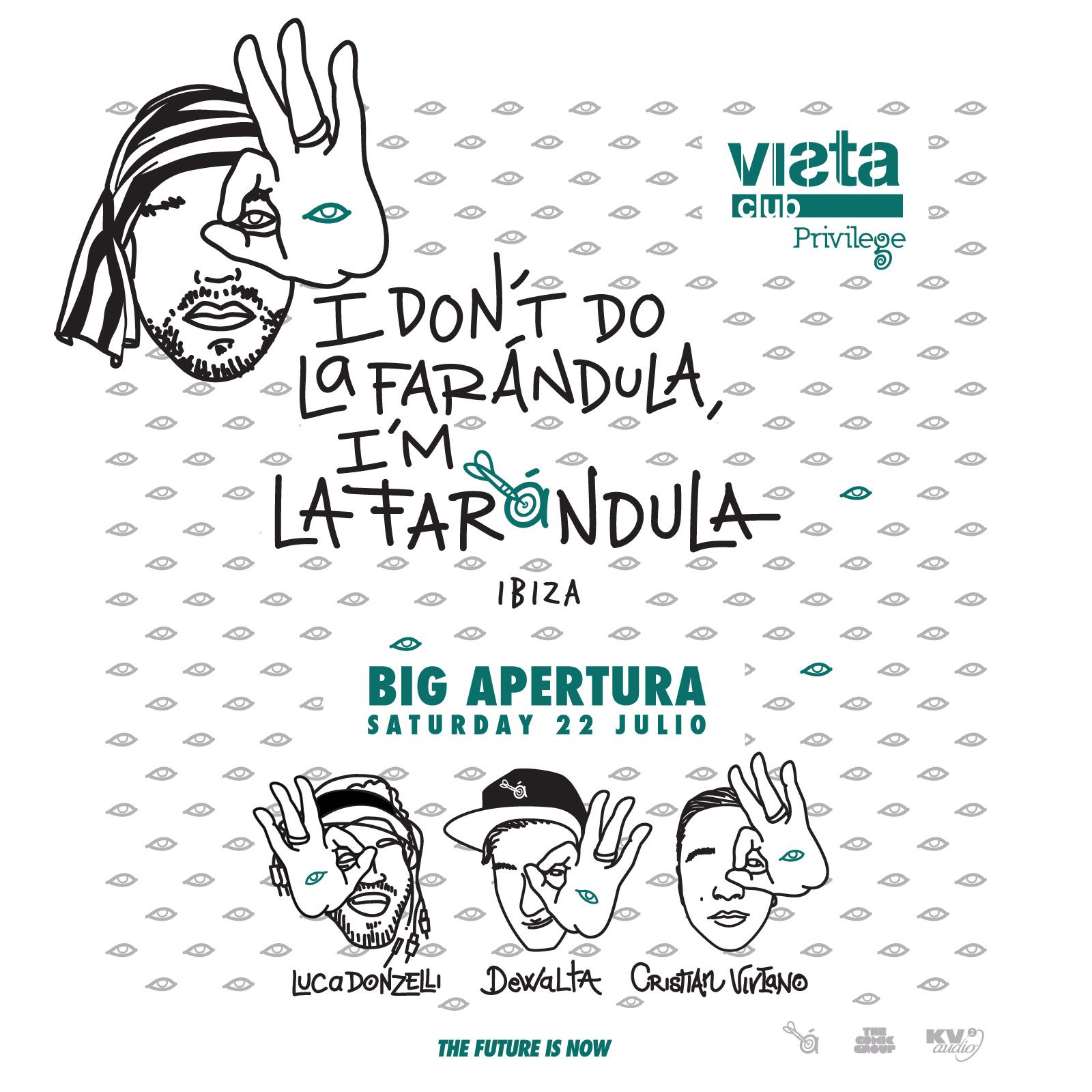 La Farandula at Privilege Ibiza
A SURREALIST EXPERIENCE DIVIDED INTO 9 ACTS AND HELD IN THE LEGENDARY VISTA CLUB AT PRIVILEGE IBIZA FROM JULY 22nd UNTIL SEPTEMBER 23rd
ART, BRAIN-STIMULATING MUSIC, AVANT-GARDE PERFORMANCES, ADDITIVEFREE SURREALISM AND, ESPECIALLY, RESPECT TO THE FARANDULA´S TRADITION
What is real? We all know there is a fine line , almost imperceptible dividing reality and fantasy. La Farándula Ibiza wants us to walk together the narrow path existing between dream and reality. A 9-days trip to experience surrealism in its most party-loving version starting from Saturday 22nd July at the legendary Vista Club in Privilege Ibiza.
A group of friends with more than 20 years of experience creating events in the Pitiusses are leading this promising project. Some of the most important promoters, designers, artists, DJs, and clubbing architects and journalists of the best parties in Ibiza are working together to recover and update the spirit of freedom and creativity that turned a small Mediterranean island into the center of electronic music universe.
As it could not be otherwise, music will be the cornerstone of La Farándula Ibiza. Different DJs who perfectly know how to pull the strings on the island will be taking to the booth in the legendary Vista Club at Privilege Ibiza. Additionally, important names in the world of electronic music will give us a new perspective of its great talent under the name of Special Surreal Guest DJ.
In order to create the most surreal atmosphere possible, La Farándula Ibiza will have a space in which decoration fulfills its purpose. You will feel trapped by The Gallery and its works of art especially created for the party. The artworks in The Gallery will be on sale for anyone who falls in love with them. If that is not enough, the actors and performances by The Comic Group together with the Show Gogo by Las Pajitas Faranduleras will be the spice that any event in Ibiza needs.
With the spiritual blessing of Salvador Dalí, the first Farandulero, and under the surreal look of The Great Eye that sees everything, you all are invited to be part of this experience that Ibiza was waiting for: La Farándula Ibiza, because The Future is Now.
DJS: Antonio Pepe, Betoko, Bruno Bleda, Chelina Manuhutu, Cristian Viviano, Cuky, DeWalta, Djebali, Dj Oliver (25 Aniversario dj set), Elio Riso & Nilo. R, Eder, Frank Storm, Gaetano Parisio (Set special Ibiza), Hector Couto, Hector, Ion Pananides b2b Alex Pott , Iván Escura, J.JFox aka Chus Jodar, Knario, Luca Donzelli, Markantonio (Set special Ibiza), Marco Yanes, Nano Vergel, Rafa de Siria, Tem Roll + + MANY MORE TO BE ANNOUNCED SO SOON!