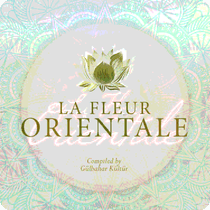 compiled by Gülbahar Kültür - LA FLEUR ORIENTALE
Lola's World Records presents new album series, embarking on a new unique journey over the colourful landscape of oriental culture and immersing into new dimensions of music

LA FLEUR ORIENTALE

It is a collection of tender, mesmerising melodies and hot oriental rhythms tastefully selected by the renowned music curator DJ Gülbahar Kültür; a ride gliding in a dynamic flow to expand the boundaries of inspiration, where western sounds meet the rich tradition of oriental music and create an east-west divan of 17 outstanding musical pieces.

Coming up with a totally new chapter of her successful compilation series DJ Gülbahar Kültür's choice of eclectic music does an incredible job in creating an ambiance both to unwind and to knock the dust of the dancefloor in the same album: beginning with wanderings in sun-drenched comfort zone beats for audio aesthetes, the album progressively evolves into a festive dance fireball burning up with oriental passion.

Artists from different countries mingle on LE FLEUR ORIENTALES and present a matchless musical experience full of warmth and pleasure. Iranian animation filmmaker, illustrator, singer and songwriter Marjan Farsad's deeply touching song Setareye Soheil opens the album followed by a sweet, smooth Bossa Nova from one of the most established and complete modern artists in the slick underground Lebanese and International scenes Tania Saleh. Lebanese arranger, composer and producer Jean Marie Riachi features Sevine in the famous jazz standard My Baby Just Cares for Me. Ska-reggae band from Greece Locomondo feat. Pantelis Thalassinos; the angelic voice Fadia Bazzi originally from Lebanon; Apo & the Apostles feat. Mai Mourad, the alternative folk rock with a multilingual twist and upbeat vibe; Jordanian Arabic Rock band Jadal; Iranian R&B and Hip-Hop voice Sogand; PrOmid, international music producer of Iranian origin whose music is a composition of native and eastern musical instruments with western musical atmosphere; Moroccan musician Mouhi Eddine Marsli; producer TH Moy from the Spanish city of Girona; Armenian violin virtuoso Tigran Petrosyan, Daniil Nil Kizilov better known as DJ Nil and Alfida the vocal diva, producer and DJ from Uzbekistan are some of the names who contribute to the distinctive multi cultural distinctive feature of the album.
DJ Gülbahar Kültür: a producer who never ceases to immerse herself in new experiments to constantly rediscover cultural expressions in music… Her latest work LE FLEUR ORIENTALES is a refined, charming blend that reflects the current pulse of music, where east and west nourish each other for a fascinating musical session.