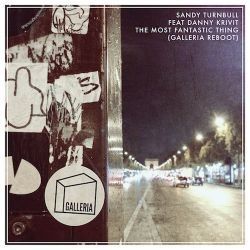 Sandy Turnbull ft D. Krivit - The Most Fantastic Thing (Galleria Reboot)
In 2011 Sandy Turnbull's 'The Most Fantastic Thing' feat Danny Krivit took WMC by storm, re-launching the seminal Soulfuric Deep label, spending 2 weeks at the top of the Traxsource chart and was supported by MK, Grant Nelson and Andy Daniels among many others. Fast forward to today and our Galleria Records boss Sandy revisits the track, slated for release on his own label, delivering a slab of layered Raw Acid House peppered with some tasty new beat science for 2015 on his 'Galleria Reboot'!
In 2010 Sandy released his first production 'Special' on Open Bar Music, later in 2011 teaming up with DJ legend Danny Krivit on 'The Most Fantastic Thing' for the re-launch Soulfuric Deep, followed by 'Camino' on John Julius Knight's Blacklist label. Since then Sandy has gone on to release productions and remixes on Look At You, Open Bar, Azucar, Heavy and Solid Ground. His music has been supported by such luminaries as Derrick Carter, Groove Armada, Danny Rampling, Josh Milan, Grant Nelson, Aaron Ross, MK, Mousse T and many more. In late 2012 Sandy launched his own label, Galleria Records, with his own soul-drenched gem 'Dreaming' with Mr Bailey on vocals, followed by the soulful smash cover of Teddy Penderass' 'You Can't Hide From Yourself' from The Lewis Project and 'The Way You Make Me Feel' ft. F.D Swaray.
Tracklisting
1 The Most Fantastic Thing (Galleria Reboot)
'The Most Fantastic Thing' will be released on Traxsource Promo October 20th / Full release November 3rd 2015 on Galleria Records.