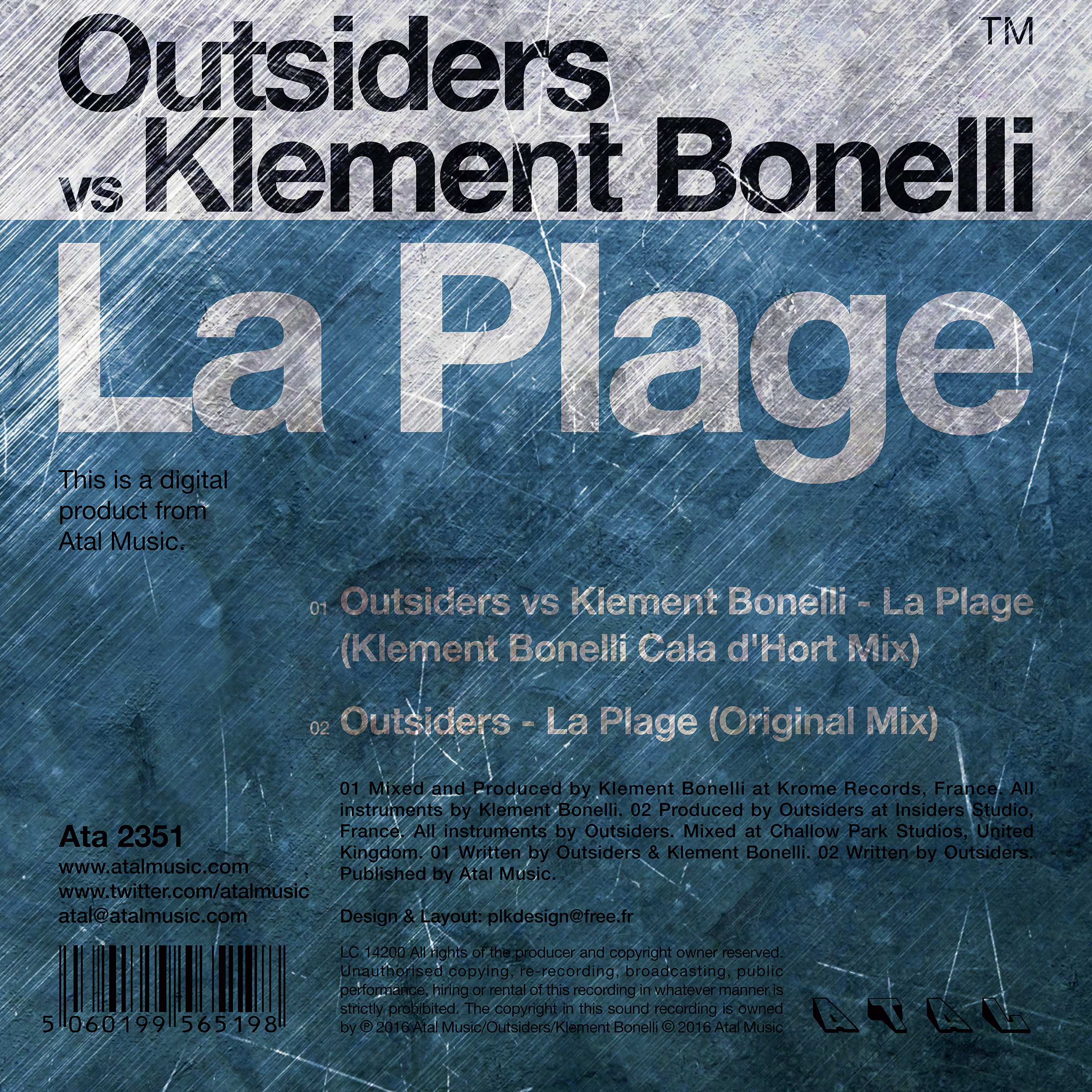 Outsiders vs Klement Bonelli - La Plage
French duo Outsiders are joined by fellow countryman Klement Bonelli to offer up their first release on Atal Music 'La Plage'.
Outsiders aka Anna Galactica and Maxim Ohm make up an exciting new pairing based out of Paris, and partner up with ever impressing Frenchman Bonelli on their first project 'La Plage' which is set for release this April.
Klement Bonelli has become a name known to many ever since his 2008 remix of Mark Knight and Funkagenda's 'Man With The Red Face'. Since then, impressive collaborations with Agoria and Robert Owens have found their way into the catalogue, whilst his 2014 debut album 'C o m p a s s' and track 'I Give Up' have proved favourites of Laurent Garnier, Kevin Saunderson and Richie Hawtin. His 2015 stand out collaboration with Michel Cleis 'Marvinello' saw heavy DJ support from Âme, Marcel Dettman, Dixon and Nina Kraviz to name a few, and led to it being named as Resident Advisors Track of the Year.
As a switch up from the norm, Klement Bonelli's 'Cala d'Hort' Mix opens the release with a skilfully crafted production that grows and evolves expertly throughout its near 8 minutes. The use of wavering synths, sporadic percussion shifts and slow builds captivate the listener, before an atmospheric release completes the package to reveal a melodic yet moody production that takes impresses from the get go.
The Original mix from Outsiders is a chuggy raw cut that establishes the duos intentions with a combination of ever intensifying percussion and thumping 4×4 kicks combined alongside a thunderous lead line ensuring the duos debut is one which is sure to leave a impression.
Outsiders vs Klement Bonelli 'La Plage' is out on Atal Music on 8th April on Traxsource and available on full release on 22nd April.
Tracklist
Outsiders vs Klement Bonelli – La Plage (Klement Bonelli Cala d'Hort Mix)
Outsiders – La Plage (Original Mix)