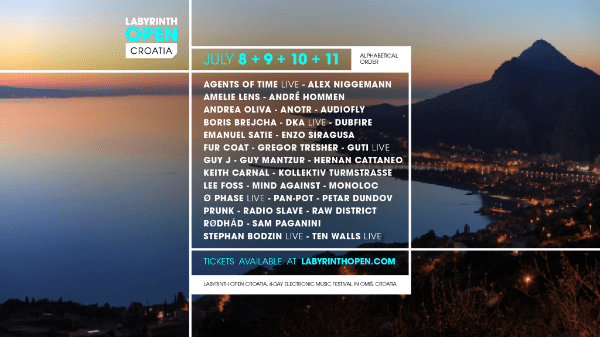 Labyrinth Open: Music Conference Schedule Announced
The four-day festival have revealed an invaluable day of talks and activities from industry influencers, featuring Boris Brejcha, Stephan Bodzin and more
Festival line-up:

AGENTS OF TIME LIVE – ALEX NIGGEMANN – AMELIE LENS
ANDRÉ HOMMEN – ANDREA OLIVA – ANOTR – AUDIOFLY
BORIS BREJCHA – DKA LIVE – DUBFIRE – EMANUEL SATIE
ENZO SIRAGUSA – FUR COAT – GREGOR TRESHER – GUTI LIVE – GUY J
GUY MANTZUR – HERNAN CATTANEO – KEITH CARNAL
KOLLEKTIV TURMSTRASSE – LEE FOSS – MIND AGAINST – MONOLOC
Ø PHASE LIVE – PAN-POT – PETAR DUNDOV – PRUNK – RADIO SLAVE
RAW DISTRICT – RØDHÅD – SAM PAGANINI – STEPHAN BODZIN LIVE

Labyrinth Open Croatia
Omiš
8-11th July 2017

Buy tickets here: http://bit.ly/2h0aAr1
With less than a month to go, brand new Croatia festival Labyrinth Open has announced details of its creative conference programme which is set to transform the beachfront location of Kemp Galeb in Omis on Monday 10th July.
With the sun promising to shine, the conference commences with two enlightening talks. Kicking off proceedings is owner of Fckng Serious' label and master of High-Tech Minimal himself Boris Brejchawho will share his story about the evolution of being a bedroom producer to being an established and well-known producer led by a series of ''Question and Answers'. Eugen Juricek, CEO of Mixmag Adria will then evaluate the power of social media and the audiovisual aspect in the growth of an artist to aid young artists to become an established value.
Tech-focused activities will also occur throughout the day, with OWOW confirmed to present a new set of electronic instruments built to enrich live and studio performance. They plan to lock up international artists in the studio for 30 minutes to watch how they create live sets with OWOW's gear. Both the drum, the wiggle, the wob and the scan belongs to the set-up of the virtuosi 'Kapibara'. This topic will be preceded by the head of communication from OWOW, Robin Dohmen. He'll present their 'MIDIS 2.0' with which Stephan Bodzin will work his magic. These four wireless MIDI controller are all about enriching live performances and getting more creative in the studio by using intuitive body movement.
With the boutique festival's carefully curated line-up, stage hosts and full breakdown of the music conference now revealed, this four-day exploration is an exciting addition to the Croatian festival calendar. Tickets are priced at the reasonable price of 165 euros, with accommodation packages available online. Buy tickets here: http://bit.ly/2h0aAr1
Event info:
Date: 8-11th July 2017
Location: Omiš, Croatia
Website: http://labyrinthopen.com/
Ticketing info: http://bit.ly/2h0aAr1