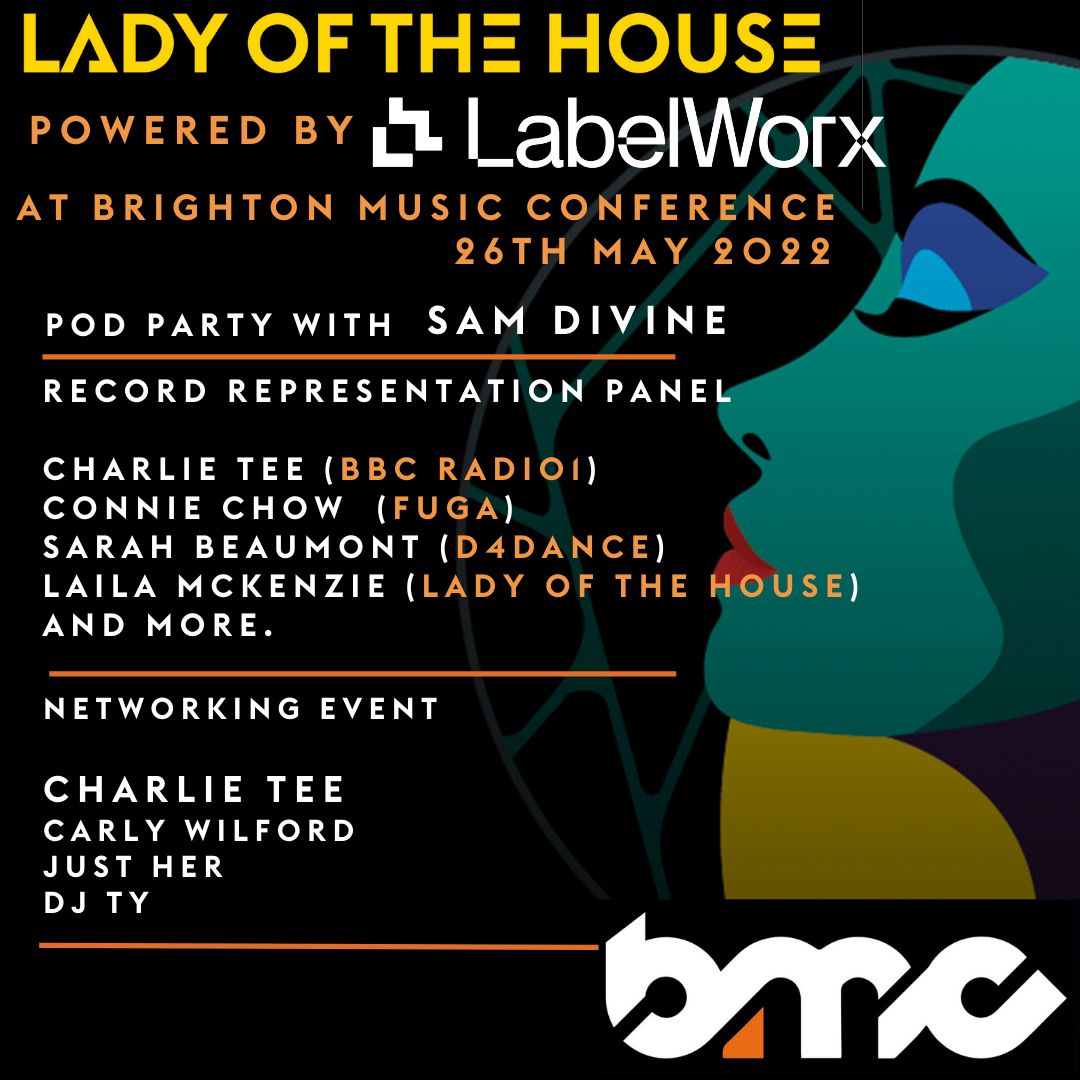 Lady of The House Return to BMC for the 2nd Year Running May 26th-28th
Lady of The House Return to BMC for the 2nd Year Running
May 26th-28th
Networking Event with Radio 1's new DnB Show host, Charlie Tee, Carly Wilford, Just Her and DJ Ty
Exclusive Pod Party with Sam Divine (Defected) on the iconic British Airways i360 observation tower
Gender Representation Panel with Charlie Tee (BBC Radio 1) Connie Chow (Fuga) Sarah Beaumont (Defected) Laila Mckenzie (Lady of the House)
Following on from their successful Lady Of The House Cultural Exhibition around International Women's Day in March 2022, the team announce they will be heading up the conversation around women in dance music for the second year running at the Brighton Music Conference between Wednesday May 25th till Saturday May 28th 2022.
Leaving from the front at the UK's foremost electronic music and networking event is founder & co-author of the Lady of the House book, Laila McKenzie, who brings together a dream team of women in electronic music from Defected's leading lady Sam Divine, heading up the LoTH Podcast Party. They're joined on Thursday 26th May for the Lady of the House networking event at The Southern Belle with DJs Radio 1's Charlie Tee, electronic dance pioneering DJ/ Producer Carly Wilford, Just Her and Drum n' Bass DJ Ty. Charlie Tee also heads the Gender representation in Record Labels Panel joined by guests such as international marketing chief, Connie Chow (Fuga) and Defected's A&R head & radio specialist, Sarah Beaumont with more guests to be announced.
Lady Of The House, powered by LabelWorx, will be hosting their Podcast Party and Networking events at the event site, the British Airways i360 Tower & Centre on Brighton sea front. The Lady of The House book will also be available to buy at BMC Brighton.
More info: PR – [email protected]
web: https://www.ladyofthehousebook.co.uk/
www.ladyofthehouse.org.uk
Insta @officialladyofthehouse
Listings Info
event: BMC featuring Lady Of The House
dates: Wednesday May 25th-Saturday May 28th 2022
venue: British Airways i360 Tower & Centre (on the sea front)
Lower Kings Road, Brighton, BN1 2LN
Thursday May 26th: Lady of the House Networking event at The Southern Belle, 3 Waterloo St, Hove BN3 1AQ with DJs Radio 1's Charlie Tee,Carly Wilford, Just Her and DJ Ty
Friday May 27th at 2.30pm: Gender representation in Record Labels (in association with Lady of the House) with Speakers Charlie Tee, Connie Chow (Fuga), Sarah Beaumont and Laila McKenzie
LoTH powered by Labelworx
Tickets: https://www.skiddle.com/whats-on/Brighton/British-Airways-I360/Brighton-Music-Conference—BMC22/35906109/
web: https://www.brightonmusicconference.co.uk/