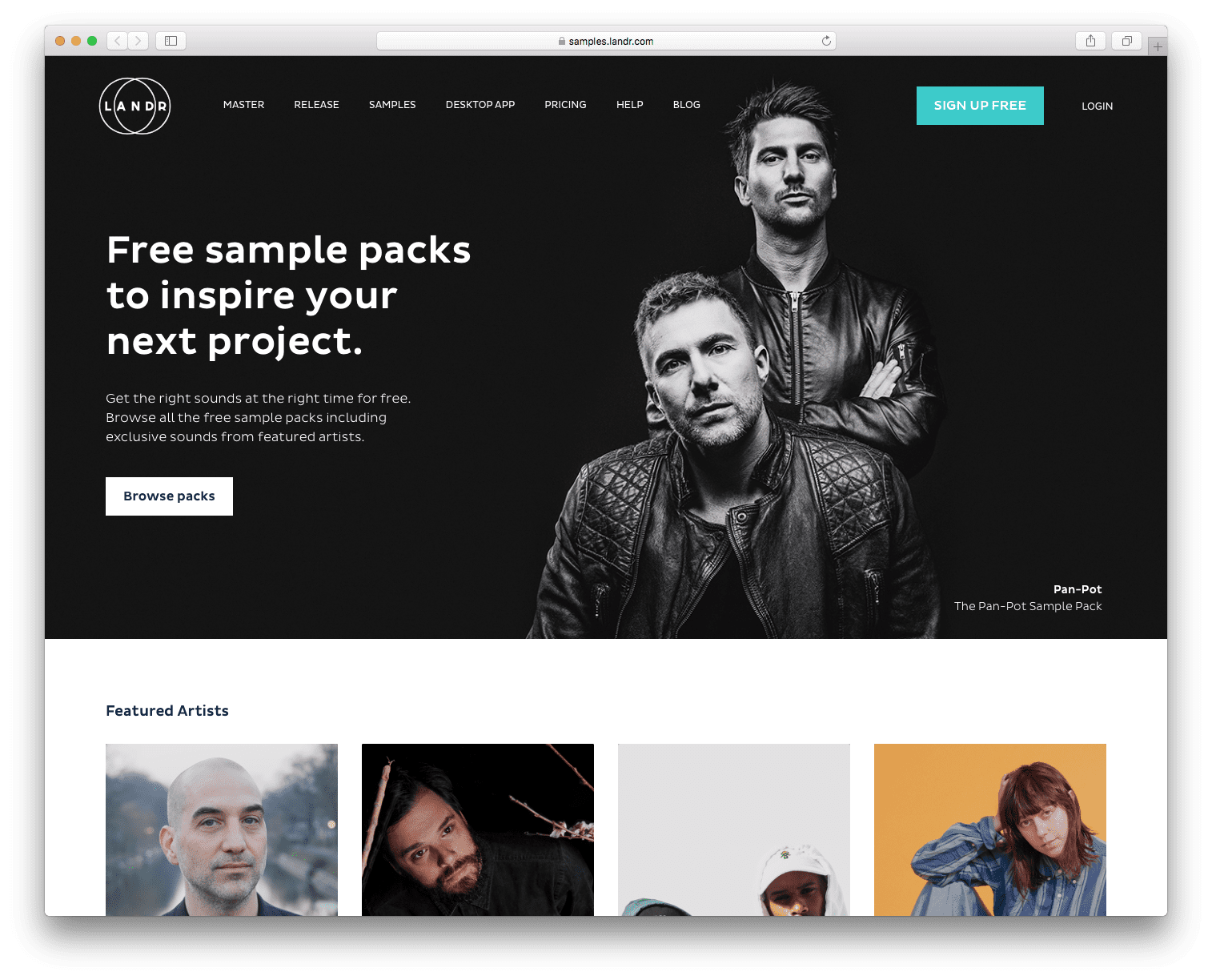 LANDR Community Hits 2 Million, Evolves from Mastering Service to Complete Creative Platform for Musicians
Newly updated end-to-end creative platform supports the way today's musicians create, release and make money from music
LANDR has introduced a newly updated creative platform, leveraging years of artificial intelligence research and grass roots community building to offer the most comprehensive set of features and artist services for aspiring and seasoned musicians alike. The platform shines a light on how its community of artists are using LANDR to change the way music is made, mastered, released and promoted.
Launched to celebrate LANDR reaching the two million user milestone, the updated platform has evolved alongside its creator community and now showcases a rich diversity of music genres while addressing the needs of the independent artists who use the platform. The continually growing scope of features – as well as free samples and educational content – help musicians make great music and get heard.
Since launching in 2014, LANDR has been used by artists from 190 countries to master and release over 10 million songs, generating billions of streams per year. The updated creative platform features capabilities beyond the highly-popular A.I.-based mastering, combining all the pieces that go into helping musicians create, collaborate, release and promote their work online or on social media.
"We're extremely proud that 2 million artists have benefitted from LANDR. It's an amazing milestone that not only speaks to LANDR as a tool that emerging and professional artists alike love using, but also ensures that the LANDR A.I. continues to evolve as the most robust mastering engine from the millions of songs that are being uploaded, helping LANDR provide artists with the best results," said Pascal Pilon, CEO of LANDR. "Our updated platform reflects the evolution of LANDR as a destination for music creation, distribution and marketing along with the widely-loved mastering features that are used extensively by artists at all stages of their musical development and career progression."
With the updated platform, aspiring and seasoned artists can now sign up for LANDR, get educated, take advantage of free samples from influential recording artists, master tracks, release their music to Spotify, Apple Music and all the leading streaming platforms, promote and monetize their music, all for less than the cost of a typical monthly internet bill.
Altogether, LANDR offers an easy and affordable way for releasing and promoting great sounding tracks on streaming platforms and is used by the likes of Alan Parsons and Adrian Belew as well as major independent artists including A$AP Ant and French hip-hop star Prime.
LANDR's end-to-end music creation tools make it easier for artists to make great music and get heard. Users benefit from:
— High-quality Educational Content in 7 languages and read that provides a wealth of information focused on helping and inspiring artists to make better music.
— An extensive selection of free, high-quality curated sample packs that creators can use in their songs, royalty-free.
— Tools to collaborate, share tracks and comment, while working in a single, secure environment.
— The leading cloud-based Mastering service used to master more than 10 million tracks worldwide.
— A cost-effective way to release tracks and distribute to 150 global streaming platforms while retaining 100% of earnings and ownership.
— Promotion and marketing with the Promolinks feature, providing artists with a simple way to share their distributed music with a worldwide fanbase.
About LANDR
LANDR empowers musicians to create and get heard. As a pioneer in big data and machine learning for the music industry, LANDR provides millions of independent artists and labels with a single space to learn about, collaborate on, master, release and monetize music online. Since launching in 2014, LANDR has consistently built tools that level the playing field for musicians, combining into a self-serve platform that is affordable and invaluable at every stage of the music creation lifecycle. To learn more about LANDR, visit https://www.landr.com.