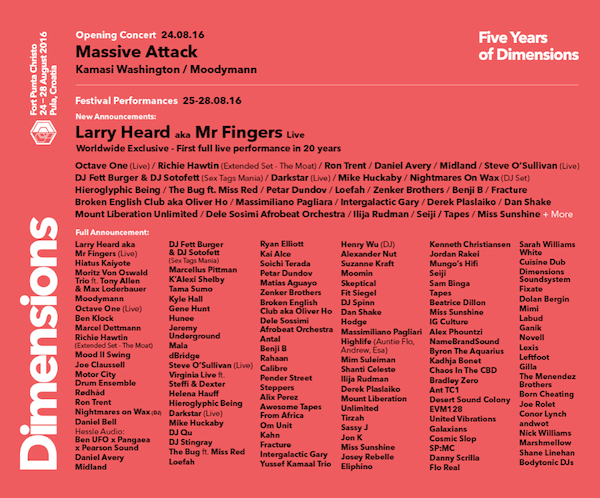 LARRY HEARD aka MR FINGERS (live) announced for Dimensions Festival
The ultimate festival for discerning music lovers the world over, Dimensions Festival has in five years built an unparalleled rep for it's thoughtful yet fearless programming, it's stunning Adriatic home and it's family vibe. Going BIG for their fifth birthday expedition, Dimensions are immensely proud to reveal a worldwide exclusive from Chicago godfather LARRY HEARD AKA MR FINGERS, his first live show as Mr Fingers in over twenty years. On top of this, 40 more internationally revered names are set to make the journey to Pula this August for the the one and only Dimensions Festival. Set to sell out faster than ever for 2016, Dimensions is proving once again why it's a leading light in the underground music calendar.
Aside from an exclusive headline set from the original Chicago don Larry Heard aka Mr Fingers, the Dimensions crew have pulled out all the stops to bring an unmissable line up to the Croatian coast this year. Brainfeeder affiliate and saxophonist Kamasi Washington has been revealed to join Massive Attack at the epic opening concert in Pula's 2,000 year old amphitheatre, with recent merits including features on Kendrick Lemar's TPAB, and the 2016 American Music Prize for his latest album 'The Epic.' Making this opening the most magical to date, Moodyman is the final artist to complete the bill for this unreal spectacle.
Octave One will push the boundaries between funk, soul and techno in one of their groundbreaking performances, whilst Richie Hawtin will be taking care of the iconic Moat arena with a special extended set comprised of 100% techno heat. Across five days also find Body II Soul main man Ron Trent, Phantasy sound crusader Daniel Avery, elusive Norwegian selectors DJ Fett Burger & DJ Sottofett, as well as Midland, who'll venture between disco, funk soul and classic house sounds in one of his all-star sets.
Mosaic Records boss Steve O'Sullivan joins, as well as explorative electronic duo Darkstar and Detroit icon Mike Huckaby. Pushing the limits of Dimensions world-class sound systems will be dub connoisseur The Bug joined by the celebrated Israeli MC Miss Red. Flipping to the murkier depths of bass music is Swamp81 poster boy Loefah, and long-term Deviation party-starter Benji B. Bringing a fresh injection of techno are Petar Dundov and Munich based crew Zenker Brothers, whilst Italo disco vibes come from Intergalactic Gary and golden sounds from groove-masters Derek Plaslaiko and Dan Shake. Catch something a little different from Dele Sosimi with his afrobeat orchestra, Swedish summer jams from Mount Liberation Unlimited and seamless selections from Croatia's own Ilija Rudman, Seiji Tapes and Miss Sunshine.
Completing the Dimensions family are swag-lord Sam Binga, NTS Radio's first lady Beatrice Dillion, Echocord's Kenneth Christiansen and Fila Brazilla founder Steve Cobby, plus sets and takeovers from friends new and old including United VIibrations, Danny Scrilla, Rhythm Section Contours, Fixate, Cuisine Dub, Mimi, Labud, Ganik, Novell, Leftfoot, Gilla, The Menendez Brothers, Al Zander, Joe Rolet, Barry Smyth, Andwot, Marshmello.
All of this is in addition to the huge eighty names already announced, from Massive Attack performing at the opening scenes, to live shows from Hiatus Kaiyote and experimental jazz-fusion group the Moritz von Oswald Trio with Tony Allen and Max Loderbaue. Detroit meets Dimensions with regulars Moodymann, DJ Stingray & Marcellus Pittman, whilst Kahn, Om Unit and DBridge take care of the bassier end of the spectrum. Once more the extraordinarily talented friends and family will be crate digging across the festival with Eglo records' Alexander Nut, Hoya:Hoya's Jon K, with returning crew Cosmic Slop, Shanti Celeste and Eliphino.
Set in the unique setting of an abandoned fort, each Dimensions Festival stage has different character; from day-dreaming and sea-side skanking on the beach, to exploring the labyrinths of the fort itself. In the fort find Noah's Ballroom, The Void, The Garden Mungo's Hi-Fi and of course the 80-foot Moat arena stacked high with speakers. With the heaviest line up to date for the 5th edition, and tickets selling faster than any previous years, Dimensions fans are advised to reserve their place in the sun with a ticket or deposit as soon as possible. Still to be announced are plenty of names, boat parties, takeovers, day parties, knowledge arena and an extremely special birthday surprise on the Monday, to be announced nearer the time.
Croatian town Pula is easily accessible by taxi from the Dimensions site, and is complete with excellent transport links, apartment accommodation and historic sites. For those wishing to camp on-site, or for more info on accommodation options including boutique camping, head to www.dimensionsfestival.com/accommodation/ to look at what is available. Flight options from the UK are to Trieste, Ljubljana, Zagreb, Venice Treviso or Venice Marco- Polo airports, and then a transfer. Coach packages and flight packages are all available to view / purchase at dimensionsfestival.com/travel/. Keep your eyes on the Dimensions channels for further news on line-up, boat parties and artists, see you at the fort!
To book your place, head to : www.dimensionsfestival.com/tickets
DIMENSIONS FESTIVAL OPENING CONCERT || Separate Tickets : http://bit.ly/1JlxO0Q
Massive Attack – Kamasi Washington – Moodymann
New additions:
Larry Heard AKA Mr Fingers (Live) – Kamasi Washington – Octave One (Live) – Richie Hawtin – Ron Trent – Nightmares on Wax – Daniel Avery – DJ Fett Burger & DJ Sottofett (Sex Tags Mania) – Midland – Steve O'Sullivan (Live) – Darkstar – Mike Huckaby – The Bug Ft. Miss Red – Loefah – Petar Dundov – Zenker Brothers – Broken English Club AKA Oliver Ho – Dele Sosimi Afrobeat Orchesta – Benji B- Fracture – Intergalactic Gary – Dan Shake – Massimiliano Pagliari -Ilija Rudman – Derek Plaslaiko – Mount Liberation Unlimited – Miss Sunshine – Kenneth Christiansen – Seiji – Sam Binga – Tapes – Beatrice Dillion – United Vibrations – Danny Scrilla – Cuisine Dub – Fixate – Mimi – Labud – Ganik – Novell – Leftfoot – Gilla – The Menendez Brothers – Born Cheating – Joe Rolet – Andwot – Nick Williams – Marshmello – Barry Smyth
Line up in Full:
Massive Attack – Larry Heard AKA Mr Fingers (Live) – Kamasi Washington – Hiatus Kaiyote – Moritz Von Oswalf Trio Ft. Tony Allen & Max Loderbauer – Moodymann – Octave One (Live) – Ben Klock – Marcel Dettmann – Richie Hawtin – Mood II Swing – Joe Claussell – Motor City Drum Ensemble – Rødhåd – Ron Trent – Nightmares on Wax – Daniel Bell – Hessle Audio // Ben UFO x Pangaea x Pearson Sound – Daniel Avery – DJ Fett Burger & DJ Sottofett (Sex Tags Mania) – Midland – Moritz Von Oswald (DJ) – Marcellus Pittman – K'Alexi Shelby – Tama Sumo – Kyle Hall – Gene Hunt – Hunee – Jeremy Underground – Mala – DBridge – Steve O'Sullivan (Live) – Virginia Live Ft. Steffi & Dexter – Helena Hauff – Darkstar – Mike Huckaby – DJ Qu – DJ Stingray – The Bug Ft. Miss Red – Loefah – Ryan Elliott – Kai Alce – Soichi Terada – Petar Dundov – Matias Aguayo – Zenker Brothers – Broken English Club AKA Oliver Ho – Dele Sosimi Afrobeat Orchesta – Antal – Benji B- Rahaan – Calibre – Pender Street Steppers – Awesome Tapes from Africa – Alix Perez – Om Unit – Kahn – Fracture – Intergalactic Gary – Henry Wu presents the Yussef Kamaal Trio – Henry Wu (DJ) – Alexander Nut – Suzanne Kraft – Moomin – Skeptical – Fit Siegel – DJ Spinn – Dan Shake – Hodge – Massimiliano Pagliari – Highlife (Auntie Flo, Andrew, Esa) – Mim Suleiman – Shanti Celeste – Ilija Rudman – Derek Plaslaiko – Mount Liberation Unlimited – Tirzah – Sassy J – Jon K – Miss Sunshine – Josey Rebelle – Eliphino – Kenneth Christiansen – Jordan Rakei – Mungo's Hifi – Seiji – Sam Binga – Tapes – Beatrice Dillion – IG Culture – Alex Phountzi – NameBrandSound – Byron the Aquarius – Kadjha Bonet – Chaos in the CBD – Bradley Zero – Desert Sound Colony – EVM 128 – United Vibrations – Galaxians – Cosmic Slop – SP:MC – Flo Real (Mahogani Music) – Danny Scrilla – Dimensions Soundsystem – Cuisine Dub – Sarah Williams White – Fixate – Dolan Bergin – Mimi – Labud – Ganik – Novell – Lexis (Music is my Sanctuary) – Leftfoot – Gilla – The Menendez Brothers – Born Cheating – Joe Rolet – Conor Lynch – Andwot – Nick Williams – Marshmello – Shane Linehan – Bodytonic DJs – Barry Smyth
TICKET INFO
www.dimensionsfestival.com/tickets || From £140 // €190 // Deposit scheme available
TRAVEL / ACCOMMODATION INFO || www.dimensionsfestival.com/accommodation/