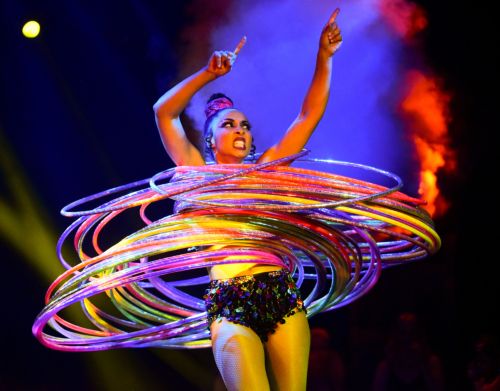 Lucha VaVoom Wrestles into Bestival
We've always been lovers not fighters at Bestival but when it comes to a little bit of wrestling, you know you can count us in. Especially when that most noble of sports is elevated to a visceral psychedelic art form with added sass that's guaranteed to blow our tiny little minds. So believe us when we say we've found the future of entertainment; it's the delirious tongue in cheek tag team of Mexican wrestling and burlesque that is Lucha VaVOOM and it's coming to Bestival as a UK festival exclusive!
Bestival's own king of the body slams Rob da Bank says: Yes, amigos, it's happening! The world famous Mexican wrestling, striptease and burlesque whirlwind that is Lucha VaVoom is coming to the Isle of Wight this September. I saw this show in America last year and knew we had to get 'em on the ferry, masks, mankinis and glitter and all… Seriously this is one madcap show and we're proud to be showing it across the weekend at the same time every day in the Big Top. Arriba!

Founded in 2003 by Rita D'Albert and Liz Fairbairn, Lucha VaVOOM's breath-taking combination of Mexican wrestling (or Lucha Libre as it's known) and eye-popping high class burlesque has taken America and Canada by storm, and now it's coming to the Isle of Wight. Featuring masked wrestlers performing amazing acrobatic feats in fast paced, fun-filled one-fall wrestling matches with hilarious commentary, and the very best in astonishing, raucous and beautiful Buxoticas in between bouts, this is like nothing you've ever witnessed before.
Taking place on Friday, Saturday Sunday in the Big Top, there will be high flying manoeuvres, tag team action and mid-afternoon delights from some of the world's finest luchadores including mad mother pluckers The Crazy Chickens, the foulest mouthed luchador ever, Dirty Sanchez, goat-blood-sucking urban legend Chupacabra, supreme commander of wrestling El Presidente, everybody's favourite rudo (bad guy!) Magno, Mexico City's fastest rising lucha superstar Dragon Lee and CMLL World Tag Team champion, Diamante Azul.
Inter-bout burlesque action comes from a trio of the finest Buxoticas including Lucha VaVOOM co-founder Miss Rita, who has performed with the show since its inception, incredible dancer and hula hoop artiste Karis, who is described as Lucha VaVOOM's crowning jewel, and long-time Bestival beauty and Guinness world record holder, Marawa the Amazing.
If you fancy a little taster of what's in store in the Big Top this September, then check out this brilliant video!
Utterly incredible, Lucha VaVOOM is next level festival fun. This is the future! Don't miss it.