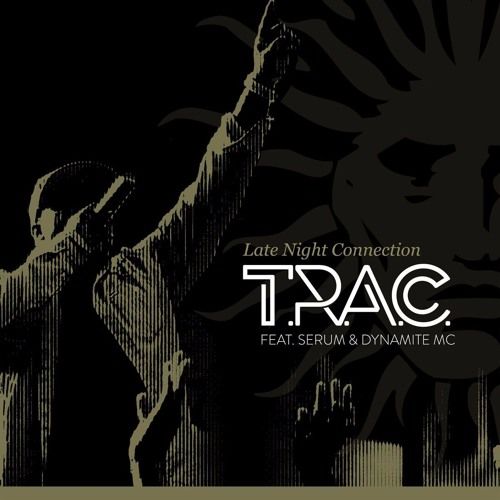 T.R.A.C. ft. Serum & Dynamite MC - Late Night Connection
Ahead of the release of his forthcoming album 'Life In Motion' (Available 8th December via V Recordings) NYC Hip Hop/Drum and Bass MC / Producer T.R.A.C. teams up with the legendary Dynamite MC on 'Late Night Connection'. The track hits the ground running, throwing the listener headfirst into a packed dancefloor, the piquant keys providing an interesting plot twist as the pace intensifies….
'Life In Motion' Features contributions from the elite of the Drum and Bass scene, the album includes productions from Calibre, Serum, Marc Mac (4Hero/Reinforced) and Random Movement, as well as guest features such as Conrad, and Adrienne Richards.
When it comes to Hip Hop, New York is home to many great MC's and artists of all genres. Anyone who has ever visited the borough of Brooklyn will have seen its wide mix of cultures, ethnicities, and renowned musicians living within some of the most historic neighbourhoods in the world. Growing up within this melting pot has inspired the MC known as T.R.A.C. and as a result, he holds a deep burning ambition To Rule And Conquer the scene he is so immersed in.
Although his roots lie in NYC Hip Hop, T.R.A.C. is also a long-time lover of breakbeats at 174bpm, taking inspiration from Marc Mac, legend of 4 Hero and Reinforced fame, who would eventually produce his debut album on BBE Records. Building a loyal following over the past ten years, performing at Drum and Bass events all over North America, Canada and Europe, it was on one such occasion that he caught the attention of V Recordings head honcho Bryan Gee who instantly recognised his lyrical skills and the opportunity to unite that East Coast Hip Hop style with its distant cousin from across the pond, Drum and Bass.
A supreme lyricist, T.R.A.C.'s talents have seen him work with legendary producers such as Marc Mac and Lewis Parker. As a Drum and Bass MC, he's rocked stages with an ever growing list of A-class DJs such as LTJ Bukem, Roni Size, and Goldie (to name a few); and, is recognized internationally throughout his career in the genre as a premiere stateside born MC, with the roots of a talented Hip Hop artist.
'Life In Motion' is an album full of dynamics like life itself: deep, rolling basslines, crisp, perfectly clipped drums and jazz infused instrumentation, sound tracking a nocturnal journey across the city that never sleeps.
Twitter: @trac_
Facebook: /tracmuzik
Soundcloud: /t-r-a-c
Instagram: teenickelz