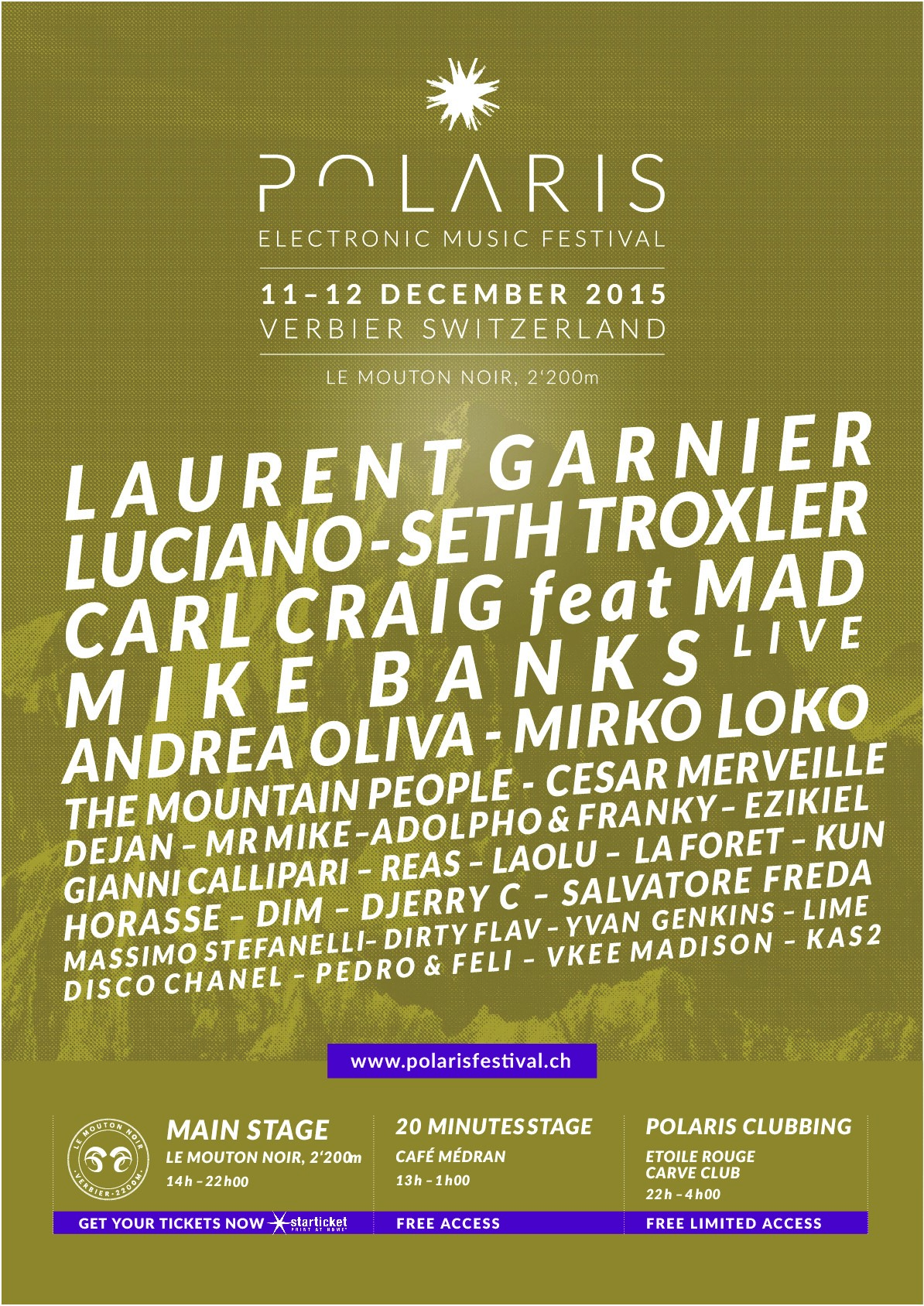 Laurent Garnier added to Polaris festival
A truly special addition to the Polaris line-up is announced! Laurent Garnier will play on the Saturday of the mountain-top festival in Verbier, Switzerland, alongside, Luciano, Seth Troxler, Carl Craig featuring Mad Mike Banks, Mirko Loko and more! Masters of their craft, this will be an intimate and beautiful event not to miss for the pure lovers of electronic music and nature's magnificence.
Located 2200 metres up a mountain with panoramic views of the Swiss Alps, Polaris launches its first year in the Swiss ski resort, Verbier, in Switzerland.
Over two days, a quality selection of the world's best DJs will play on top of a mountain for 1,000 happy party people. Dancing under a crystal dome, party-goers will get to enjoy vistas of the Swiss Alps whilst dancing to music inspired by the unique landscape. The ethos of the festival is to bring something authentic and to bring good vibes and good friends together on the mountain.
There will also be activities organised by the festival, including a sledge race between the artists playing, with the winning DJ invited back to play the next year.
New festival POLARIS launches in Verbier, Switzerland
11th + 12th December
Laurent Garnier, Luciano, Seth Troxler, Carl Craig feat. Mad Mike Banks, Andrea Oliva, Mirko Loko, The Mountain People, Cesar Merville, Dejan, Mr Mike, Adolpho & Franky, Ezikiel, Gianna Callipari, Reas, Laolu, La Foret, Kun Horasse, Dim, Djerry C, Salvatorre Freda, Massimo Stefanelli, Dirty Flav, Yvan Genkins, Lime, Disco Chanel, Pedro & Feli, Vkee Madison, Kas2
Times: 2pm -10pm
Cost: 69 Swiss francs
Day1 https://www.facebook.com/events/1621730131433714/
Day2 https://www.facebook.com/events/1482836102010953/
http://polarisfestival.ch/
For accommodation and more, check: http://en.verbier.ch/