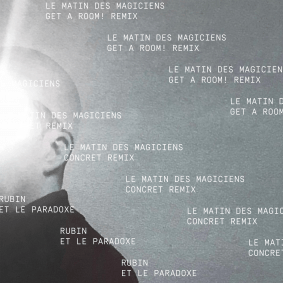 Rubin et le Paradoxe - Le Matin Des Magiciens EP
Earlier this year, Rubin et le Paradoxe released his latest EP on Her Majesty's Ship to great acclaim. Now a lead track from the release gets remixed by the talented and innovative duos Get a room! and Concret.
The original single is included here and is a mystical song in three parts featuring the powerful vocals of Brigitte Fontaine as well as the genderless singing of Rubin himself. It is a song that is about introspection, joy, and letting go, all while tethered to slowed down psyche-disco sounds, no wave synths and chilly electronics.
First to remix are Parisian DJs Get a room!, who are well known for their disco edits and productions on Partyfine and the Yuksek label. Their deliciously dark, ghoulish version has heavy kick drums and menacing bass. Italo horror synths and curious melodic sounds add a freaky element and the whole thing is wired up with sinewy lines that are truly fresh.
Next up are Concret, the Italian-Mexican duo composed of Diego Angelico Escobar and Q-Pha. This skilled keyboard player and sound designer flip the track into eight enthralling minutes of glitchy sounds off set by heavenly vocals. There is a gritty late night tension in the track as well as some menacing hits and raw energy that really makes it grab your attention.
The original still sounds fresh here, while the two remixes offer essential new versions that cannot fail to make an impact.
Tracklist:
1- Le Matin des Magiciens (original mix)
2- Le Matin des Magiciens (Get a room! remix)
3- Le Matin des Magiciens (Concret remix)