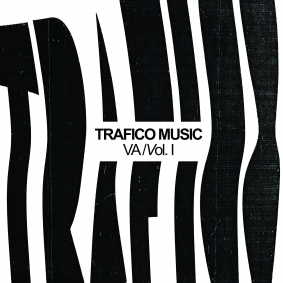 Various Artists - Trafico Music VA Vol. 1
Trafico Music's next release is a 12-track showcase of all the fantastic artists associated with the label. It features a wealth of unusual, hard to define music that exists in the shadowy regions between various different genres.
Headed up by bosses Concret, it is a label known for synth heavy and left of centre disco and techno grooves laced with the overtones of their local environment. But also for their famous rooftop parties, where a hefty sound system is put through its paces by wild DJs, friends and family members who showcase Mexico's diverse musical culture. Concret themselves are the Italian-Mexican duo composed of Diego Angelico Escobar and Q-Pha and between them they are a skilled keyboard player and sound designer who always innovate with each release. Their music has featured on their own label, as well as for the likes of Toy Tonics, Nein, Roam, Her Majestys Ship and Wonder Stories and they have received support from the likes of Andrew Weatherall, Optimo, Red Axes and Psychemagik amongst others.
It all kicks off with Mexico's Viks Lander and his 'Pandora', a spritely tune with freeform synths echoing into a mysterious night sky and pads bringing dreamy vibes. Hailing from Distrito Federal in Mexico, Marat brings more exotic atmospheres to 'Visions', a meandering machine disco track with wavy grooves and retro, Casio-sounding chords. The bosses then get remixed by Isaac Soto and the result is a gorgeous and late night affair, slow in tempo and rich in romantic musicality. Cantor – 'The Chain' (Tyu Unchained Remix) is more percussive, with xylophone sounds, mellifluous chords and keys and more upbeat, metal plated disco drums getting you into the zone.
After Tkuz's frazzled synths and mischievous grooves, Concret then link with Pepe Acebal for 'Fermata Gayol,' a deep and pumping track with tight techno drums and live sounding percussion that adds plenty of light and texture. NYC based composer and sound artist Tim O'Keefe is a multi-talented artist who is used to rubbing shoulders with entertainment industry stars, he is in a band with actor James Franco and here collaborates with the legendary Andy Rourke, former bass player for The Smiths! Their track, 'Radio Signals', is a springy bit of inventive electronica with mystic synths that can't be ignored. Next, drummer Tkuz makes another appearance with an off kilter remix of InClan's 'Tuntun' which is lit up with glowing synths and celestial melodies.
The fast rising Cantor keeps things stripped back with his rumbling techno roller, liebe*detail associate Rubinskee offers a raw and primitive track with glowing chords and euphoric vocals and InClan's 'On Off' brings twisted machine sounds with ghoulish voices. Last of all is Cubenx's Tailwind Remix of Concret & Soni Ceron's 'Borders', which is laden with retro synths, rugged bass ripples and edgy chords that will get any floor moving.
This is a diverse package of music that explores plenty of interesting new ground between genres like disco and techno, and shows just what a well-formed family the Trafico Music label really is
Tracklist:
1. Viks Lander – Pandora
2. Marat – Visions
3.Concret feat. Natalia Clavier – La Mujer (Isaac Soto Remix)
4. Cantor – The Chain (Tyu Unchained Remix)
5. Tkuz – Transmision
6. Concret feat. Pepe Acebal – Fermata Gayol
7. Tim O'Keefe & Andy Rourke– Radio Signals
8. InClan – Tuntun (Tkuz Remix)
9. Cantor – Ethermin
10. Rubinskee – Gaze
11. InClan – On Off
12. Concret & Soni Ceron – Borders (Cubenx Tailwind Remix)