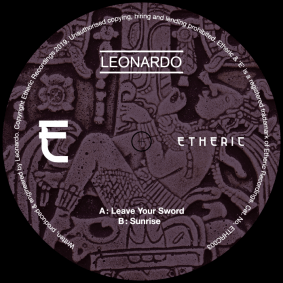 Leonardo - Leave Your Sword/Sunrise
Underground mainstay Leonardo lands on his own Etheric label with two more of his hotly anticipated tunes that this time show off his dub techno and melodic credentials.
His label is led by feelings rather than trends, while he himself is a deep digging vinyl enthusiast who has worked under other names on Soma, has an interest in Oriental culture that has given rise to a forthcoming concept album. He is someone with a wide array of sounds and skills in his locker having spent more than a decade plying his trade at Turnmills, Club Class, Maison and his own parties.
From downtempo & electronica to all forms of house and techno, this vinyl spinning artist has built a DJ profile off his technical skills and selections in the booth rather than off the back of a single big tune. An exciting artist who is hard to predict and always forward thinking, Leonardo is in fine form here.
Excellent opener 'Leave Your Sword' is an epic eight-minute trip, with mid- tempo drums setting the tone. There is a haunting air to the spooky synths and distant, drifting vocals that really make for a serious sense of atmosphere and will get the attention of any club.
Then comes the perfectly hypnotic 'Sunrise' which has rolling drums and gorgeous pads layered up into a deeply intoxicating rhythm that really encourages your mind to cut loose and wander. It's a track that slowly but surely casts a spell on you and never lets up.
These latest two tracks are sure to make a huge mark wherever they are dropped and further cement Leonardo's place in the electronic landscape.
Tracklist:
1. Leave Your Sword
2. Sunrise