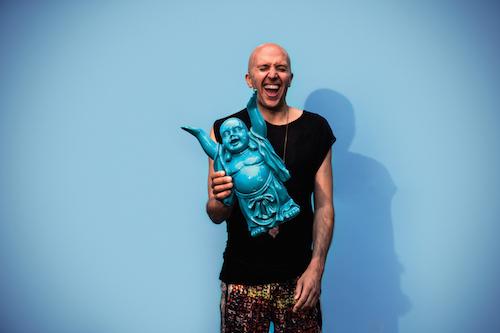 Lee Burridge Announces All Day I Dream of The White Jewel: Ibiza Summer Residency
All Day I Dream today announces another landmark moment for the brands burgeoning growth. Beginning June 14th the eponymous daytime party transports it's blissful, magical vibes to the epicentre of the clubbing universe taking on it's first ever Ibizan Residency.
Lee Burridge and his family of like minded artists are poised to write yet another beautiful chapter of their musical story. This time at Blue Marlin Ibiza. Nestled in the beautiful Cala Jondal bay, it will be the setting for four, monthly events taking place over Summer 2018. It's the perfect place escape and daydream your afternoon away to into the dusk.
We welcome you all to: All Day I Dream of The White Jewel.
All Day I Dream continues to make its way onto many a musical radar. Lee Burridge's vision eight years ago of melodic, hypnotic music combined with intricate, detail oriented productions have led the way that many now follow. Whether in the desert, at the beach or on dance floor in New York his magical day-to-night soirees continue to capture the hearts and soul of an ever growing community of dreamers across the planet. Structural art, lanterns, fairy lights and flowers marry seamlessly together, forming a haven, where you too might just get the urge to close your eyes and drift away in while a soundtrack of mystical, hypnotic and emotive music enchants you . All Day I Dream parties continue to offer something fresh and unique in the musical landscape of today; transcending genres, social norms and musical politics they offer an authentic all-encompassing musical journey that you might just feel like joining them on.
June 14th | July 19th | August 9th | September 20th
LINE UP
Lee Burridge
YokoO
+
Special Guests
About All Day I Dream
All Day I Dream events began on a Brooklyn rooftop back in 2011 and have since become an international sensation. Around the world, crowds gather to become part of a community spurred on by Lee Burridge and his unique roster of artists, each bringing forward a signature technicolor emotionalism, the sort that's all too rare in the current electronic music scene.
Spreading across the world from New York to Los Angeles, from London to Moscow, Berlin to Beirut, the parties expanded and flourished due in part to Lee's major presence at Burning Man and his desire to create something magical.
Giving the partygoer (or "Dreamer") more than just the usual short DJ set, All Day I Dream aspired to create its own unique ambience through the combination of the musical selection and journey as well as unique venues, each decorated with draped fabric, fairy lights and lanterns creating an unparalleled and magical atmosphere.
About Blue Marlin Ibiza
Blue Marlin Ibiza is the ultimate beach entertainment concept. A multi-format, all-encompassing seafront experience with day-to-night dining, beach and music – all in one place.
Blue Marlin Ibiza's philosophy has added an extra dimension to the way we enjoy the beach. It is a lifestyle experience with a global audience at the centre of a constantly-evolving phenomenon.
Blue Marlin Ibiza is more than an avant-garde beach concept. With its own radio station and magazine, BMI Radio and BMI:MAG, Blue Marlin Ibiza engages with and entertains a music-conscious, cosmopolitan and forward-thinking clientele.
Blue Marlin Ibiza's aim is to lead the way in quality and innovation, remaining at the cutting edge of musical selection, high-end service and seafront entertainment. The smooth transition from daytime lounging to upbeat evening glamour is bound to delight guests with a taste for quality and style.