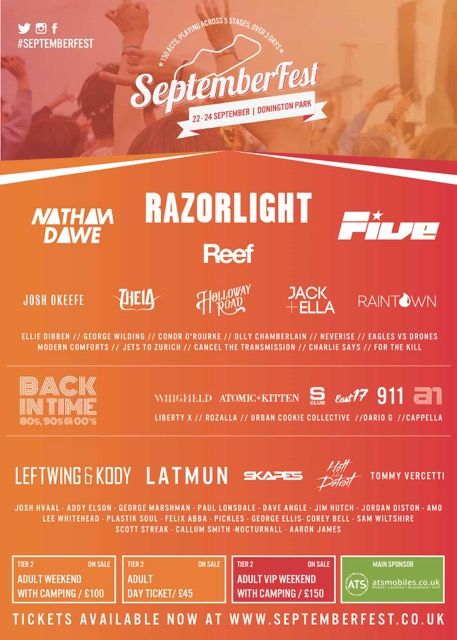 Leftwing & Kody, Latmun, Skapes, Hott like Detroit and Tommy Vercetti headline the dance stage Septemberfest at Donnington Park
A major new music festival, titled Septemberfest, is to be held at Donington Park on 22-24 September, with headline act Razorlight and a support line-up of 90s and 2000s throwbacks.
The three day festival will feature over 150 acts across five stages, with Saturday headliners Razorlight, supported by Reef. A full 90s line-up to include S Club, East 17, Atomic Kitten, A1, Liberty X, 911, The Cheeky Girls, Whigfield, Dario G and Urban Cookie Collective.
The Sunday Headliners are 90s legends 5ive, who will be performing a full 1 hour set on the main stage.
Meanwhile, local boy Nathan Dawe will return from his sell-out summer in Europe to close the show on Friday.
In addition, a major dance arena will feature a number of top artists including Leftwing & Kody, Latmun, Skapes, Hott like Detroit and Tommy Vercetti.
Headliners Razorlight were formed in London in 2002 around lead singer Johnny Borrell, and quickly became one of the biggest bands of the decade, selling over four million albums and playing sold out arena tours and headlining festivals. Their debut album Up All Night reached number three in the UK Album Chart in 2004, and included the single Somewhere Else, which reached number two on the UK Singles Chart.
Their second album, Razorlight, debuted at number one in the UK in 2006, and featured the single America which also went straight to number one, while In The Morning was another hit, reaching number three. The band were nominated for two BRIT Awards and two NME Awards, before releasing a third album, Slipway Fires, in 2008 having also supported The Killers at some of the summer's major festivals.
After a short hiatus, the band are back and planning for a fourth album and have already performed at the Isle of Wight Festival this year. Saturday's line-up is indie-driven, with Razorlight supported by Reef, with the Glastonbury-born four-piece famed for their 1996 hit Place Your Hands.
The weekend will be peppered with a throwback to the 90s & 00s, when pop ruled the world, with legendary acts S Club, East 17, The Cheeky Girls & A1 all confirmed. 90s dance acts Whigfield, Urban Cookie Collective & Dario G will perform their unforgettable smash hits Saturday Night, The Key, The Secret and Sunchyme.
With 12 hours of live music each day and over 100 additional acts, the organisers TSRG Group Ltd are confident that the festival will be a memorable occasion for music fans and families.
Links:
Website:
http://www.septemberfest.co.uk