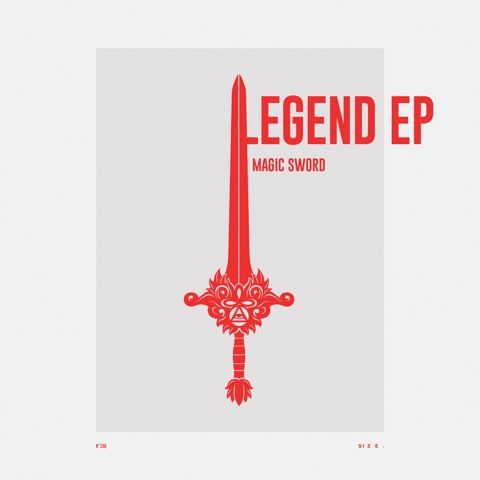 Magic Sword - Legend EP
Steve Angello's esteemed Size Records returns with another unique EP, this time from a mysterious new artist promising to offer something a little different.

Magic Sword is a project from an anonymous music producer and comic illustrator, promising to combine the power of music and comics to tell the fantastic story of Magic Sword – a weapon of infinite power left to be guarded by an enigmatic character named The Keeper. Debut album 'Volume One', featuring a full comic created by the producer, quietly found its way onto store shelves in 2012. As word about the project spread, copies of the debut record quickly sold out, leading to a re-release in 2015.

Now, for 2016, Magic Sword are partnering with Size Records for the project's follow up to 'Volume One' – a series of episodic EPs, each featuring a comic that tells another chapter of The Keeper's eternal battle. 'Legend' is the first of these exciting new releases, and more than lives up to expectations.

The EP opens in an epic fashion with 'Legend of the Keeper'. An atmospheric build-up leads to a stomping beat, dramatic chords and even an electric guitar lending a cinematic feel to the track.

'Uprising' features a similarly tension-filled intro, with a steady beat creeping in to provide the backdrop for cascades of uplifting, video game-like synths. 'The Curse' rounds off the EP in a suitably memorable fashion, with long, forbidding drawn-out chords over a steady beat eventually giving way to faster drums and another evocative electric guitar.
'Legend' is a unique EP that combines influences from french touch, rock and film and game soundtracks for music that would perfectly slot into one of 'The Keeper''s increasingly notorious live performances. Proving an attention-grabbing start to the ongoing Magic Sword project with Size Records, 'Legend' also reinforces the label's forward-thinking reputation.
For more information on Magic Sword, please visit
https://www.facebook.com/magicswordmusic/
https://twitter.com/magicswordmusic
https://soundcloud.com/magic-sword
For more information on Size Records, please visit
https://www.facebook.com/sizerecords/
https://twitter.com/sizerecords
https://soundcloud.com/sizerecords