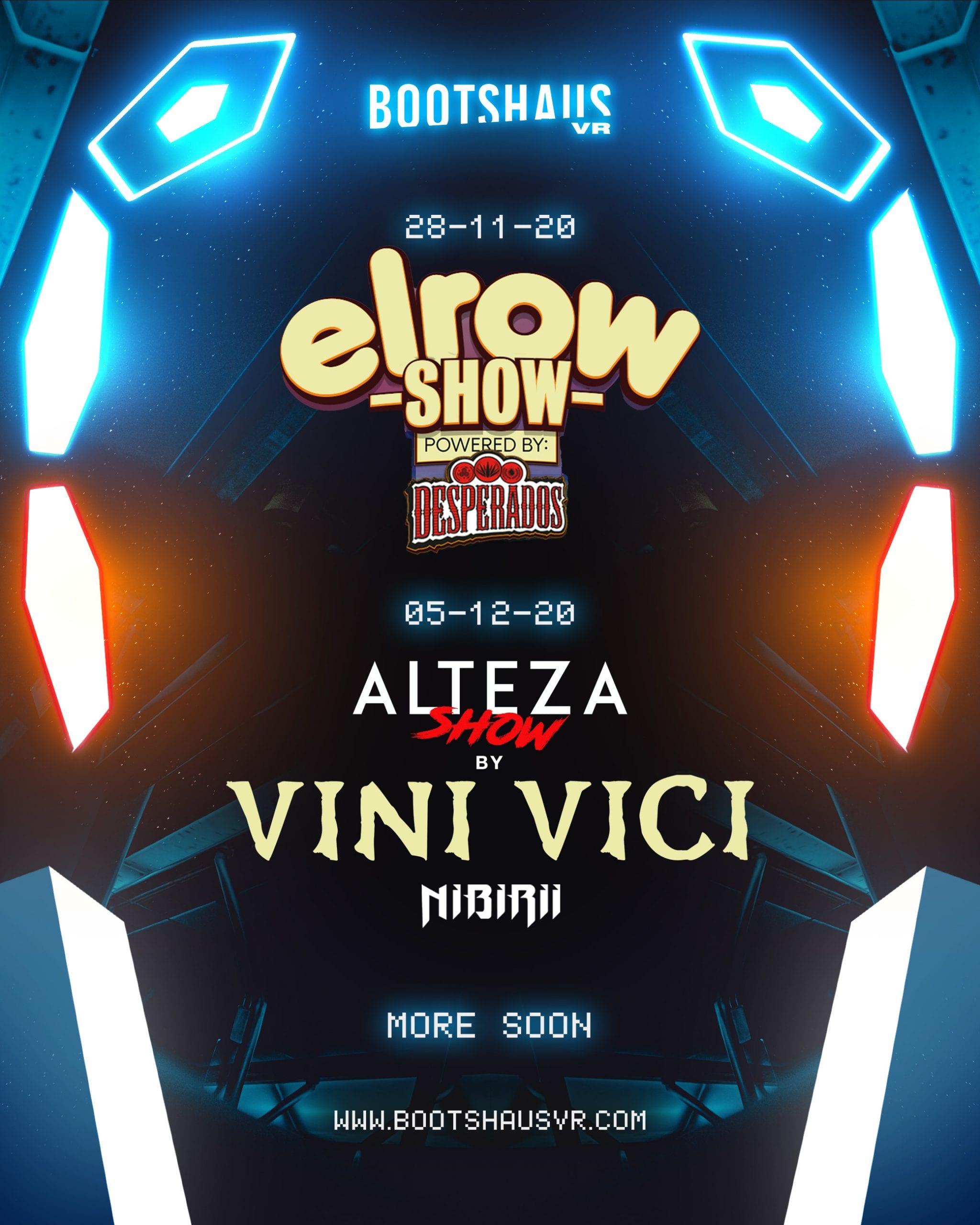 Legendary club Bootshaus launch VR experience with takeovers from elrow
Legendary club Bootshaus launch VR experience with takeovers from elrow powered by Desperados, Alteza by Vini Vici & more
Iconic Bootshaus Club is recreated at scale in VR world for the first time for partygoers to experience from their homes.
First party to be headlined by DJ Paco Osuna and elrow residents Andres Campo and Fer BR while abstract artist Okuda San Miguel will transform space into surreal, colourful 'Kaos Garden' universe.Bringing some good news to dance music lovers all around the world, a new virtual reality party experience will transport partygoers from their homes intoGermany's #1 club. Bootshaus have launched a virtual version of their world-famous venue and long-term partners Desperados and elrow will kick-off a series of big guests, massive takeovers and some powerful interactive functionality to bring the party to your home in collaboration with virtual live events company Sansar.

On Saturday, November 28th, the latest elrow Show powered by Desperados will immerse partygoers in the surreal universe of urban artist Okuda San Miguel and his 'Kaos Garden' concept, bringing the space to life through a combination of bright colours and geometric shapes for a virtual party experience like no other. Guests globally can enter the space and customise their personal avatars before seeing the virtual experience come to life – from tuning into the epic track selection from Spanish techno DJs Paco Osuna, Andres Campo and Fer BR, to mingling with others, and even enjoying their own ice-cold Desperados at the bar.

The layout of the club's main room and outdoor areas have been precisely replicated in this virtual environment, which can be experienced in full via the Sansar platform using a VR headset and a Windows PC with a dedicated graphics card. The live streams can also be enjoyed via Youtube and Twitch without a VR headset, or via the Sansar app on iPhone or Android (featuring multiple camera angles of the DJ).

Fabian Thylmann, Owner Bootshaus said, "We're excited to share this VR experience for the international dance music community to enjoy. It's a project we've been working on for a long time and releasing it now feels more important than ever. The VR project once again sees Bootshaus at the forefront of the industry and it's an honour to team up with some of the industry's key players to deliver a stellar collection of events that can be experienced from homes globally."  

Following on from elrow's event, Alteza by Vini Vici takeover Bootshaus in their series of virtual reality events while more events are to be announced.

5 December: Alteza by Vini Vici  
Nibirii & Alteza team up for the first real Psytrance experience in Bootshaus virtual reality presenting Vini Vici, Blastoyz and Björn Grimm. Bootshaus will replicate the first Nibirii Party that took place in their club back in March 2017 when Vini Vici played in front of a sold out Bootshaus, who could not get enough of the psy-influenced trance duo. Vini Vici, who moved up 7 spots in this year's DJ Mag charts to #24, and Blastoyz, who entered the DJ Mag charts for the first time this year will celebrate their achievements in the virtual Bootshaus club and broadcast their spine-tingling, atmospheric sounds to the world. Stay tuned for

You can expect the same crazy atmosphere that Bootshaus is known for during these events, and the ability to interact with other virtual visitors to help bring some of that dancefloor community vibe to your home all for free. While we aren't able to party in person, Bootshaus are bringing the next best thing and spread positive vibes across the globe. Stay tuned for more information here.

President at Sansar, Wookey Technologies said, "With the trifecta win of Bootshaus, elrow, and Desperados, we are thrilled to welcome the next level of show into Sansar! Together we are re-inventing what virtual live events could and should be going forward: real life, amplified."  

Diederik Vos, Global Brand Director, Desperados, commented, "At Desperados, we've used our experimental DNA to adapt to our new reality as we've shifted our strategy to being digital-first, focusing on how we can bring the party into people's homes. Through this event, we're continuing our mission to unleash epic experiences and connect partygoers around the world in new and immersive ways. We're proud to launch our first VR event to bring the party world together safely, as we continue to redefine how parties can be experienced." 

Juan Arnau Jr, CEO and Founder, elrow, said, "We are very excited to be taking this series to new heights with Desperados by collaborating with Sansar, legendary Bootshaus and Okuda San Miguel on this special project. Experimenting with VR technology is a big step for us so we're looking forward to taking our artists and fans on this electrifying adventure, whilst staying true to our trademark elrow style."  

About Bootshaus
Bridging industrial underground values with mainstream electronic sounds, Bootshaus, Germany's best nightclub, is a place reserved for the fresher, more edgy end of Techno, EDM, Trap, Dubstep, and much more. Located on the Cologne shipyard premises, this former ship and boat warehouse houses three rooms and an outdoor area, of which the main room can accommodate more than 1000 guests. Big acts like DJ Snake, Yellow Claw, Tiesto, Armin van Buuren, and Deadmau5 love to play Bootshaus as this club attracts one of the most energetic crowds in the world.
First entering DJ Mag's ranking of world's best clubs in 2013, Bootshaus quickly climbed the ranks, finishing #6 worldwide, and #1 in Germany, in 2020. Bootshaus also regularly gets involved in festivals, hosting stages at BigCityBeats World Club Dome, Parookaville Festival, New Horizons Festival, and most recently hosting Europe's first 'corona-proof' concert in Lanxess Arena.