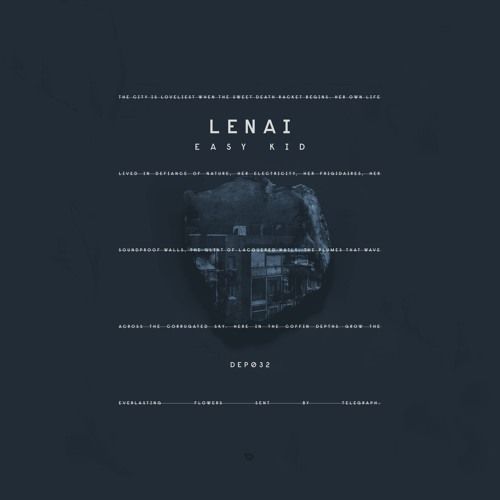 Easy Kid - Lenai LP
1st Single from the album, "Lenai", out this April, 18 (Original Mix & remixed also by Fran Zaragoza & Moliner)
EASY KID (Madrid based artistic duo formed by Guillermo Marraco & Pablo Sainz) is pumping out hardware-centric house, full of plush synths, buoyant garage bass-lines and some pop-flavoured emotional vocals. UK-inspired deep house tools gilded with luxurious melodies.
'Lenai' is the 1st track from their (eponymous) debut album due out this June on Depaart. This LP is consisting of 11 original tracks produced and mixed by the atypical duo in their studio in Madrid.
Biog:
The project is established in Madrid in 2011. Easy Kid is the evolution of a rock band that gathers at Pablo´s garage at the beginning of 2009. After the summer of 2011 they make a turn to electro-rock that within a couple of months turned out to be purely electronic music resulting in a brand new project.
Guillermo starts to play guitar and to study music at the age of 13. He moves to London in 2007 and starts deejaying. Back in Madrid in 2010, he starts to organize his first parties in the centre of the city where he plays all-night-long sets. In 2011 is invited to play in Ibiza for the first time and starts to produce his own tracks.
Pablo attended to the prestigious integrated music conservatory "Padre Antonio Soler" in San Lorenzo de El Escorial for 10 years. With a deep classic-music formation, Pablo has always been amazed by the challenge of sound design and mixing, and carries on with his studies.
After a first year locked up in their home studio they decide to start their own night in town. Teamed up with Fran Zaragoza and Federico Sainz de Robles Blackout Club Madrid is born in October 2012. In 2014 they create Sundaze Club as the only rooftop party in town with great success.
In late 2014 they team up with Depaart records from Madrid and start throwing successful label nights and ranking at Beatport's charts.
With over a 100 gigs since they first gathered, this active Dj's have been seen in Sankeys Ibiza, Fabrik Madrid, Privilege, Brain Klub or Pirandello amongst many others.