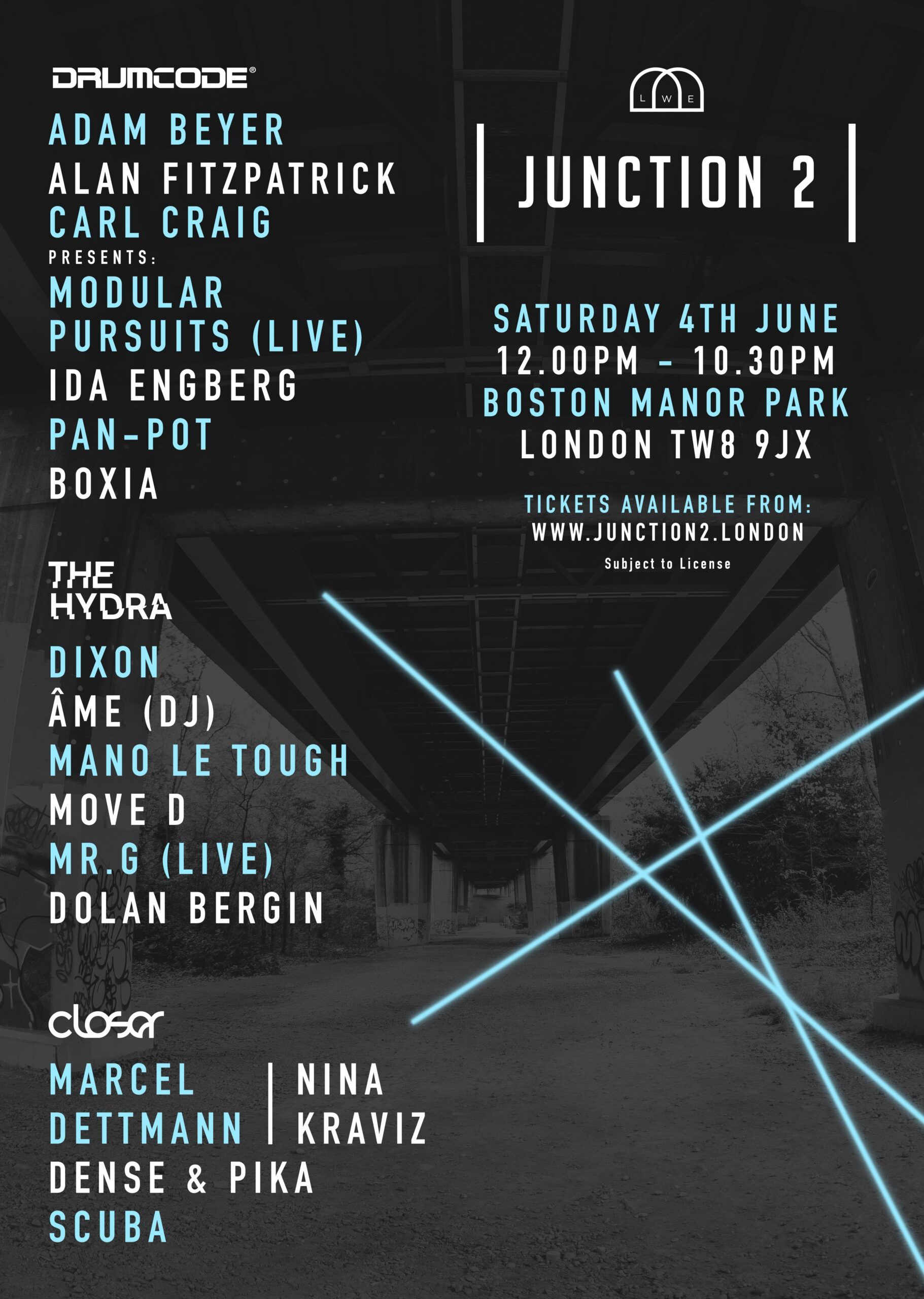 Less than 3 weeks to go until LWE reveals debut festival Junction 2…
LWE's debut festival at Boston Manor Park reveals final details including set times, food offerings and warehouse stage render
Line-up:
ADAM BEYER, ALAN FITZPATRICK, ÂME (DJ SET), BOXIA, CARL CRAIG PRESENTS MODULAR PURSUITS (LIVE), DENSE & PIKA, DIXON, DOLAN BERGIN,
IDA ENGBERG, MANO LE TOUGH, MARCEL DETTMANN, MOVE D, MR. G (LIVE), NINA KRAVIZ, PAN-POT & SCUBA
Food offerings from:
MADE OF DOUGH, COSMIC CARAVAN, MEATCURE, MARKET GRILL, MINI BEAN AND CROQ AND BALLS

Set Times:

Drumcode

12:00 – 13:00 // Boxia
13:00 – 15:00 // Ida Engberg
15:00 – 16:00 // Carl Craig presents Modular Pursuits (live)
16:00 – 18:00 // Pan-Pot
18:00 – 20:00 // Alan Fitzpatrick
20:00 – 22:30 // Adam Beyer

The Hydra: electric minds 10

12:00 – 14:00 // Dolan Bergin
14:00 – 16:15 // Move D
16:15 – 17:45 // Mano Le Tough
17:45 – 18:45 // Mr. G (live)
18:45 – 20:30 // Âme (DJ)
20:30 – 22:30 // Dixon

Closer

13:00 – 15:00 // Scuba
15:00 – 18:00 // Marcel Dettman
18:00 – 20:00 // Dense & Pika
20:00 – 22:00 // Nina Kraviz

Junction 2
Saturday 4th June 2016
12:00 – 10:30pm
Boston Manor Park, West London

Last remaining tickets available here: www.junction2.london
Afterparty tickets available here: http://bit.ly/27b6fD

With less than 3 weeks to go, LWE have revealed the finishing touches to their debut festival offering, Junction 2, specifying set times, food offerings and details of their warehouse stage render. Set to maintain the same discerning attention to detail that LWE have become renowned for, the one-day techno event will feature innovative and interesting stages, beautiful bars, impressive production and carefully chosen sound set ups.
Complimenting all of this is an array of hand picked London's finest street food, each served from bespoke stalls and vintage vehicles. Featuring mouth-watering burgers from Meatcure and Market Grill, as well as winners of the London Pizza Festival Champions 2015 Made of Dough, Junction 2 will also house homemade vegetarian, vegan and gluten free offerings from Cosmic Caravan – who pride themselves on sourcing locally, organically and as fairly traded as possible, with the least negative impact on the environment.
On the production side of things, Junction 2 spread their knack for reinventing spaces even further via the Closer stage – which nods to their roots by fusing an imaginative, immersive creation with innovative technical production. The stage's outward appearance suggests a derelict warehouse space with art deco lines and a construction site aesthetic, whilst stepping inside is something quite different. Decorated with a selection of genuine industrial equipment to create that authentic feel whilst simultaneously showcasing modern production techniques, the dance floor is encased by raised platforms to create a really intense experience for the crowd.
Over on the main stage, Adam Beyer's Drumcode will sit underneath the dominating bridge structure with powerful lines of pillars run down the length of the dance floor to creating a raw clubbing experience – and positions Junction 2 as an unmissable addition to this year's festival calendar.
For all press enquiries please contact [email protected] or [email protected]
Event info:
Date: Saturday 4th June 2016
Location: Zone 4, London
Ticketing info: www.junction2.london
Line-up: Adam Beyer, Alan Fitzpatrick, Âme (Dj Set), Boxia, Carl Craig Presents Modular Pursuits (Live), Dense & Pika, Dixon, Dolan Bergin, Ida Engberg, Mano Le Tough, Marcel Dettmann, Move D, Mr. G (Live), Nina Kraviz, Pan-Pot & Scuba
After Party Event Info
Junction 2 Festival After Party
04th June 2016
11pm – 6am
Location: Studio Spaces E1, 110 Pennington Street, London E1W 2BB
Ticketing info: http://bit.ly/27b6fD
Line-up: Adam Beyer, Alan Fitzpatrick, Ida Enberg, Âme, Move D and Dolan Bergin
Travel Information

Boston Manor Park tube station (Piccadilly line), Brentford (overground rail), the area is well serviced by local buses and there will be taxi rank at the gates.
About Junction 2

This summer sees the launch of Junction 2, a new festival for London. At an intriguing, new location. The message is simple – great sound, high-end production, an attention to detail, no short sets, no VIP, no plastic tents, like-minded people and a music policy focused on techno. Stages hosted by Drumcode and The Hydra alongside LWE's brand, Closer.
Junction: 'An act of joining; combining. A place or point where two or more things meet or converge.'
For more information, please visit:
www.junction2.london
www.facebook.com/Junction2London
www.twitter.com/Junction_2
www.instagram.com/Junction_2