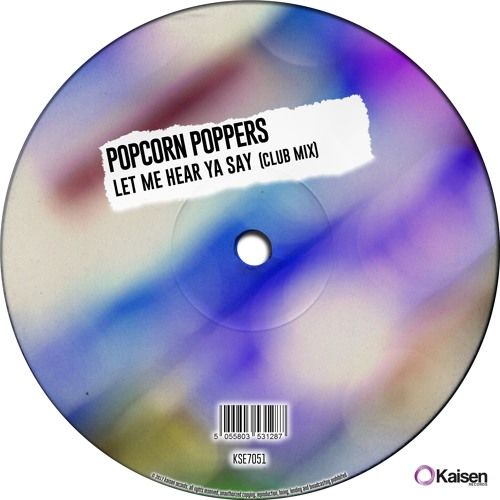 Popcorn Poppers - Let Me Hear Ya Say
Popcorn Poppers are churning out the bangers like there is no tomorrow! They are back with their new single 'Let Me Hear Ya Say', fresh on Kaisen Records. Armed with energetic drum breaks, shuffling hi hats and filtered groovy soul samples, any DJ that drops this in the club will be sure to ignite the dancefloor. Thumping kicks start off the track, which then fades away as the Soul vibe is introduced, breaking into full swing to see off the rest of the year with a bang!
Popcorn Poppers and Kaisen Records are a match made in House music heaven, producing some of the biggest Tech House tracks of the year! Having previous releases on labels such as PornoStar Records and InStereo Recordings, and of course Kaisen Records. This is a huge year for the pair as they have released an array of tracks this year which has reinforced their name within the tech house scene. they are here to stay so make sure you stay tuned for many more releases from the duo!
Available on Beatport
https://www.beatport.com/release/let-me-hear-ya-say-club-mix/2116578
Popcorn Poppers Online
https://www.facebook.com/Popcorn-Poppers-127828731086606
Kaisen Records Online
http://www.kaisenrecords.com
http://www.facebook.com/kaisenrecords
http://www.twitter.com/KaisenRecords
http://www.soundcloud.com/kaisen-records