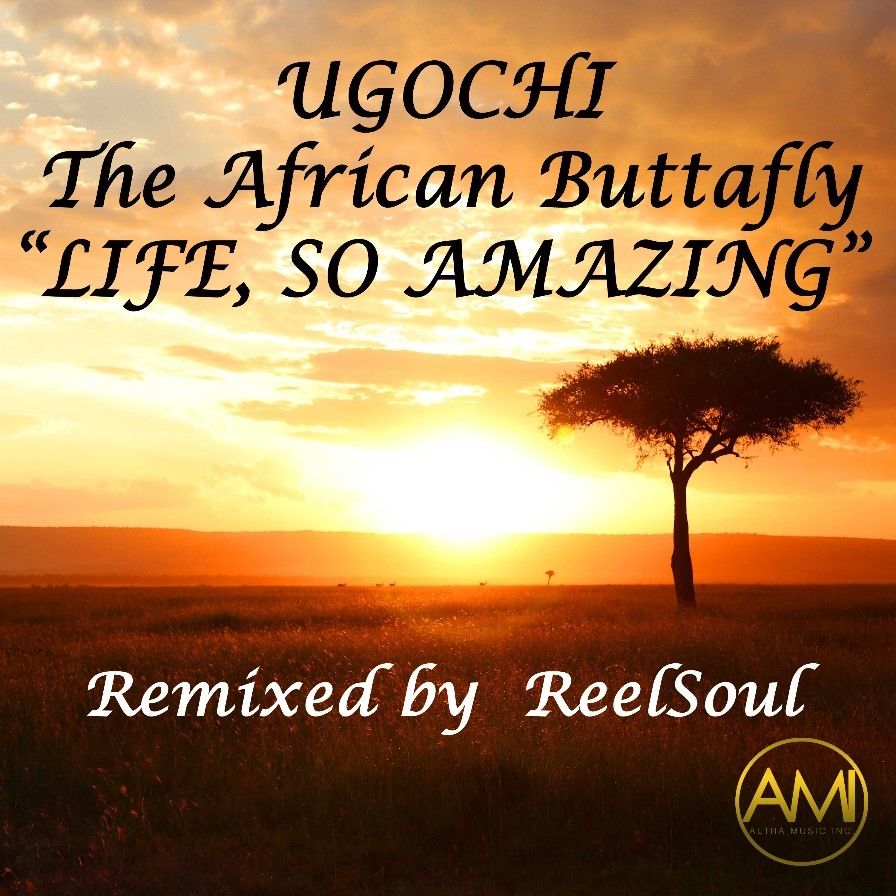 Ugochi - Life, So Amazing (Reelsoul Remix)
Ugochi Nwaogwugwu is a versatile afro-soul vocalist from Nigeria. Her honey-smooth soulful voice has earned her worldwide recognition and she has shared a stage with many renowned artists including Maxi Priest, Eric Benet, Common, John Legend, Shaggy and Toots and the Maytals. An accomplished singer-songwriter, Ugochi also delivers poetic spoken word vocals, and in 2005 was awarded "Best African Entertainer" at the Chicago Music Awards. She regularly performs with the Afro Soul Ensemble, and has released two albums African Buttafly and A.S.E. (Afro Soul Effect). Ugochi has travelled the world, receiving rave reviews wherever she performs, and is fast becoming a significant name in the world of music with her unique fusion of genres and refreshing artistic style of delivery. Certainly a name that we will be hearing much more of.
Life So Amazing was originally released in November 2016, a collaboration between Ugochi, Darryl James and Chris Rob. This release features accomplished producer Reelsoul on remix duties
Darryl James is from The Bronx, New York, and is a seasoned DJ, producer and remixer, having graced the booths at three of New York's hottest clubs of recent decades – Bentleys, The Red Parrot and The Silver Shadow. His talent was noticed by radio stations and record companies and Darryl is now an accomplished radio DJ, having presented shows on Kiss FM and WBLS. He has collaborated with many heavyweights of the dance music scene, and released You Make Me Happy and Where Do We Go on house legend Todd Terry's Freeze label. He has also worked with Robin S, Kem, Janet Jackson and Heather Headley. Darryl heads up the Altra Music Inc label, a label which he founded with the late R&B superproducer Fred McFarlane. Altra is a label which highlights many different genres including R&B and Jazz, as well as the regular wide range of dance music flavours. Altra continues to go from strength to strength with several quality releases including Voices from Leroy Burgess.
Chris Rob is a musician and singer-songwriter from Chicago who has been making quality soulful cuts for over a decade. His music is a fusion of many styles encompassing Funk, Hip hop and House and Chris has performed with many greats including Stevie Wonder, Prince, Elton John, The Black Eyed Peas, Common, Jill Scott, Peven Everett, and Roberta Flack. This release features his superb keyboard skills, and Chris has recently toured worldwide with funk band the Nasty Delicious.
Will 'Reelsoul' Rodriquez is one of the most prolific and well-respected producers in dance music. Entirely self-taught, he has developed and perfected his signature soulful sound which epitomises the carefree sunny vibe of his native California. He regularly embraces different genres, not afraid to push the boundaries of world dance music. He has collaborated with every big name in Soulful House including Frankie Feliciano, Mr V, DJ Spinna, Pauline Henry, Rob Hayes, Kimara Lovelace, Monique Bingham, Typheni, Distant People, Chappell, Dawn Tallman, Kenny Summit, Blaze, Eric Benèt, Miss Patty, Nicole Mitchell, Stephanie Cooke, Leroy Burgess, Mark di Meo, Rona Ray, AG Thomas and Pete Simpson. In partnership with DJ Spen and Gary Hudgins, and with Sheila Ford on vocals, he produced one of the best tracks of 2016, a cover of La Costa – which started as his very own special tribute to the late Natalie Cole. Will's catalogue of work is huge, and it is clear that this is a man who lives and breathes music, drawing on influences from every facet of his life.
Life So Amazing is an upbeat and inspirational song about taking control of your own destiny, standing up against injustice, and embracing the beauty of our human existence. Ugochi's thought-provoking lyrics and sultry vocal illustrates the spirit of an accomplished performer, and will resonate with the conscience of the typically passionate and warm-hearted Soulful House crowd. Reelsoul's signature bouncy vibe prompts head bobbing and foot tapping from the opening bars, and his skilfully placed keys, percussion and beats complement the energy of the track. The whole package is a combination which will bring positivity, love and hope to the dance floors of the world. Life is amazing, especially when our ears are blessed with performances like this.
AMI008 – Life So Amazing (Reelsoul Remix) – Ugochi, Darryl James, Chris Rob – Altra Music Inc release date 13 April 2017
Purchase it here: https://www.traxsource.com/title/777230/life-so-amazing-reelsoul-remix