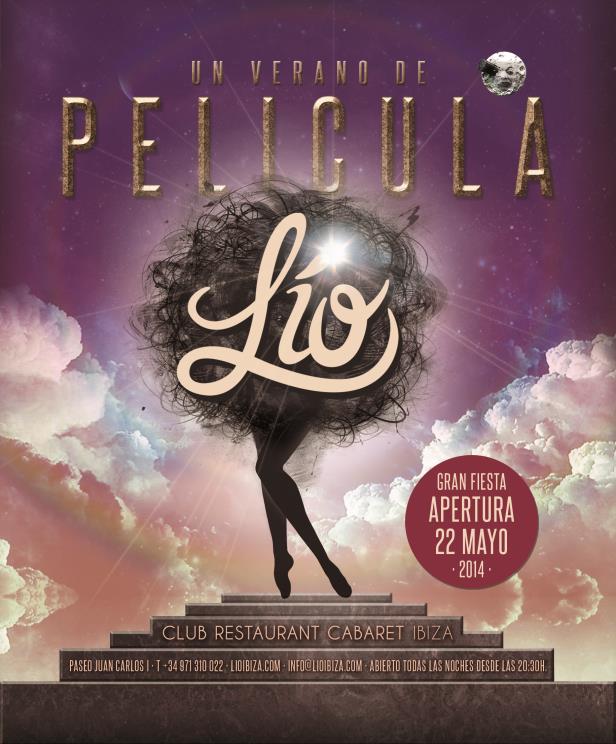 LÍO IBIZA PRESENTS : UN VERANO DE PELICULA
Lio returns this season 2014 to what will be a motion picture summer!. With new and exciting shows inspired by the seventh art and many surprises awaiting to be revealed, Lío Restaurant Cabaret opens on Thursday, May 22nd with a big event for clients & Friends.
This summer will be unforgettable, and LÍO has also scheduled a series of weekly events as a continuation to the great shows and dinner, with renewed menu, starting on Friday, May 23rd with VINTAGE by Sebastian Gamboa & friends.
LÍO IBIZA WEEKLY PROGRAMME:
MONDAY: SO COOL with Tania Moon, Mariano Grande & guests – Opening June 2nd
TUESDAY: TIMELESS with Tom Novy & guests – opening June 17th
WEDNESDAY: SHOWCASE with Andrew Dax & guests – opening May 28th
THURSDAY: BE CRAZY with Jean Claude Ades & friends – opening May 29th
FRIDAY: VINTAGE with Sebastián Gamboa, Anna Tur, B-Linda ( violin ) – opening May 23rd
SATURDAY: Residents night with Sergio Mussa, Victor Nebot & Mariano Grande
SUNDAY: Special events
"INTIMATE" with Roger Sanchez & friends, 4 confirmed dates on July 6th & 27th – August 10th -24th
MORE INFO:
www.lioibiza.com
www.facebook.com/lioibiza