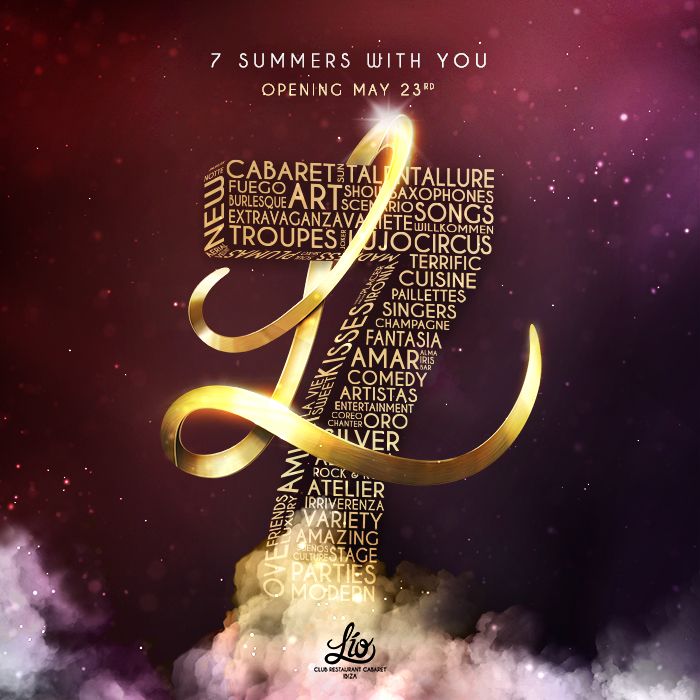 Lío Nº 7: the essence of the night – Celebrating seven seasons with you
Once more, Lío club – restaurant – cabaret is proud to present a new sensory experience where you can enjoy the most exquisite and select gastro delights alongside a spellbinding cabaret show.
Having already hosted six successful seasons in the picturesque Marina at the foot of Ibiza's Old Town, the club- restaurant – cabaret Lío presents the new theme for this summer based on the number seven. A brand new adventure kicking off on May 23rd and running every night for 22 consecutive weeks through to October 14th.
Without a doubt, the number seven has always been related to something mysterious. From the Seven Wonders of the world to the seven deadly sins. >From the seven planets to Snow White's seven dwarves but what is the mystery behind this lucky number?
This season, Lío club – restaurant – cabaret celebrates seven seasons of secrets, loves and unforgettable experiences, having fun by sharing emotions and meeting new friends.
Seven key words – mystery, wonder, life, fun, pleasure, love and secret – come together to create a magic formula: Lío Nº7, the essence of the night.
With its stunning waterfront location and beautiful decor, Lío Ibiza is the perfect place to leave the inhibitions at the door and enjoy the unique atmosphere.
ABOUT LÍO CLUB – RESTAURANT – CABARET
Lío is a unique concept that combines signature cuisine, music and a cabaret show that draws its audience in until very end. Situated at the heart of ibiza bay, Lío offers and unforgettable experience where the golden lights of the city provide the backdrop for the acrobats, international performers, seductive singers and dancers to enchant the guest. The theatrical environment enables new ways of interacting with the audience creating a dazzling 21st century variety show that has a quickly become an unmissable part of the long Ibiza's nights. The special blend of sounds, colours, flavours and happiness are just some of the elements that have attracted to Lío Ibiza an international and exclusive audience
more informatation on Lío:
http://lioibiza.com/
https://www.facebook.com/lioibiza/?fref=ts
https://twitter.com/lioibiza?lang=es