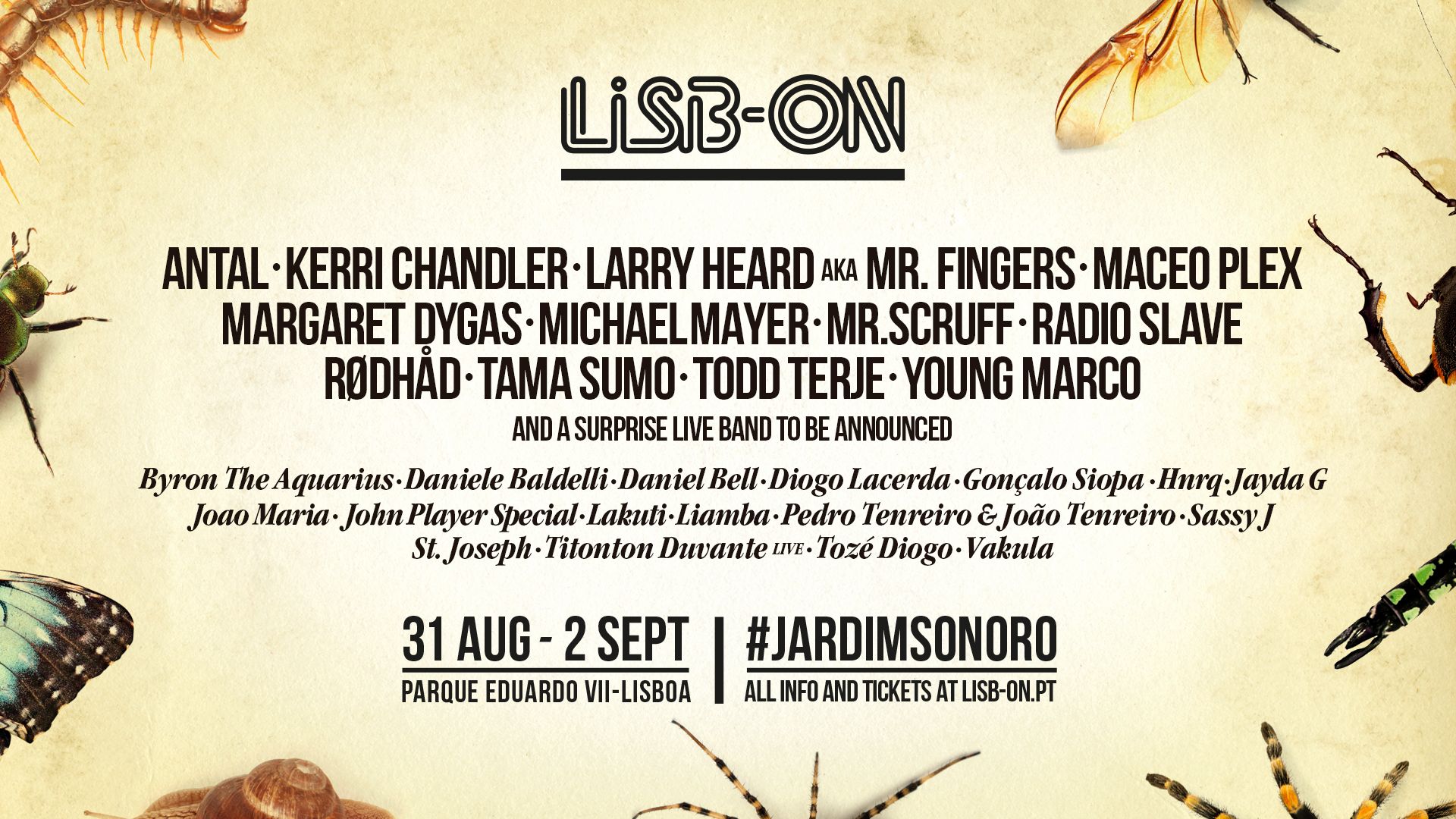 LISB-ON Jardim Sonoro adds Kerri Chandler, Radio Slave + MORE
An essential date on the Lisbon festival calendar, LISB_ON #Jardim Sonoro (Lisb-On Sound Garden) returns to its much loved open-air venue at the end of this summer. Set for three days of revelry and unparalleled good vibes, a solid set of new names have been added to proceedings, with Kerri Chandler, Radio Slave, Mr Scruff, Todd Terje, Byron The Aquarius and Margaret Dygas joining Larry Heard, Maceo Plex, Antal, Jayda G, Tama Sumo and plenty more. Striking a balance between international heavyweights and Portuguese breakout acts, LISB_ON shines a light on its thriving underground movement whilst inviting acclaimed names to play in the city. A real adventure for music lovers, LISB_ON is a sonic treat and the ideal way to experience the city´s fast-growing scene first hand. With three day passes available for 60€ and the daily ticket at just 25€, it's an ideal way to end summer.
FRIDAY
During three days LISB_ON showcases 30 artists on two stages, and now the offering is even richer as another team of electronic royalty join the party. On Friday, techno warrior Rødhåd will be on the Main Stage, armed with industrial, fist pumping jams. He'll be joined by one of the most influential men in electronic music – Radio Slave, a producer known for his deep, dark and atmospheric productions. Disco king Todd Terje, German don Michael Mayer and Portugal's own HNRQ complete the line on Friday at Main Stage. On Stage Two a house-heavy offering includes some of the genre's most treasured names; find Rush Hour boss Antal, breakthrough selector Jayda G, Sassy J, Byron The Aquarius and more throughout the day.
SATURDAY
Saturday's forecast is another belter, with Maceo Plex headlining the Main Stage and presenting a special extended 5 hour set – this marathon is sure to be the weekend highlight. A renowned band from the 90´s is still to be revealed. Vakula will bring us his dream like ambience. Pedro Tenreiro and Joao Tenreiro rep for the locals with a bag full of musical history. Moving on to stage two, another massive crew, with Tama Sumo, Young Marco and Lakuti, and Tozé Diogo.
SUNDAY
Last but by no means least, Sunday's line up rounds off the weekend with a serious agenda of house heaven. One of house music's originators, Kerri Chandler, heads to Lisbon for the festival's finale, with Larry Heard aka Mr.Fingers Live, for a magical live show. Both artists are renowned for shaping underground electronica into what it is today. Mr Scruff, Daniele Baldelli and local Liamba will also join. On the Stage Two, there's minimal and techno grooves from the one and only Margaret Dygas, and one of USA's best kept secrets – Titonton Duvante live, whose career has spanned two decades. Ministerium Club residents and LISB_ON family members Joao Maria and Diogo Lacerda will also make us dance.
Connecting Portuguese artists with well established names, LISB_ON provides opportunities for local artists to be given a global platform. Return flights to Lisbon from London are currently at £127 and take under 3 hours. Plus there's a wealth of accommodation options from hostels, AirBnBs and hotels, to suit a range of budgets and travel tastes. The perfect garden spot in the centre of the city, the concept, culture and incredible line-up make LISB-ON #Jardim Sonoro a must for any discerning music lover, and an incredible element to incorporate into a city break. Family friendly, arts heavy and culturally diverse, it's the ideal way to soak up the rich cultural offerings of LISB-ON and catch incredible music from around the globe. With more artists to be revealed, don't miss your chance to experience Lisbon's coolest party. Second release tickets are available now from €60.
Once again, Casa dos Animais de Lisboa will once again be chosen partnered social cause. Remember the last edition? More than € 12,000 in animal food was donated to the institution through event revenues and leftover RFID wristband cash. LISB-ON also teams up with various Partners to offer a diverse choice of things to do during the three days. From restaurants and shops to galleries and bars, there will be discounts for everyone wearing the festival bracelet.