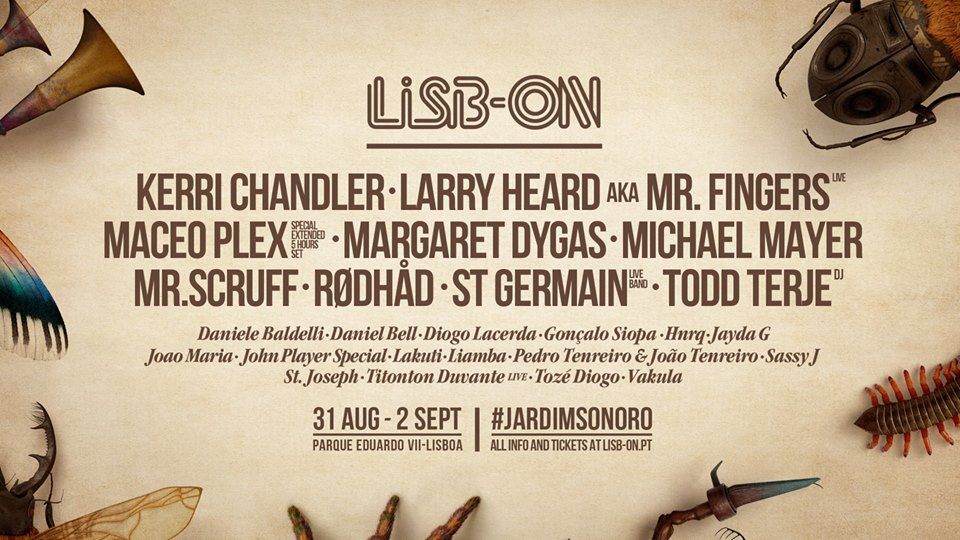 LISB-ON #JARDIM SONORO – COUNTDOWN IS ON! St Germain joins Larry Heard, Kerri Chandler, Todd Terje, Margaret Dygas and more for 2018's edition
Full line-up revealed for Portugal's best-loved open air festival, Lisb-on #Jardim Sonoro! Revealing, St Germain as surprise live headliner, 2018 creative campaign and more. The countdown is on!
LISB-ON #JARDIM SONORO
31st August – 2nd September 2018 || Parque Eduardo VII || Lisbon, Portugal
THREE DAY PASS : €60 : lisb-on.pt/en/tickets
An essential date on the Lisbon festival calendar, LISB_ON #Jardim Sonoro (Lisb-On Sound Garden)returns in just 10 days. Set for three days of revelry and unparalleled good vibes, it's a true celebration of underground music and the local Lisbon scene. Boasting an unbeatable line up with likes of St Germain (live), Kerri Chandler, Todd Terje, Byron The Aquarius and Margaret Dygas alongside Larry Heard, Maceo Plex, Antal, Jayda G, Tama Sumo and plenty more. Striking a balance between international heavyweights and Portuguese breakout acts, LISB_ON shines a light on its thriving underground movement whilst inviting acclaimed names to play in the city. LISB_ON is an inimitable treat and the ideal way to experience the city´s fast-growing scene first hand. With three day passes available for 60€ and the daily ticket at just 25€, it's an ideal way to end summer. Grab your tickets here for a sunkissed sonic weekend: http://lisb-on.pt/en/tickets
FRIDAY
Kicking off on 31st August, in the picturesque Parque Eduardo VII, LISB_ON showcases over 30 artists on two stages, with a wealth of electronic talent. From techno warrior Rødhåd taking reign of the Main Stage, armed with industrial, hypnotic jams. He'll be joined by one of the most influential men in electronic music, Radio Slave, with an ever versatile selection its the also the perfect backdrop for deep, dark and atmospheric productions. Expect italo flare and 80's influences from disco king Todd Terje, Melodic house from German don Michael Mayer and Portugal's own HNRQ complete the line on Friday at Main Stage. On Stage Two its sunshine vibes with a house, soul and disco heavy offering from most treasured names; find Rush Hour boss Antal, breakthrough selector Jayda G, Sassy J, St Joseph, Byron The Aquarius spinning throughout the day.
SATURDAY
Saturday's schedule is a real treat for discerning music lovers. LISB_ON is delighted to revealed that revered St Germain will join the bill performing with a full live band. On a heavier tip, tech-house wizard, Maceo Plex headlines the Main Stage, presenting a special extended 5 hour set – a musical marathon that's sure to be the weekend highlight. Vakula will bring us oddball offcuts, and dream like ambience. Father and Son DJ Duo, Pedro Tenreiro and Joao Tenreiro rep for the locals with a bag full of rare gems. Moving on to stage two, it's another education in classy house and infectious afrobeats from the creme of crop; Tama Sumo, Young Marco and Lakuti, and Tozé Diogo.
SUNDAY
Last but by no means least, on Sunday, Parque Eduardo VII is transformed into house heaven. One of the most iconic electronic music's originators, Kerri Chandler, heads to Lisbon for the festival's finale, with Larry Heard aka Mr.Fingers bringing his acclaimed, magical live show. Both artists are renowned for shaping underground electronica into what it is today. Mr Scruff, Daniele Baldelli and local Liamba will also join. For those with a taste for techno grooves and melodic minimal, there's no better place than Stage Two. The one and only Margaret Dygas brings an enviable set of sounds spanning UK Garage, deep house, glitchy techno and beyond. Plus, one of USA's best kept secrets – Titonton Duvante brings a live show set to stun. Local clubbing haven, Ministerium, residents and LISB_ON family membersJoao Maria and Diogo Lacerda will also flex the sounds that pulse through the Lisbon.
– CREATIVE CAMPAIGN –
Introducing, LISB_ON 2018's creative campaign. In 2017, headliners were given a floral persona, resulting in a prestigious award from design masters, D&AD. For 2018, LISB_ON returns with the campaign, this time using Fauna as context, taking the line up's electronic music royalty and giving the likes of Antal, Kerri Chandler, Larry Heard and more an ecological transformation, into stunning insects. Feast your eyes on the campaign video below and check it out.
– TRAVEL , TICKETS, ACCOMMODATION –
In recent years, Lisbon has been recognised as a hotspot for culture, music, food and adventure. Return flights to Lisbon from London are currently under £220 and take under 3 hours. Plus there's a wealth of accommodation from hostels, AirBnBs and hotels, to suit a range of budgets and travel tastes. The perfect garden spot in the centre of the city, LISB-ON #Jardim Sonoro is a must for culture hungry lovers, an ideal addition to a city break – soak up the rich cultural offerings of LISB-ON and catch incredible music from around the globe. One of Europes best kept secrets don't miss your chance to experience Lisbon's coolest party. Second release tickets are available now from €60. lisb-on.pt/en/tickets
LISB-ON #JARDIM SONORO
31st August – 2nd September 2018 || Parque Eduardo VII || Lisbon, Portugal
FULL WEEKEND TICKETS STILL AVAILABLE FROM €60 : lisb-on.pt/en/tickets
LISB-ON ARTISTS (A-Z ORDER)
ANTAL
BYRON THE AQUARIUS
DANIEL BELL
DANIELE BALDELLI
DIOGO LACERDA
GONÇALO SIOPA
HNRQ
JAYDA G
JOAO MARIA
JOHN PLAYER SPECIAL
KERRI CHANDLER
LAKUTI
LARRY HEARD aka MR. FINGERS
LIAMBA
MACEO PLEX
MARGARET DYGAS
MICHAEL MAYER
MR. SCRUFF
PEDRO TENREIRO & JOÃO TENREIRO
RADIO SLAVE
RODHAD
SASSY J
ST GERMAIN
ST. JOSEPH
TAMA SUMO
TITONTON DUVANTE Live
TODD TERJE (Dj set)
TOZÉ DIOGO
VAKULA
YOUNG MARCO