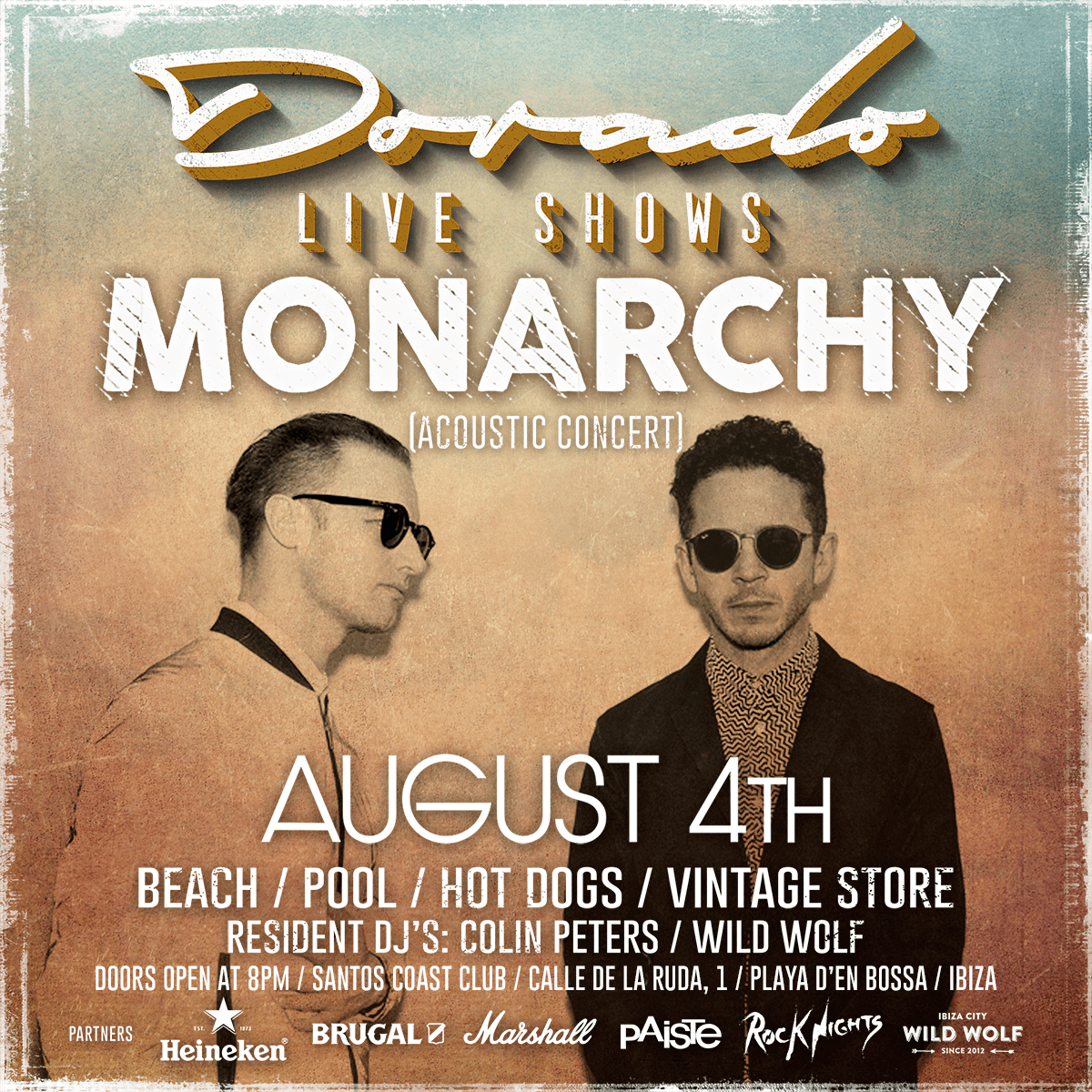 London Duo Monarchy Live This Thursday At Santos Ibiza
The twosome will turn their electronic pop into the acoustic format of Dorado Live Shows
After the impressive performance of Is Tropical, having adapted their electronic sound into an acoustic format, also from London, Monarchy are heading to Ibiza next Thursday August 4th to play at Santos Ibiza.
Synthpop duo are currently touring around the world, playing at big venues and festivals. Their two studio albums have been critically acclaimed and so has been their covers album which includes an electropop version of Lana del Rey's "Video Games", an intense "My body is a cage" from Arcade Fire or a Blur's "Girls and Boys" with neo-burlesque queen Dita Von Teese doing the vocals, amongst others.
Furthermore, they have remixed tracks for huge pop stars as Lady Gaga, Kylie Minogue and Jamiroquai. Undoubtedly, their acoustic show at Santos Ibiza will be a one-off experience.
Dorado Live Shows begin at dusk, between 8pm and 11.30pm at the Santos Ibiza pool area. In addition to the acoustic concert, guests can check out the DJ's, hot dog cart and vintage clothing corner. At 11.30pm, when the concert has finished, the party will move to the Backstage club where resident DJs Colin Peters, Wild Wolf and guests will be the hosts of the party.
Dorado Live Shows full line up:
L.A – 9th June
Vinila Von Bismark – 23rd June
Is Tropical – 7th July
Dorian – 21st July
Monarchy – 4th August
Mystery Jets – 18th August
Kitty, Daisy & Lewis + Uncle Sal – 1st September
We are Scientists – 15th September
The entrance is free due to 11th Rock Nights anniversary. But please, grab your name + friends in order to have a control at the door.