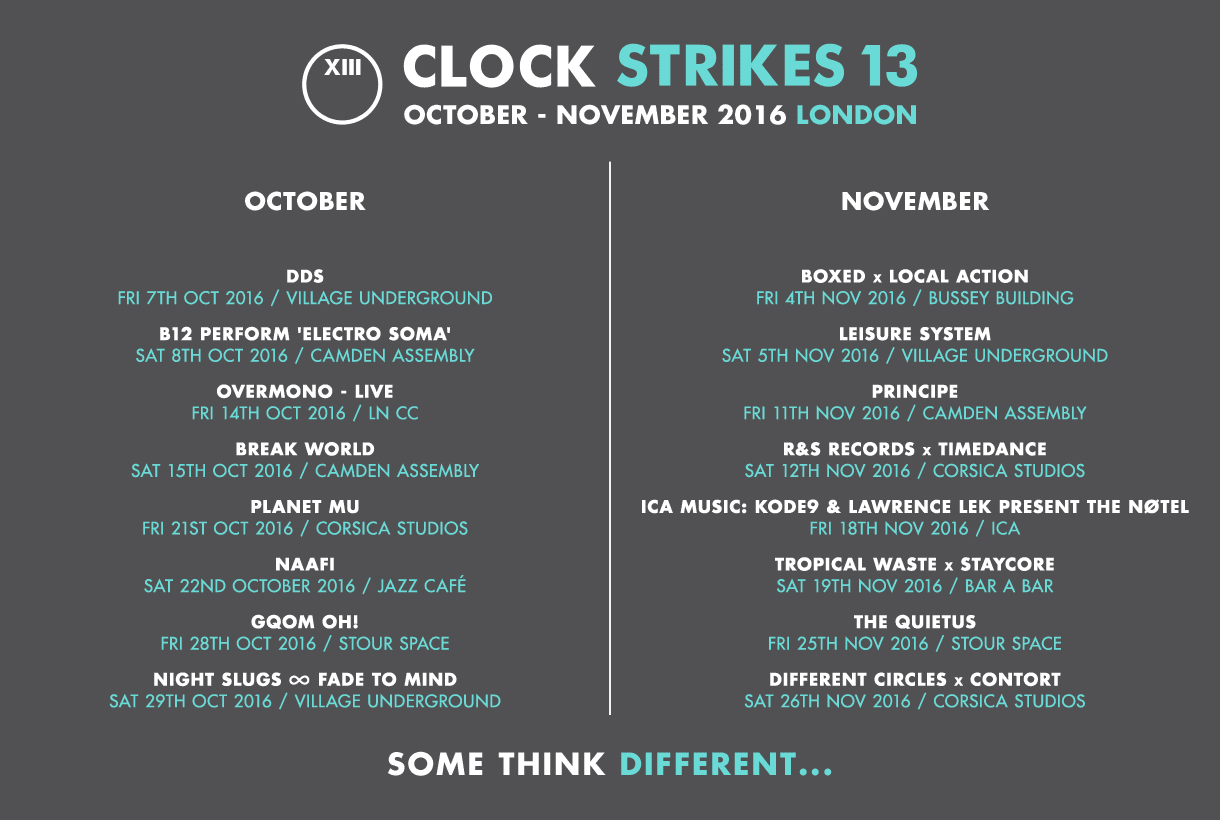 London event series Clock Strikes 13 announce program for their autumn return….
London event series Clock Strikes 13 announce program for their autumn return….
Friday 7th October – Saturday 26th November 2016
Various London venues
Featuring:
B12 perform 'Electro Soma' – Boxed x Local Action – Break World – DDS – Different Circles x Contort – Gqom Oh! – ICA Music: Kode9 & Lawrence Lek present The Notel – Leisure System – NAAFI – Night Slugs x Fade to Mind present Infinity – Overmono (Live) – Planet Mu – Principe – R&S Records x Timedance – The Quietus – Tropical Waste x Staycore
View the 360 web flyer here…
There may be a black cloud over London's clubbing landscape right now, but we can only keep going and continue to dance on the dance floors we have left…
Pushing forward into the future, Clock Strikes 13's 2016 feels timely. They return to the capital for their second series this autumn with an even stronger fire than before. Staying true to their authenticity, CS13 are set to bring together the city's most unique labels, influential artists and revered venues to present an uncompromising two-month program. A community made from the cornerstones of the city's musical underground, Clock Strikes 13's latest installment is a force to be reckoned with.
We're proud to announce the program for Clock Strikes 13 2016 edition… Refusing to chase after the one headliner or the one sound, CS13 thinks different. Though the word underground gets batted around all too easily CS13 presents a true insight into the flipside of the mainstream.

Friday 7th October | Village Underground
DDS
Demdike Stare – Live
Stephen O'Malley – Live
Micachu
Equiknoxx
Jon K
Saturday 8th October | Camden Assembly
B12
B12 perform 'Electro Soma' in full
Margot Didsbury (Bleep.com)
Olly Chubb (NTS)
Friday 14th October | LN CC
OVERMONO
Overmono – Live
With music curated by Overmono and friends all night
Saturday 15th October | Camden Assembly
BREAK WORLD
Via App – Live
Lexxi
Pure Joy (Wild Combination)
Friday 21st October | Corsica Studios
PLANET MU
Kuedo – Live
Ital Tek – Live
Sami Baha
JB Biberkopf
DJ Planet Mu
Aimee Cliff
Special Guests:
DJ Spinn b2b Traxman
Saturday 22nd October | The Jazz Café
NAAFI
Lao
Faust Bahia
Mexican Jihad
Friday 28th October | Stour Space
GQOM OH!
Nan Kole
DJ Lag
Tash_LC (Boko! Boko!)
Saturday 29th October | Village Underground
NIGHT SLUGS – FADE TO MIND present Infinity
Bok Bok b2b Prince Will
Kingdom b2b Total Freedom
Jam City b2b Manara
Friday 4th November | Bussey Building
BOXED x LOCAL ACTION
Mumdance b2b Sir Spyro
UNIIQU3 b2b Finn
Slackk b2b Grandmixxer
Logos b2b Sudanim
Mr. Mitch b2b JD. Reid
Riz La Teef b2b Score5
Yamaneko b2b India Jordan
Swing Ting b2b Hipsters Don't Dance
+ Special Guests TBA
Saturday 5th November | Village Underground
LEISURE SYSTEM
Dopplereffekt – Live
N>E>D
Chloe Frieda (NTS)
Special Guest:
Andy Stott – Live
Friday 11th November | Camden Assembly
PRINCIPE
DJ Firmeza
DJ Lilocox
BLEID – Live
Saturday 12th November | Corsica Studios
R&S x TIMEDANCE
Friday 18th November | The ICA
ICA MUSIC: KODE9 & LAWRENCE LEK PRESENT THE NOTEL
Kode9 & Lawrence Lek present The Notel – Live A/V
Konx Om Pax – Live
Martha (Radar Radio)
Saturday 19th November | Bar A Bar
TROPICAL WASTE x STAYCORE
Dinamarca
Mobilegirl
Ghazal
Ni-Kü
Cõvco b2b Seb
Friday 25th November | Stour Space
THE QUIETUS
Ash Koosha – Live
Soiphia Loizou – Live
The Quietus DJs
Special Guests TBA
Saturday 26th November | Corsica Studios
DIFFERENT CIRCLES x CONTORT

Exciting for both the promoter and the audience, CS13 is London's alternative nightlife option. Thoughtfully curated line-ups give way to the known and unknown. Unfamiliar with some of the names listed? Trust in the program that these artists will be your next obsession.

CS13 will land at the likes of Village Underground, Corsica Studios, The Jazz Café, Stour Space and the LN CC throwing parties across the capital.

With each party showcasing another face of the underground, it's hard to pinpoint personal favourites though watch out for the opening date: DDS Records and Baba Yaga's Hut present a trio of live performances including label head Demdike Stare, Sunn O)))'s Stephen O'Malley and the incredible talent of Michachu. The first ever DDS party in their history.

The notion of 'firsts' carries through the whole series, with acute attention given to making this 2016 edition a platform for special one-offs and debuts.

Truss and Tessela present their new project Overmono (signed to XL Recordings) to the public for the first time on Friday 14th October at the LN CC.

Brooklyn's Dylan Scheer aka Via App makes her London debut as part of the CS13 schedule. Her intelligent approach to electronic music has seen her become one of the most sought after emerging artists of the year.
Also making their London debut comes Gqom Oh! This long-overdue date will showcase the South African label's hard-hitting house output with sets from Nan Kole and DJ Lag. More first time showcases come in the form of Staycore who bring Dinamarca, Mobilegirl and Covco b2b Seb to Bar A Bar alongside London natives Tropical Waste. The calendar also features the first ever Contort party, the Berlin-based label founded by Samuel and Hayley Kerridge.

Their first collaborative event ever, London and LA collectives Night Slugs and Fade To Mind come together on the Halloween weekend to feature three stacked b2bs.

Dopplereffekt will debut his live show for the Leisure System family on Saturday 5th November at Village Underground. Same for Kode9 who'll make the UK debut of his new audiovisual show, The Notel, created along with German artist Lawrence Lek in partnership with The ICA.

Clock Strikes 13 is brought to you by the team behind London heavyweight club venture The Hydra.

Some think different…
———–
Tickets available here: http://cs13.london
Event title: Clock Strikes 13 2016
Date: Friday 7th October to Saturday 26th November
Location: Various London venues
———–

About Clock Strikes 13

Armed with an uncompromising vision for the future of electronic music, Clock Strikes 13 is a new event series that aims to break new ground by uniting iconic labels, influential artists and revered venues in a way never done before. Across the series, CS13 will journey through sounds that span bass, house and hip hop through to electronica, techno and myriad hybrid genres in-between.

Links and further information
https://www.facebook.com/cs13london
https://twitter.com/cs13london
https://www.instagram.com/cs13london/